We got to start this new year with something in our living room that we are in love with, after eight annoying years of staring up at something we absolutely hated…eight!  For eight years we had an overly ornate ceiling fan version of a boob light that wobbled and was impressively dim for its size.
Ugliness was as much the problem with this fan as was the fact that for some reason it was mounted about two feet off center for the room.  Our entertainment center and those two ceiling vents are in the center of the room and as you can see, the fan is wayyyyy to the left of that.  I thought it was because there was a duct running down the middle between those vents but unfortunately our attic is small and wonky and it's really hard to get over to this area to see what's going on up there exactly.  So, we just had an off-center fan and that was that…for eight annoying years.
*a big thank you to Lamps Plus for sponsoring this post, click here to see my full disclosure policy.  Also, excuse the crappy phone pic, I realized I didn't have a pic showing the ceiling at the last minute and it was a dreary overcast winter day 
Enter, the fan of my dreams.  Kichler's Kittery Point is the perfect mix of nautical, coastal, and industrial that we love so much and the finishes match perfectly with others throughout our home.  I've had this fan saved for what seems like years now and now I'm FINALLY staring up at it!
Due to the high ceilings in our living room, a list of half a dozen other electrical nuances that needed to be looked at around the house, and the baby-driven shortage of both time and patience we both have lately, we decided to hire installation of the new fan out.  Since we now had an electrician on our side I had him investigate the off-center issue and see if there was any possible way we could install the new fan centered to the room.  And hallelujah, we could!!
In just about an hour or so the electrician had the old fan down, a new hole and box installed in the correct centered location, and the new fan up.  There wasn't duct work in the center of the ceiling like we assumed and he was able to mount the new box there with no issues.  I patched the old hole afterwards and now it's as if that was the fan location all along.
So here's our new living room!  I swear, I never thought I'd see the day.  It fits perfectly with our decor and is such an interesting and unique focal point for our large open space.
A remote was definitely one of our requirements since the ceiling is high in here as well as having reverse direction control on the remote too, since apparently we have to change that on our fans like every two days right now (#texasweather).  The included remote has controls for the 3-speed fan, light, and reverse control.
FINALLY our living room looks cohesive and we have a beautiful statement fan that fits perfectly in our coastal-and-slightly-nautical style.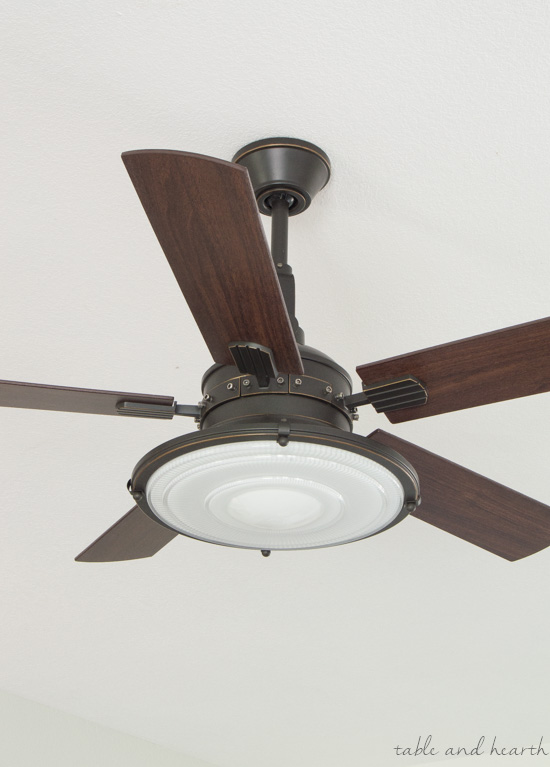 I was greatly disappointed in the ceiling fan selections at our local big box stores so I started shopping online.  The first place I looked at was Lamps Plus because I knew they have an awesome selection of ceiling fans in all sorts of sizes, styles, and functions.  They had a super easy search function that made it easy to narrow down all the features I was  looking for.  Five blades, 52″ or more, bronze finish, remote with reverse on it, and a light were all the things I was searching for and I was able to find tons of beautiful options in no time.
If you've been fan shopping too, I wanted to share some of my favorite coastal-inspired ceiling fan options in case it helps you find the perfect one like we did!  Just click on the images below to see more info about each fan:
We are so thrilled and relieved to have that big eyesore finally taken care of and to have a fixture that is so "US" now, so check that task off the house to-do list!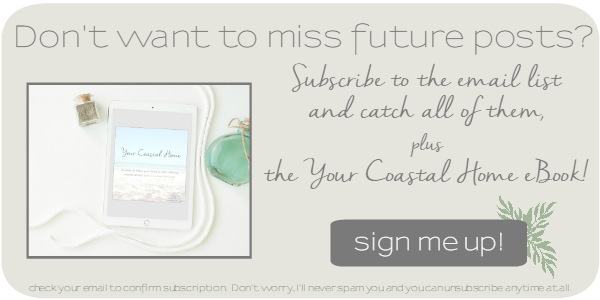 Share this!