Now, I know this is a home/DIY/cooking blog but I just couldn't resist sharing our latest trip to Zihuatenejo, Mexico with you guys since we had such an amazing time and it was so beautiful. We are by no means seasoned travelers and, aside from our honeymoon, this is the first trip we've taken like this. We can each count on one hand the number of times we've been out of the country but we are really wanting to start traveling to beautiful places once a year if we can. So when our good friends threw out a couple's fishing trip to Zihuatenejo, Mexico, we were all in.
"Zih" is located on the southwest Pacific coast of Mexico just south of Ixtapa, in the state of Guerrero. It was only a 2.5 hour direct flight from Houston and airfare was very reasonable (as reasonable as airfare can be…). Our main point of the trip was to fish each day but we also wanted to be able to walk to shops and restaurants as well as the harbor so we stayed at Hotel Aura del Mar near downtown and it exceeded our expectations by far, it was the perfect location and was gorgeous!!
It is located right on the beach and had amazing rates. We both booked a Junior Suite which at $129/night but we're pretty sure we got bumped up to the Junior Suite with Jacuzzi. We can't even stay at a Hampton here for that rate!!
The hotel has a restaurant down on the beach called Bistro del Mar which we grabbed drinks and a couple meals at, the breakfast was awesome. We didn't lounge down at the beach any during our stay but it looked quite pleasant :) We did spend a good amount of time at the pool after fishing though!
There were so many artistic, unique touches around the lush grounds and LOTS of grueling steps! Plus two very large iguanas and tons of birds. The beaches were very clean (cleaner than ours here) and there is a cool winding sidewalk build around the rocky shoreline all the way along the bayside to the harbor. We walked this down to the docks every morning.
Aside from fishing, our days were spent beachcombing (stay tuned for some seaglass DIYs!), eating, drinking, and de-salting in the hotel's pool. There's nothing better than jumping in a freshwater pool after being offshore all day long, bonus points that there was a slide at ours too! You wouldn't believe how happy this made our 30-something-year-old men. Instant man-children.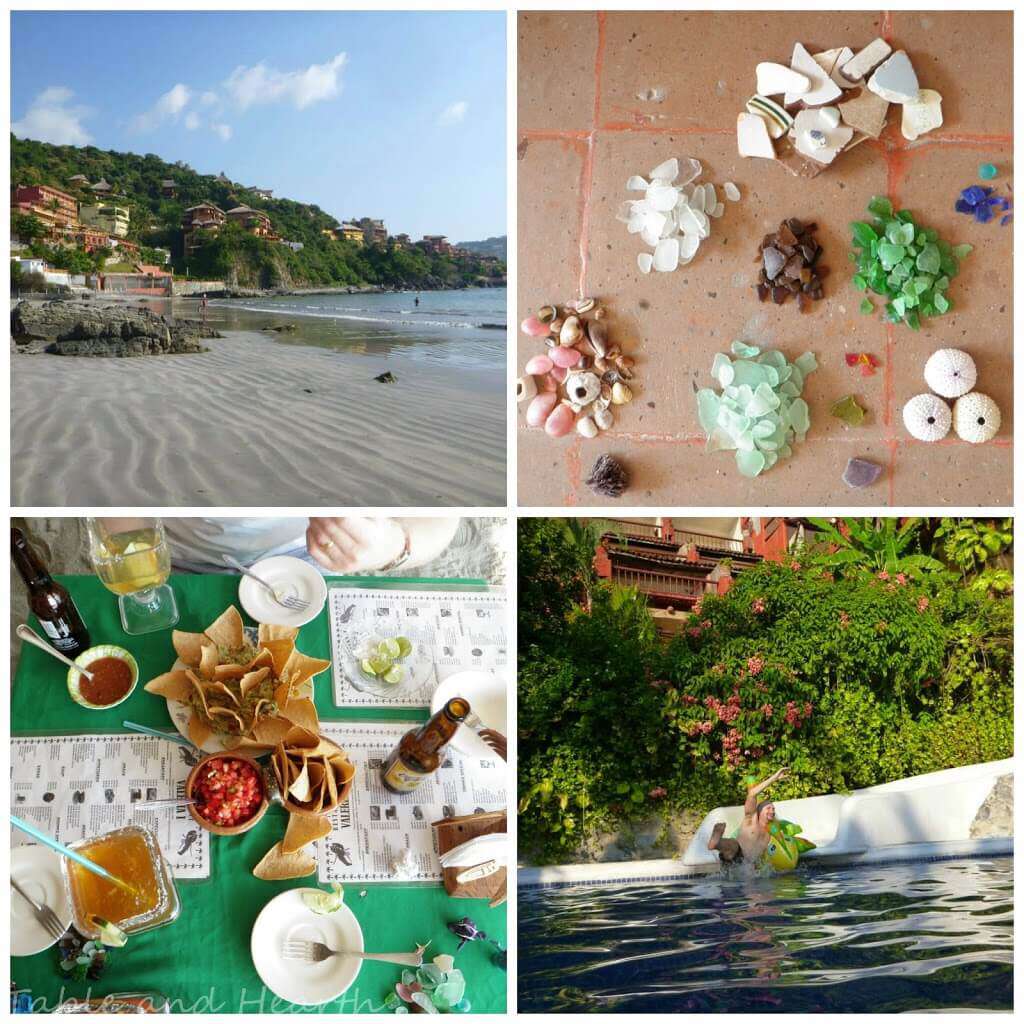 As nice as town and the hotel was, our focus of this trip was fishing!
We chartered three days with Santiago of Gitana Sportfishing, one for roosterfish, one for billfish, and one for inshore fish and snorkeling. Our friends fished with him last Christmas with their family and loved him so they wanted to come back and go for roosterfish and more billfish. As you can see, we had quite the successful weekend on the water!! All four of us tagged and released really nice sailfish, played around with some bonito and looooong houndfish, and Jenny was the lucky one who landed a really nice rooster. We were hoping to get into more roosters but apparently they hadn't been as good that week. Oh well, I'll settle for a sailfish instead!
Matt's sailfish was his first billfish ever so per tradition, he had to jump in the water. Unfortunately, he forgot to take his sunglasses off and his beloved offshore Costa Del Mars are now at the bottom of the Pacific. At least he lost them for a good reason :)
Santiago is strongly conservation-minded and tags and releases all of his billfish (we wouldn't fish with someone who didn't!) so we all got tag cards which we'll mail in. I've always wanted to do that and it's pretty cool we all four had one!
We had planned to have Sunday as a free day to lounge around and explore town but we had such a good time with Santiago (he was like our fifth member) we booked him for that day too to do some inshore fishing and snorkeling. Jenny and I are both marine biologists so there's no way we were going to leave this place without doing some snorkeling!
On our way down to the dock that morning, we walked up on some hotel staff gathering sea turtle hatchlings emerging from the sand right next to the lounge chairs on the beach. There had been a turtle nest there the whole time!! There were dozens of them and of course Jenny and I follow along and "assist" with their release, mainly cooing at them, taking pictures, and placing the "specials" further into the waves. Here at home, sea turtle releases are a huge public event and you have to fight your way through gross kids and pushy tourists to see them but here it was just any other morning, no big deal! Our friend is a sea turtle biologist and she says these were olive ridleys which we don't get in the Gulf so that's really cool!
We did eventually tear ourselves away from the hatchlings and spent the day casually fishing and snorkeling as much as we could. So many cool fish and, this being my first time in Pacific waters, I saw many I hadn't seen in the wild before like moorish idols (Gil on Nemo), dogface puffers, and a snowflake moray. We could snorkel all.day.long.
Every fishing and snorkeling-spent day called for some good grub afterwards of course and we had some amazing dishes! I wish I could have gotten pics of all of them. You don't really get your normal "Mexican" food down here, no enchiladas and burritos, it's almost all seafood and fresh fruits and veggies, muuuuch healthier and muuuuch more yummy! And oh the micheladas. Many micheladas :)
I highly recommend Zih and we will definitely be back! We're actually throwing around the idea of actually spending the Christmas holiday here some year. I love that it's not a big tourist town and that you're right there among the locals and in their everyday routine. They are soooo nice! Even with the language barrier (I mean, we're from south Texas so we could muster through pretty good though) they were so understanding and polite. We felt safe the entire time, heck, even safer than I feel down here sometimes, and didn't worry about security in the town. If you're looking somewhere quaint, intimate, and full of stuff to do, Zih is a great option. Such a perfect quick vacation and it was sooo needed! Until next time :)