We have been in our home for four and a half years, which seems like it just flew by.  But looking back at our backyard's transformation in that time, it feels like forever and a day ago.  This was the first DIY home improvement project we did at this house and it completely transformed it.  And it is our proudest accomplishment and a really long post.
First, a couple of the best befores we have.  As usual, I don't have true befores so just picture this with about a foot of dead ficus leaves with about a million cockroaches scurrying amongst them across the entire yard, you can see a few of the dozen piles in the second picture.  There was a huge, gorgeous, ficus tree (Ficus – more about him later) towards the middle of the yard and a very large and saggy mesquite tree on the right side.  No real grass, not even stickers, just leaves EVERYWHERE.  You could go out at night with a flashlight and see glowing cockroach eyes and hear them crawling, ugh, still gives me the heebie jeebies.  The house was a rental for a couple of years and they didn't do anything in the yard, no trimming, no raking, no planting, and no fixing of the hot tub.  I fell in love with the trees when we first saw the house.  Being on a barrier island, large trees are rare, the shade they provide out here is priceless, there are birds all in them, and I'm a north Texas tree-lovin' gal so I was sold.  During inspection, we were told that some of Ficus' roots (which are very shallow) were going towards the house and we should just cut him down so he wouldn't damage our foundation, and that Mesquite was old, unhealthy, and would probably break during the next tropical storm we got.  This killed me, I felt like I had to protect these guys with my life.  We hired an arborist who saved Ficus (and me) by just trimming the roots heading towards the house, but we couldn't do anything for Mesquite and chopped him up for firewood.  The same day these pictures were taken, fall 2009, Matt, Matt's dad, and myself, bagged up all the leaves, cut down the mesquite, and moved the stupid hot tub through the fence onto a trailer (where it lived at the in-laws for a while), the day.from.hell, I still don't know the three of us did that, probably why I have a 90-year-old's back.  Anyway, Ficus got mad at his root trimming and dropped a ton more leaves but he made it, and we loved him.
My next goal was to make a raised bed garden.  I had yearned for one for years and 2010 was my time, but we live on a beach and have complete sand, so raised beds are a must.  It is 12×4′ filled with yummy garden dirt hauled from a local nursery,
fun
.
We wanted to put something down in the yard before the stickers migrated in but knew we didn't want rock like so many of the yards out here have.  We went with Floratam, a St. Augustine variant which is salt, sand, and heat tolerant and recommended for coastal areas. And since we had Ficus, it would get a little relief from it's shade.  Here it is about a week after laying, April 2010, (photos focused on the garden, obviously where my priority was then).  We left a circle around Ficus and planned on putting rock there since his roots were on the surface.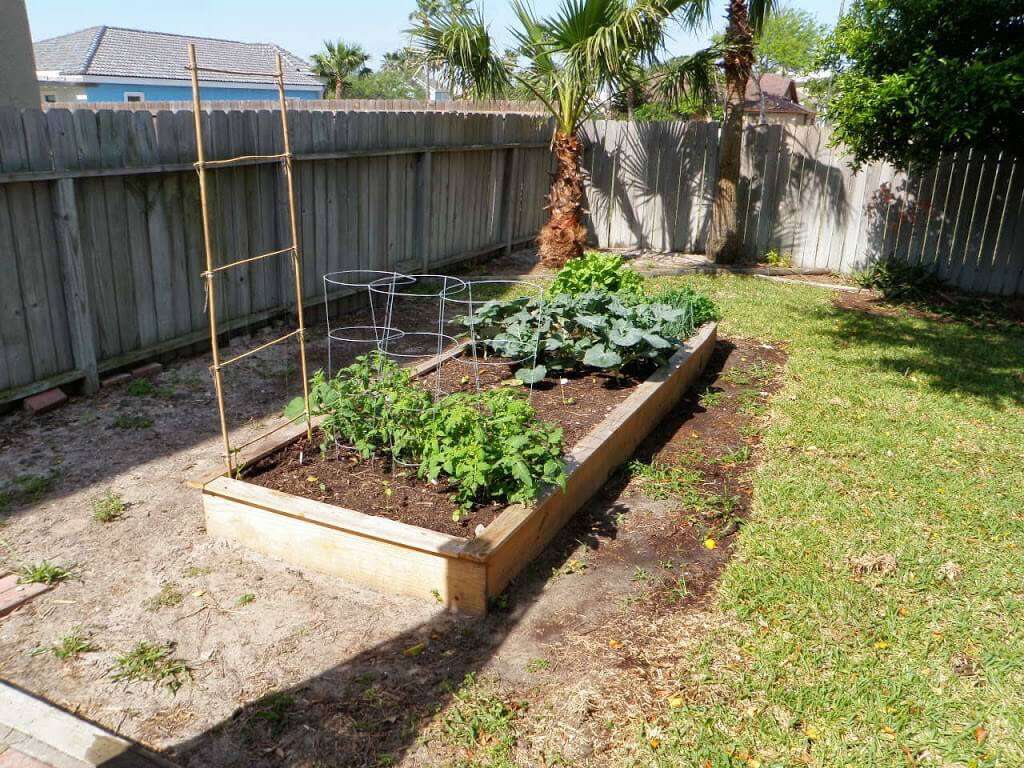 The grass took off, so did the garden, and we were so proud of our yard that whole summer and fall.

The back bed along the fence was our next target for spring 2011, however, in February 2011 we had freezing temps and ice storms twice in about a week.  On the island.  It hardly ever gets down to freezing on the island and very rarely do we see winter precipitation.  And it killed Ficus, which killed me.  Obviously it hadn't iced here in his life, and he was huge, so his life was probably like 15 years since the house was built in 1996.  We left him there through the summer wishing for green buds at some point but nope, he was a gonner.  And we were scared our gorgeous Floratam would be too with the change in sunlight but it came through fine (I swear, this stuff is insane) and I reluctantly gave Matt the green light to have someone come out and cut Ficus down, but I couldn't be there to see it.  So I came home from work one day and he was gone, stump and all, just a big hole in the ground where my two-story pride of our home once stood.  And our yard looked HUGE and barren, and I didn't take many pictures for a while.
We went back to focusing on redoing/constructing back bed.  The previous owners had weird random boxes and triangles of beds back there bordered only by loose, crappy landscape timbers (you can kind of see it in some of the previous pics).  All of that was ripped out, we designed a curved border from fence to fence, built a wall out of landscaping blocks, backfilled with a topsoil and mulch mix, laid down weed matting, then wheel-barrowed all the rock from the front yard to this bed (we were paving the front for the boat).  Lowe's probably had a record-setting quarter for this region during this project.  This new bed made the yard look cohesive finally, allowed us to re-use rock from the front project, and gave me room to play with groupings and real plantings.  I did almost all Texas native species to conserve water and try to be a good biologist.

There has been some trial and error in the plants given the differences in light from one end to the other (shady on the left, sunny on the right), but I have finally learned who can handle it back here and who can't and the ones that could have been here for a couple years now and I hardly water them.  Go native!

We also dug out the leggy hibiscus by the pad and put in a pond, something else I've always wanted.  Planted with, you guessed it, native aquatic plants (from my old boss who grows them large-scale) and mosquitofish (Gambusia affinis).

And this is where we are now.  The beds are filled in, grass is crazy healthy, pond is full, and there are birds aplenty.
I need to show the garden some love and our piece de resistance is to take down the crappy posts and build a nice, stained pergola on the pad, but otherwise we are done and can enjoy the fruits of our labor (literally).
And, hopefully soon we'll be at home for a weekend and I'll have a clean house to start on the before/after house tour posts!