One space in our home that I haven't shared much of is our other guest room.  Not because I don't like the room but more so because it was kind of always in a state of change or being shuffled around.  It definitely used to be hideous (see the before on the house tour page), but got some new paint, new flooring, and a new furniture layout and was a fun guest room/office combo.  This room is where I had a little bit of fun compared to the rest of our home with it's muted and light coastal colors.  I finally got to do some bold navy walls (SW's "Outerspace") and this room was where we displayed some of our fun concert and sports memorabilia.  Kind of a pseudo-man cave but still pretty :)
I loved all the extra floor space it had, I loved that daybed, and I loved having a good spot for the desk. However, when we needed to make the nursery, this room then needed to house the queen bed from the true guest room so things had to change. We moved the daybed and bentwood rocker up to my mom's house (holla for free family storage!) and moved the desk into the living room originally…and now currently into our bedroom when someone's little hands couldn't stay away from it.
*this post is sponsored by Boll & Branch, as usual all designs and thoughts are my own.  Affiliate links may be included for your convenience.  Click here to see my full disclosure policy.
Luckily the queen bed fit but it's teal blue watercolor bedding clashed with the navy walls and everything felt off again.  I went back and forth on what bedding could work with the funky art and navy walls and still give the coastal vibe we like, but any prints just seemed to clash or be too busy.  So it has sat mis-matched for over a year now.
Enter Boll & Branch… fair-trade, sustainable, and organic high-quality cotton bedding that is GORGEOUS.  Their bright whites look so clean and inviting and their neutral colors are pretty much all the colors I'm drawn to for our home.  I decided that clean and crisp simple white sheets and their banded duvet cover and cushy waffle blanket in "Dune" would work perfect in here.  And, I mean, with the name "Dune" it's meant to be right?!
An instant way to my heart for any company is to have on-point packaging and Boll & Branch did not disappoint.  It's like opening a luxurious present with the ribbon and everything is wrapped with beautiful care cards too.  One of the first things I noticed when I opened everything up was that the pieces didn't have that gross "new" smell to them that comes along with all the chemicals they always have.  These just smelled like simple cotton and I knew right away that this was a product I'd be happy to have our guests sleep on.
The pièce de résistance is definitely this waffle blanket which is so plush and cushy that it came in a huge box, the biggest box out of everything.  You know a blanket is good when the husband feels it and just goes "Dude…wow!".  These would be SUCH an awesome gift for someone I think!
There couldn't be a more perfect bedding set for this room in my opinion.  All the simple lines and the white lets those beautiful blue walls and our eclectic mix of art and collectibles shine but still gives a very coastal vibe to match the style of our home.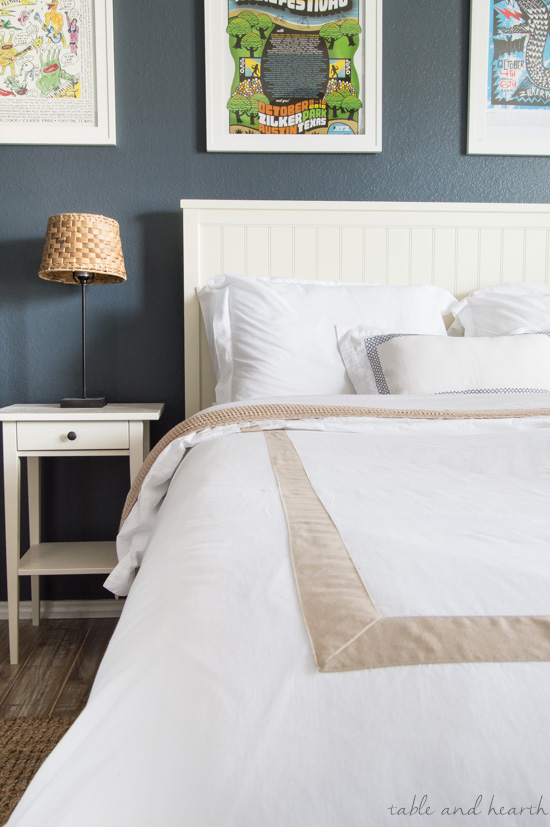 This room now evokes all the colors of our nearby beach: deep offshore blue summer waters, white puffy clouds and waves, and sandy beaches and dunes.  The cute little scalloped lumbar sham in navy looks like fish scales too :)   Bonus that our guest room towels are pretty close to the "Dune" bedding color.
I am so incredibly jealous of our guests who get to snuggle into all this softness, but I do hope it makes their stay even more relaxing and special.  Especially if the little one across the hall sleeps soundly as well.  At least when he doesn't mom's got a pretty nice place to crash nearby if needed, which is an excuse I see myself using pretty soon :)
It makes me incredibly happy to have this room all pulled together finally with this new bedding and the new hanging shelves from a few months ago.  Having one less space to take off the fix-up list is very much needed and to have it completely reflect our style on top of that is a definite win!
HUGE thank you to Boll & Branch for helping me find the perfect bedding solution for this room!!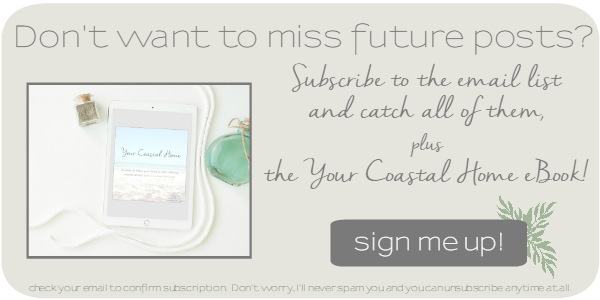 Share this!