This post is brought to you by CJ Affiliate's VIP Content Service. Thank you Pier 1 for sponsoring this post. While this was a sponsored opportunity from Pier 1, all content and opinions expressed here are my own.  Affiliate links included for your convenience, click here to see my full disclosure policy.
I felt it was only fitting that when I reveal our new gray kitchen in about two weeks (!) that our adjacent dining table be dressed for the occasion as well.  I teamed up with the pinnacle of dining decor, Pier 1, to create a neutral and rustic coastal farmhouse table setting for our dining space that'll be fit for the reveal!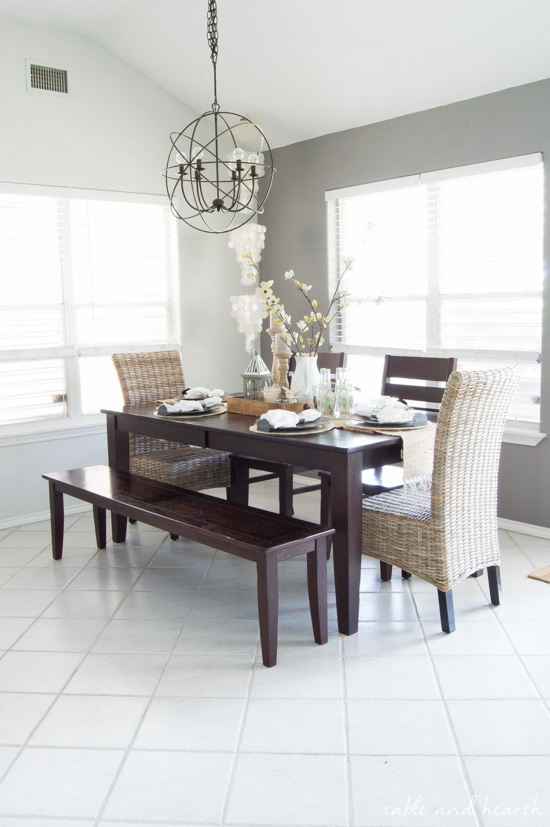 I've only ever attempted one tablescape before so it took some thinking and re-thinking about how I wanted this one to look, but I wanted to play off the natural wood accents we'll have in the kitchen along with some whites and gray tones which are so prevalent in there, all with a slight coastal vibe of course :)  So I used alot of items from Pier 1's Farmhouse collection, plus a few more coastal-inspired items.  You can find links to of all the items I used in the gallery at the end of this post!
The BEST and biggest update in here is the addition of the two gorgeous driftwood-colored rattan chairs!  I've thought about changing the end chairs out for like a year now and knew these would be perfect the second I saw them.  Of course I love their texture and the weathered color of the rattan is spot on.  They bring so much more interest to the space and are quite comfy.
These capiz shell placemats were the first thing in my cart when I started this space.  This shell finish is one of my all-time favorite ways to bring a little coastal touch to decor (you just saw it in my master bathroom update too) and they provide shimmer and texture and of course look just like shell.   Pier 1 has so many pretty chargers that I went through no less than four different ones in my ideas (in the store, like a goon) then on my last walk through of my second visit to the store, I found these gray beauties on the clearance rack!  They're actually plastic but the dark gray tone, detailed edges, and variable swirling reminded me of vintage pewter chargers I've lusted after forever.
I love chalkboard accessories and these are perfect for a table setting since they're editable/reusable.  There was a big wine carafe with a chalkboard label that was thisclose to going in the cart too.  I of course wanted to add a few of their candles to the centerpiece also since they always smell so good.  We use their fragrances throughout our home and I have yet to find a scent I don't love (that glass apple-scented candle is sooooo good, especially for summer).
All of these pieces came together so well and fit the vibe of our home perfectly.  I never used to be much of one for decorating the table or making tablescapes, but now I think I'm hooked.  I love having more height on the table and how much more inviting it looks, plus many of these items can also be used on our outdoor table when we're entertaining out there.   Pier 1 also has amazing outdoor dining and entertaining decor as well, I especially love the Surf Style collection.
We are definitely ready for a dinner party once that kitchen is all the way done!  And speaking of the kitchen, here's another sneak peek at it!  There's still one big change we need to cross off our list but it's sooooo close!
Pier 1 always has such amazing dining space collections and  you can always find more ideas and inspiration on their Be Inspired page, or with #pier1love and #TablescapeTuesday on social media!
If you love any pieces you see from our table, click the source links below!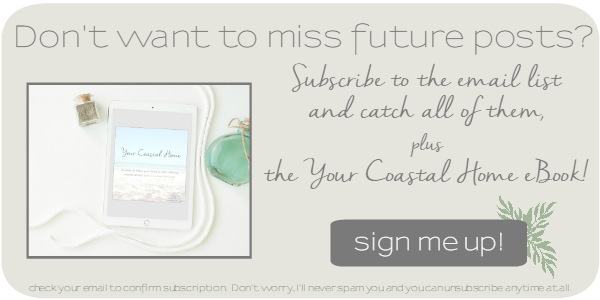 This post is sponsored by Pier 1, thank you for supporting the brands that support this blog.  All opinions are my own as usual, click here to see my full disclosure policy.