Holy cow, it's already halfway through October?!  I've been out of town the last week but am going to be dusting off the 'ol blog and getting back at it soon, sharing pics of my second trip to Magnolia Market(!) as well as my super late First Week Favorites, but today we'll start with October's Monthly DIY Challenge!
**Affiliate links are included for your convenience.  Click here to see my full disclosure policy
We picked Sharpies for this month and I LOVE how creative everyone got with such a simple item.  It's usually the most common and simple items that are the hardest, pushing us to find non-traditional uses for them isn't always so easy!  I promised this month's project wouldn't involve re-using glass bottles like the last two did (here and here), so instead this month I'm sharing a way to use up that yarn stash you have.  I love me some monograms, so I used Sharpie metallics and some leftover yarn to make this texture-filled wood monogram.
Copper and Textured Yarn Monogram Tutorial
Supplies
Yarn in various colors, weights, and textures
Speed square, ruler, or level
I kept my yarn monochromatic (of course) but this can easily be made with any colors you like and you can also stain or paint the letter as you wish too.  I found this whitewashed MDF letter which worked perfectly with my yarn.
Instructions
Using the speed square or ruler, start making lines and blocks randomly on your letter using the marker.  Mine got a little crooked (oops) but that was easily covered up by the yarn thank goodness.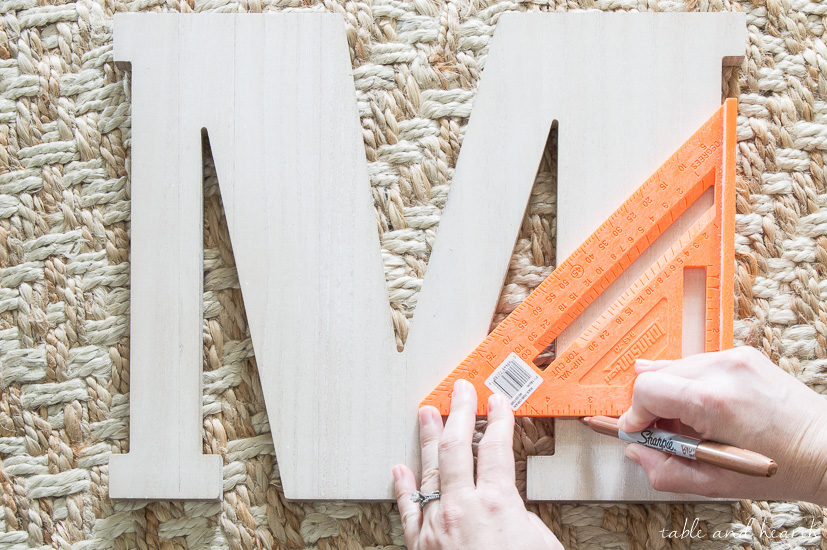 For the yarn, I followed the same method I used for my previous yarn monograms but chose to hot glue the ends on this one.  I just eyeballed where I thought each yarn would look best, making sure to roughly have even weights and textures.
Um, and that's it!!  Super quick and easy, especially if you don't have to paint or stain the letter.  The Sharpies give you perfectly "painted" sections without the headache of having to tape off and actually paint. This is such a great way to get rid of those small leftover sections of yarn you've been stashing!  Oh, and I didn't wrap the Sharpie sections around the sides but think I'll go back and do that.
Now check out what the other girls created with their Sharpies!  You'd be surprised what all you can do with the classic junk-drawer marker :)