This time next week we will officially have a toddler instead of an infant (insert shocked face emoji).  I feel like I'm still scrambling every week to learn whatever new thing he needs or has started doing, and one area I severely underestimated was 1) when he would start to need a multitude of toys to play with, and 2) just how short his attention span to those toys would be.
Around five months he started playing with small teethers and clutching toys, but around nine months he was going to town with all his new toys for Christmas and it was clear we needed to step it up in the toy department soon.  His stash quickly outgrew the metal tub in his nursery so I started thinking about new storage solutions.  I love the look of crates like we used in his closet and they are so versatile for making custom pieces so I got to work and made him a toy storage shelf that holds his ever growing collection with plenty of room for more…just in time!
How to Make a DIY Crate Toy Storage Shelf
*affiliate links included for your convenience and I partnered with Crates and Pallet for supplies on this project.  Thank you for supporting the brands that support this blog. Click here to see my full disclosure policy
How many crates you use and what dimension of boards you need will be determined by your space of course.
Supplies Needed
Instructions
First step is to figure out how many crates you'll need for your space.  I brought them into the nursery and set them in the spot to see how they fit and it turned out three of these vegetable crates fit perfectly and still allowed a little space near the door.  I could have done four but it would have made the shelf flush with the entry and closet doorways and that was just too tight.  I also wanted Connor to be able to reach into all of them and reach things on top so I kept my shelf at a two-crate height, so six crates total.
I also measured the depth of a crate to determine how wide the boards needed to be.  The crates are about 15.5″ deep so I got boards that were 16″.  I stacked my crates on top of some extra boards to serve as clearance space to see how high the sides needed to be as well.  Mine ended up being right at 24″ high which worked out well.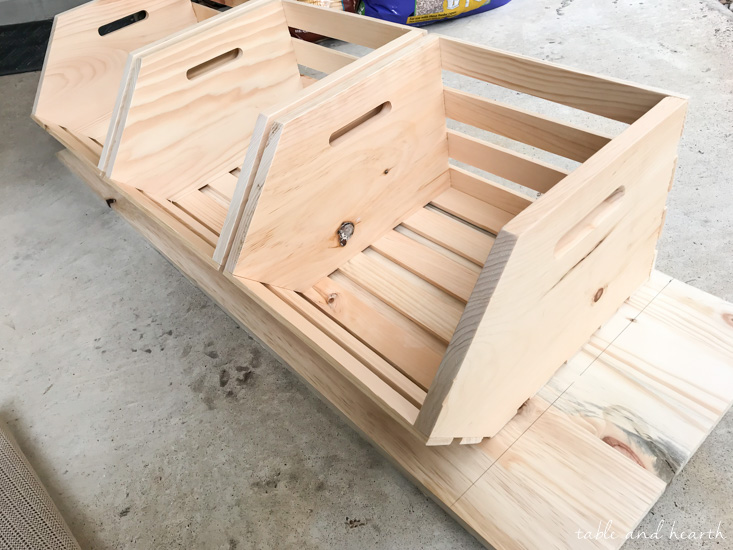 Next you'll cut your boards down to size.  Luckily the boards I got came in 4′ lengths so I just had to trim a little off the edges with my saw for the horizontal pieces and then cut one board in half for the sides.
Before assembling, I like to go ahead and stain my pieces (painting I do afterwards though).  I stained all of the boards with my trusty Weatherwood stain to give it a slight weathered/driftwood look like we have going on elsewhere in the nursery (and throughout our house).
Once your boards are dry they are ready for pocket holes. I didn't go by any specific plans but if you want a fancier shelf, and true plans, you can take a look at some of my favorite sites here, here, and here, and browse around :)
Put a pocket hole in the center and 3″ from each edge on the undersides of the top, middle, and bottom boards.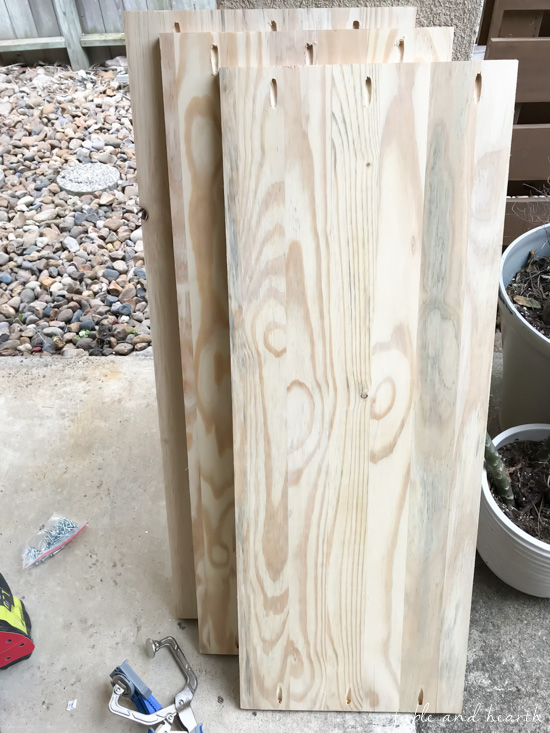 Using the right angle clamp, attach the side pieces to your bottom shelf.  This clamp makes this SO easy to do solo!!
Center your middle shelf on the side boards and clamp in place.  Use the level to even it out while drilling your screws.  Then do the same for the top board.  My top board sits within the sides so that you don't see an edge from the sides, but you can cut your top board a little wider to sit over the sides if you would rather have that clean look on top.
Now that the shelf is assembled, it's time to get the crates ready!  After a good sanding I set them up in my spray tent and gave them a few coats of paint. I highly suggest a sprayer for this, I would hate to have to paint all these by hand.  It also started raining halfway through this so I was also SUPER thankful I had the spray tent!
You'll want to seal the shelf and crates so they stand up to frequent use and abuse.  I used my favorite polyurethane and sprayed a couple of coats on everything.
The shelf had a liiiitttle bit of a shimmy to it so I added four 2″ corner braces under each  corner  on the backside to help give it a little stability.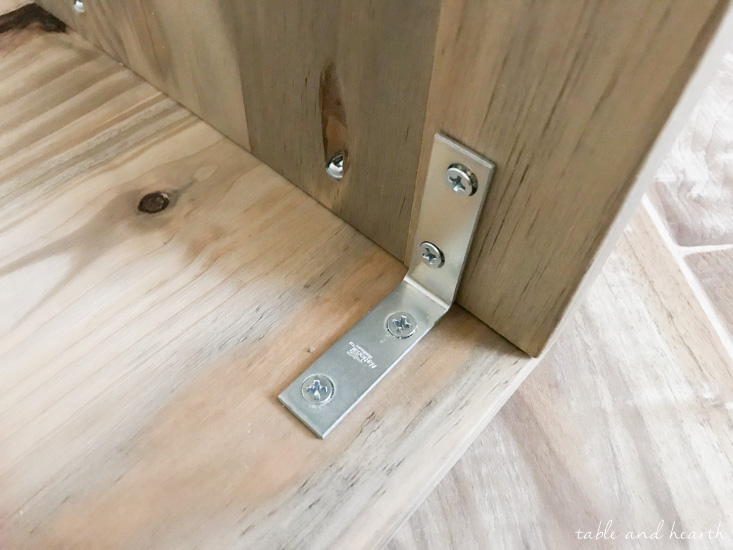 Since the crates will be slid in and out I put little felt pads on the bottoms so the shelves wouldn't get scratched up too bad.  (I'll probably get some larger 1″ pads soon though)
To keep any small toys from falling through the slats on the crates I cut out pieces of drawer liner and glued it to the bottom with my hot glue gun.
We still keep a stash of toys hidden away to rotate through and keep "new", but I filled these with 75% of the toys he has and there is still SO much room in them for more which is a huge relief!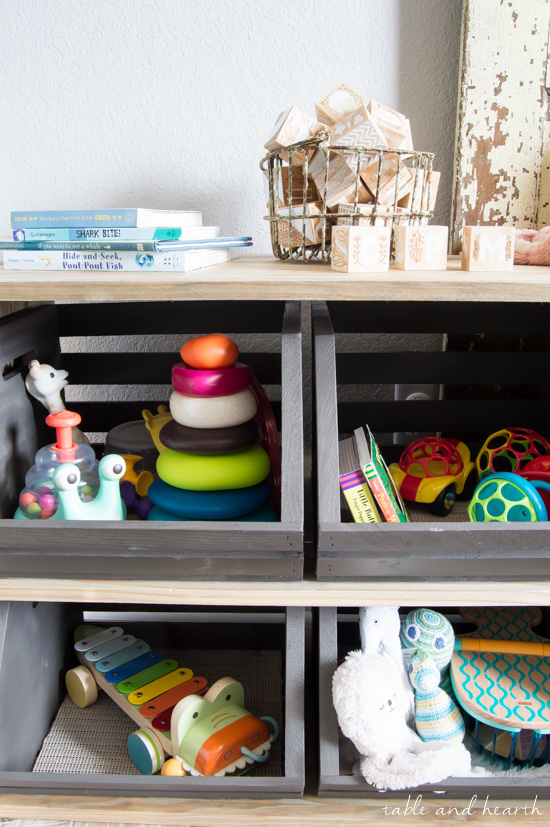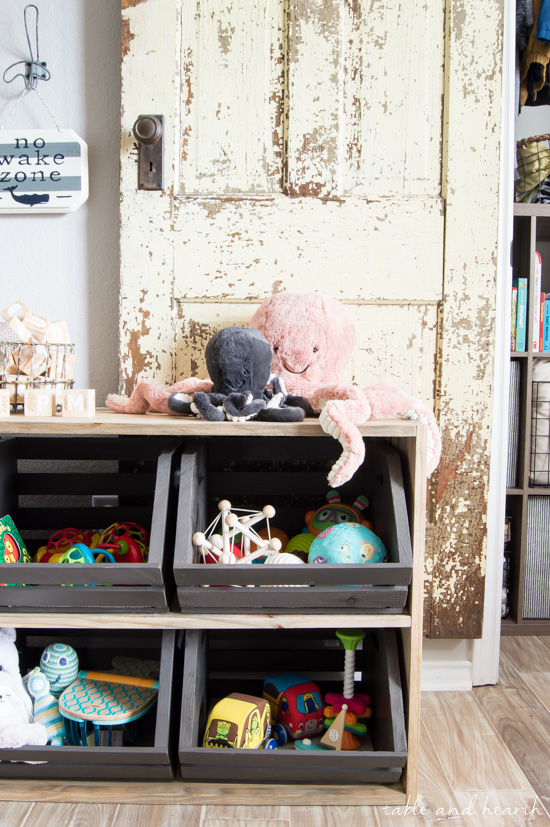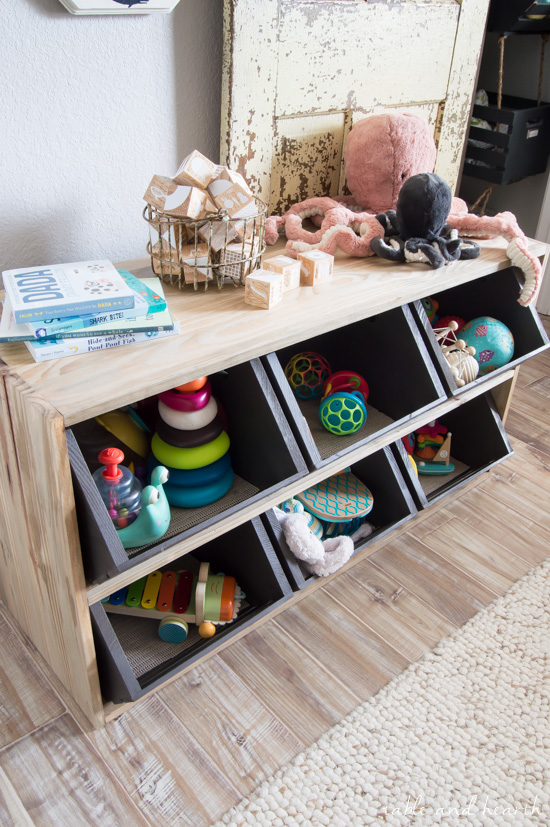 It's the perfect height for him to stand in front of and he has been getting things in and out of them perfectly.  It'll be even better when he's coordinated enough to actually slide the crates out…right now he just sticks his whole head and arm in there :)
I know they'll be filled to the brim in no time but it is still so nice to have an organized place to stash everything and even better that it's self-serve for him.  Now to start teaching him how to put them all up at the end of the day on his own, ha!!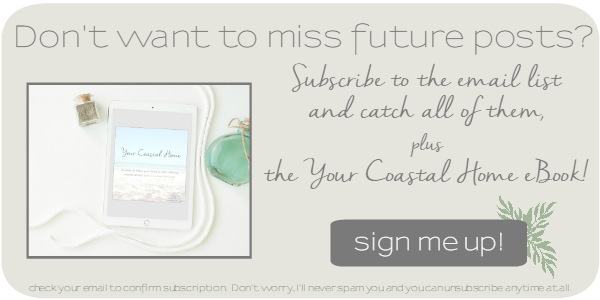 Share this!