Happy holiday season!!  I hope all my US friends had a great Thanksgiving weekend filled with good food, family, and tons of laziness.  As much as we wanted to get a head start on our decorations this year, we are just now starting to put things up…jury is still out on how it'll hold up to an 8 month old though but we will still try!
Last year I had the harebrained idea to use a crap ton of my beloved driftwood pieces to make a new Christmas tree skirt.  The 34749 hot glue burns were totally worth it because they became a showstopper that pulls together our coastal Christmas style perfectly!  It's actually a really simple thing to make, just be ready to become best friends with your hot glue gun :)
How to Create a Coastal Christmas Tree Skirt with Driftwood
Supplies
There really is just a few supplies to make this, but you'll want to have a large area to spread out and work in.  Who needs their living room floor anyway?
I chose to go with the plastic hex netting rather than metal chickenwire like I originally planned because a) it would be MUCH safer to work with, handle, and store, b) it would be more flexible and lay flatter, c) I could use regular scissors to cut it instead of metal snips, and d) it flexes enough to partially roll for storage.  Just see what your local store has or check online and go with whichever size mesh you'd like to use.
Instructions
Below is a quick video from last year of the process of putting this beast together:
I used 3′ wide netting so to err on the side of caution I made my skirt as large as I could, two 3′ wide half circles, to get a visual of how big that would be, as I could cut it down later if needed.  These directions are written for making a skirt this size, obviously you can eliminate some steps if the diameter you need fits onto the width of the mesh.
To make the circle even, tie twine to a piece of chalk then stretch the twine to the other edge of the netting and tie it off.  Then mark the netting in a semi-circle while keeping the twine taut, then cut it out with the scissors.  Lay this first section over the netting  and trace it with the chalk to make your other half.  Cut a small opening in both pieces so they'll fit around the tree trunk, then tie your two pieces together with small pieces of twine.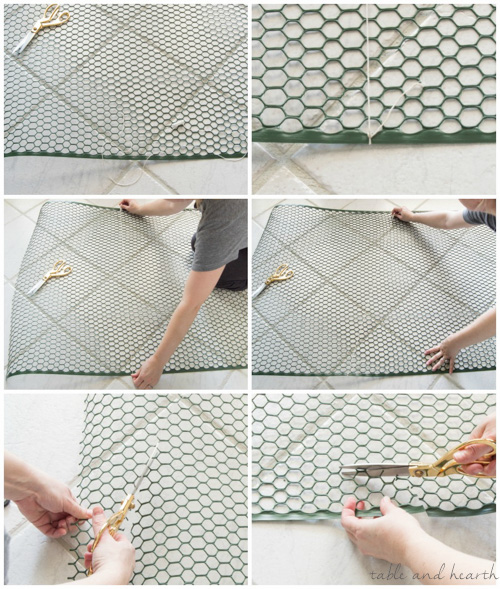 Here is what you'll end up with after those steps:
If we had a bigger living area, I would have totally kept the skirt this size since I always like to still see the skirt after presents, but for our space it was best to downscale a little so I cut it down by a foot or so using the same chalk method.  If you start out knowing how big your skirt needs to be you can be more efficient than me and just cut your halves to the size you need.
Now you need to add the felt to the mesh so you'll have more surface area to glue the driftwood to.  Lay your felt down then put the netting over it and cut it to size, including the center tree trunk circle.  To secure the felt, carefully(!) use the tapestry needle and twine to tie it in multiple places to the mesh.  I felt that tying instead of gluing it down would hold up better after use and storage.  Oh, and you definitely want a metal tapestry needle, the plastic one I started out with bent and finally broke.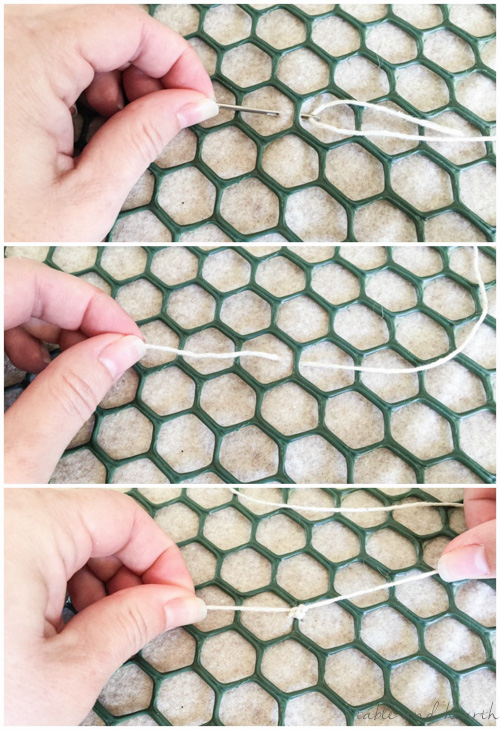 Tie the felt down in scattered places so that it's secure, then cut a slit in one side of the circle so that the skirt will slide on over the trunk.
Here's what you end up with, your blank slate for all.the.driftwood!
I love the look of big pretty bows tying a tree skirt on so I added three strips of ribbon along the slit.  Just cut some holes in a few locations and thread some large pretty ribbon through then tie them how you would like.  This ribbon-threading step is much easier to do  now before there is wood on top of the skirt, you'll tie them when it's all finished.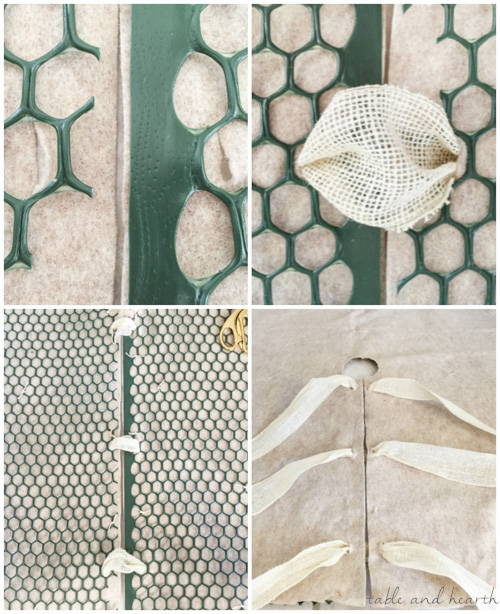 Now it's time to start adding all that pretty wood!  I separated my pieces into three different lengths then laid them out on the skirt with the larger/longer pieces towards the edges and smaller ones near the trunk, but you can use whatever pattern or method you'd like of course.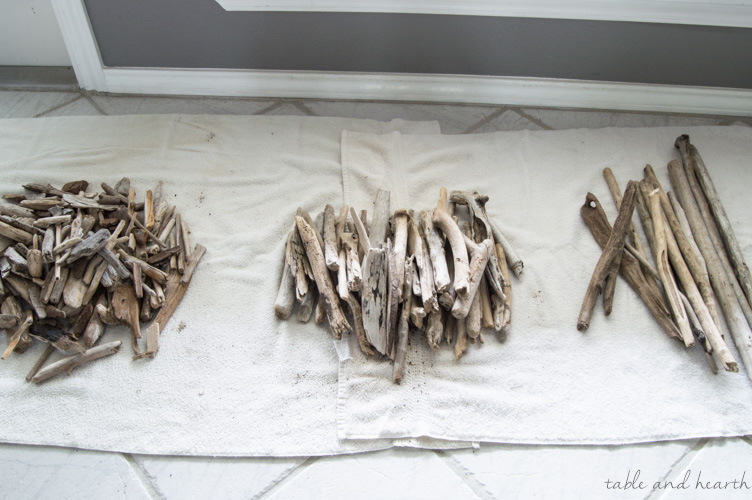 If you're meticulous and an over-planner like me, you can play around with your pieces to see how they can fit together before gluing them down, otherwise glue as you go.  I would work in sections about a food wide, gluing down after I had them in the positions I wanted.  Try to get as much flue contact as possible so they're securely in place. Remember, have LOTS of extra glue sticks on hand, you will need a ton!  Fill in around and under the ribbon areas as best you can.
I highly suggest putting the skirt down AFTER you have decorated the whole tree to keep from having to vacuum all the little needles that fall while you're working on the tree (obviously, I did the opposite…).
Now you have a beautiful and unique coastal Christmas tree skirt that is SURE to impress, what a statement piece, right?!
For storing after the holidays, I carefully loosely roll/fold the skirt up and if any pieces do come loose I just glue them back down.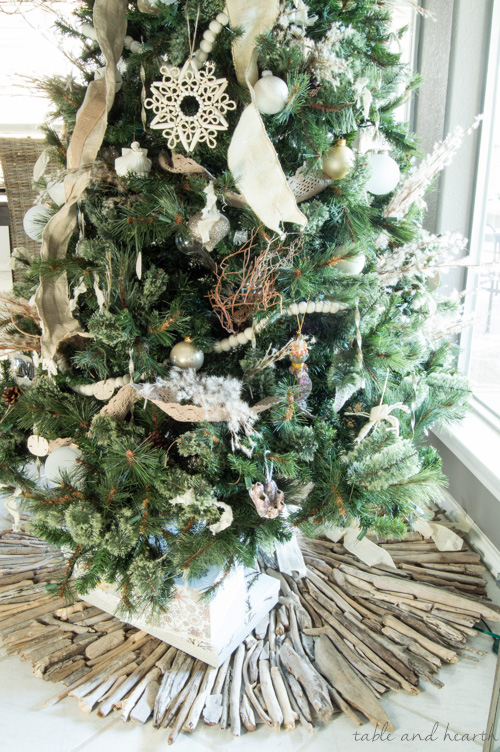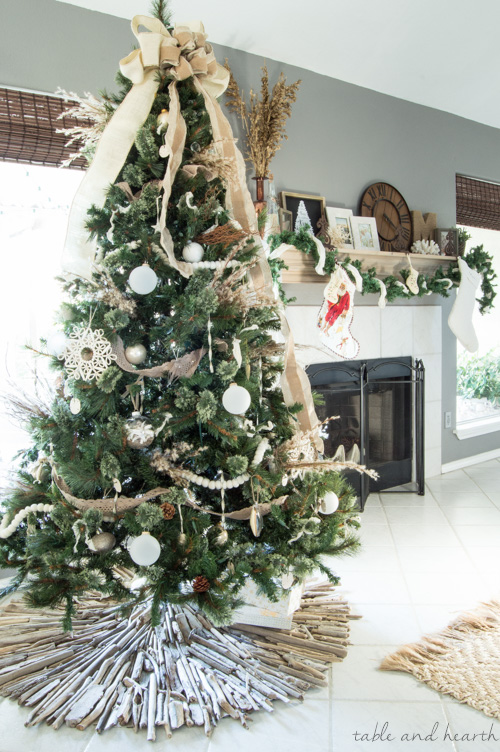 So, I'm sure we can all be in agreement that this takes my driftwood-obsession to an all new high, but I'm not even ashamed.  I can't wait to put it down and decorate this year!  Although I'm sure it's going to be TOTALLY covered with gifts this year since it's little guy's first Christmas ;)
Do any of you have a coastal Christmas style?  I'd love to see it if so!!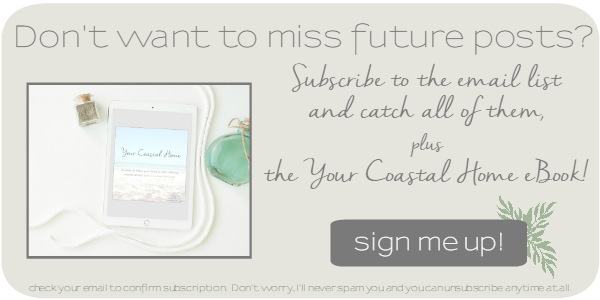 Share this!