While fall was my favorite time of year growing up in north Texas, we never get much of one where we're at now in south Texas.  It doesn't start to cool off until sometime in November then winter starts in January, and we have very few trees that change color other than brown.  Nonetheless, I do like to have a few little fall touches where I can, especially on our front door.  Because anything on your front door is always a cheery welcome :)
My beloved sea oats fronds I find in the dunes just scream fall to me (and any other dried grasses) so I bundled a few up to make this rustic and coastal-inspired swag for the front door.
Burlap Fall Door Swag Supplies
I love the non-traditional shape of a swag instead of a wreath but this of course can be modified to a wreath as well.  Just insert your grasses and faux florals into a simple grapevine or foam wreath base.
How to Make a Burlap Fall Door Swag
I used a twist tie to bundle the grass stalks together then layered the faux floral picks over them and tied it tight so they wouldn't wiggle around too much.
To cover the tie up and hold it together even more, I hot glued  a couple layers of some pretty beige crochet ribbon over it.  I wanted to be able to use the grass stalks the rest of the year so I made sure not to glue them together or to anything so I could slip them out after the season.
Next I layered the faux leaves under the sunflower blossom and glued them down as well.
The swag hangs by a long piece of loose burlap ribbon  hooked to a Command hook hung upside down on the inside of our door.  That way you don't have any unsightly hanging devices on the front of your door!  I just knotted the piece of ribbon around the bunch, hung it over the door, then tied it in place on the inside at the hook.
That's it!  Just a few dollops of hot glue and some ribbon and you have a unique arrangement to hang on your door and greet your guests.
I LOVE all the different textures it has with the various burlaps, natural grasses, leaves, and the cool feather and "nuts" in one of the picks, plus all the pretty muted fall colors.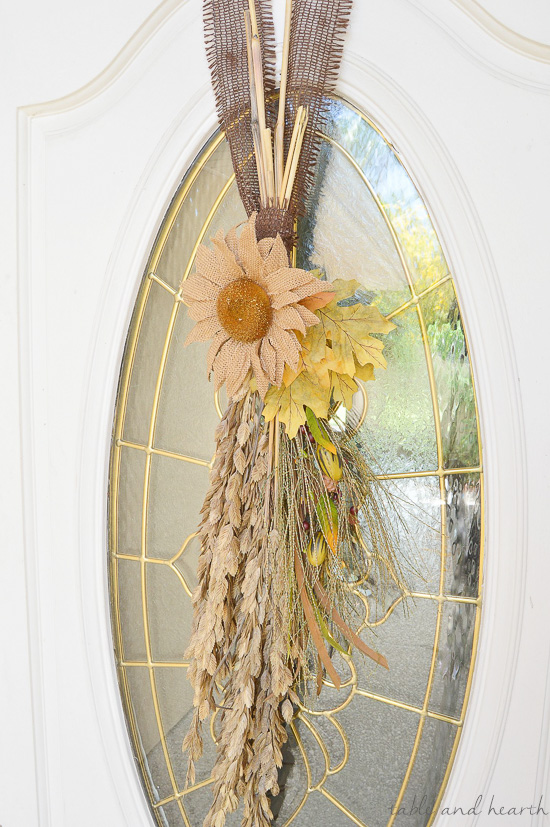 So, happy fall y'all!!  
Stop back in on Wednesday for our September Monthly DIY Challenge to see what we all did with ModPodge PLUS enter for another giveaway!!