Happy 2016 you guys!
It's been a much-needed two week break over here but I'm (slowly but surely) getting back into the swing of things blog-wise. I spent a liiiiiitle bit more time on the couch than I should've and didn't get as much done as I had planned, but boy was it nice to unwind and let my mind de-stress and relax :) But, today is the start of many new things (new job, yay!) and I'm looking forward to all of it, starting this week! For now though, here's the first First Week Favorites for this year!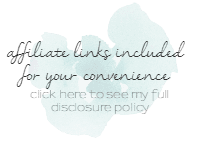 one
light and bright dream home
I always love the homes Erin shares over at House of Turquoise every day but this one took my breath away. That may be the most beautiful railing I've seen in a home. And don't even get me started on the kitchen!
two
gray storage ottoman
We're about due for a new storage ottoman in the living room and I've been eyeing this one for a while. I just love the tufting on the top and the light gray color.
three
quote print
I've been finding alot of quotes so meaningful over the last few weeks as I transition to a whole new job (today!) and just loved this one. So very true.
four
galvanized metal envelope
These are almost exactly like the metal envelopes I snagged at Magnolia Market during our trip for our shutter organizer, and at only $10!!!
five
pressed fern prints
These prints are utterly amazing. Each one is made up of the tiniest, most perfectly pressed plant parts. Mind. blown. Ordered one as a Christmas gift for a friend and I'm a little jealous.
six
plaid vest
With the insane weather we've been having down here (80 at Christmas, 45 at New Year's), I've been loving vests more than usual. I love that this one isn't too puffy and comes in a cute black/white or white/navy version.