Happy Fri-yay! And happy March! It was in the low 90s here today so spring is here, and apparently so is summer. Ugh, at least that means our flower beds and garden will finally look alive and start blooming. I sure could use a few more chilly days though.
Here's a few things I've been loving (and craving) lately: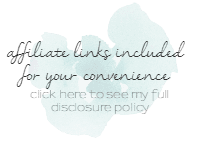 one
floral kimono
I know I'm not alone in loving what Joanna Gaines wears almost as much as her home designs, so I was really glad when someone tweeted where her super cute floral kimono was from during one of the shows. I am now obsessed with these flowy kimonos
two
lattice mirror
This guy popped up when I was shopping around for a new vanity mirror and I really wish I had a space that needed a cute accent like this. Why does there have to be sooooo may cool mirrors out there?!
three
Alexandra's Kitchen Puttanesca
My recipe board on Pinterest contains a large percentage of recipes from Alexandra's Kitchen, and every single one I've done of hers has been outstanding. We made this one last weekend and it is hands-down the best pasta dish I've EVER had. Restaurants included. The ingredients are so simple yet it had so much flavor, we'll be making this very, very often.
four
coastal gallery wall
Probably the most beautiful gallery wall I've ever seen. The dimension is amazing. There's really no words.
five
rustic ceiling fan
We have the UGLIEST fan in our living room and it's always been at the back of my to-do list to replace it. I would love to bring in something more subtle and rustic like this guy to play off the other muted shades and textures in our home.
six
wooden dough scraper
A dough scraper is one of my all time must-have kitchen gadgets, and this wooden one is so pretty! Their whole olivewood collection is really pretty actually.