Is it insanely hot where you are lately?? Man, I know we're in south Texas and all but it seems especially brutal this summer. We feel so cooped up and restless because we just can't get out with the baby anymore because it's too hot and too bright for him. We haven't even done a beach day yet. I'm ready for fall!!!!
Here are my August First Week Favorites!
*affiliate links included for your convenience, click here to see my full disclosure policy
I recently found Kyte Baby clothes at one of our favorite little baby boutiques and their clothes are the softest, lightest fabrics I've ever felt. I snatched up a good handful for Connor to wear out and about in this horrid Texas heat. They recently came out with women's loungewear out of the same material and it must feel like wearing a cloud, seriously.
two
Winter Water Factory
Some of the coolest prints I've seen on clothing for everyone, as well as fabric by the yard of the cute prints. My favorites are High Seas, Farm Next Door, and Ocean Waves seen here.
three
really good faux succulents
I can't keep a succulent alive to save my life so I'm always checking out the faux succulents and arrangements I see in stores. Pottery Barn has a whole new line of faux plants and of course they're spot on. I really like the wall hangings because I REALLY wouldn't be able to pull that off!
four
play mat
Now that we have an almost five month old (how?!) who is rolling all over the place, we swiftly had to find some options for him to lounge on since our whole house is tile or laminate. Baby play mats are pretty hideous across the board so I was so happy to find these pretties! Stay tuned for a post gathering some of my favorite baby gear that works with your home decor in the next few weeks ;)
five
tasseled hand towel
We are way overdue for some new kitchen towels but why are most I see so dang ugly and boring?? I'd love to have some with a little more pizzazz like these, so long as they're absorbent too (if you have some like this, let me know!).
My blog friend Sarah at Life on Virginia Street recently shared this purse in a post and I haven't been able to get it out of my head. It's absolutely perfect…the color, the scallop, the size, and even the price since it's on clearance still! I'm having trouble justifying spending like any money on myself lately (#buyallthebabythings), so somebody buy this so I can live vicariously through you!!
See you back here Wednesday for our Monthly DIY Challenge, we're using one of my favorite materials this time…rope!!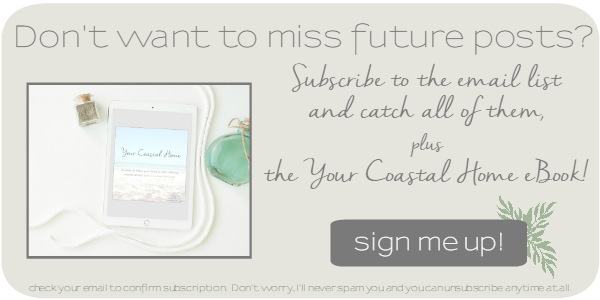 Share this!