The dreaded crickets around here again, I'm so sorry guys!!  The past month has flown by and this one is too so hopping on here just kept getting pushed back day by day and now all of a sudden it's been a month since I've posted.  While there's definitely less time to do projects nowadays, I assure you there are PLENTY of projects going on to share with you shortly!!  A few for the nursery, a bunch of fun in the office/guest room, and a little someone's first birthday party that of course has to include some little crafts :)  So hang tight and stay tuned!
I am in love with the Favorites for this month though!  Currently smelling those beautiful fragrances and that round beach towel is in my cart as we speak ;)
*affiliate links included for your convenience, click here to see my full disclosure policy
We recently visited some friends at their family's gorgeous beach house in Cinnamon Shore in nearby Port Aransas (if you're looking for vacation rentals on the TX coast, check them out!).  Aside from the amazing interior design I was equally in love with how good the place smelled.  Every room had the prettiest fragrance and after some (minor) snooping, I found out why.  Each room had it's own Lafco reed diffuser!  Instead of going by just the fragrance itself, Lafco actually has fragrances based on each specific room such as kitchen, master bedroom, dining room, etc and each one matches that space perfectly!
I reached out to them and was thrilled to get a package of fragrances to use in our own home.  I'm a sucker for pretty packaging and these guys may take the cake…if you're looking for a beautiful gift for someone these products would be perfect!
I have diffusers, candles, and room sprays for Dining Room (Celery Thyme), Master Bedroom (Chamomile Lavender), and Living Room (Fresh Cut Gardenia).  The diffusers and candles have artful high-quality glassware that fits in perfect with our decor and the oils are strong enough to scent the whole space without being overpowering at all.
The Kitchen fragrance, Cilantro Orange, was one of my favorites from our friends' house too so I'd like to try that one next but they all sound so good, I need more rooms ;)
You can see all of their products and fragrances HERE and shop a few of them HERE!! 
I think that round beach towels are insanely cool and have wanted one forever but I haven't been the best shopper and they've remained elusive for me.  My sister-in-law recently had a really cute one so it started me on the hunt again before this summer (dare I venture out there post-baby…)  When shopping H&M for Connor clothes I browsed around and found this gem for…wait for it… $15!!!!  Holla!
three
sea glass art
Many of the accounts I follow for my Etsy shop are sea glass beachcombers and many of them make amazing art out of their finds.  One of them is Juniper Avery who makes these adorable family "portraits" out of seaglass and beach pebbles!  How sweet would this be for an anniversary or Christmas gift?  (Valentine's too of course but too late for this year)
four
diamond print natural rug
I'm still on the hunt for a new rug for the nursery (the wool is just TOO shed-dy for me) but now I'm also searching for a new living room rug.  I absolutely love ours but it's starting to show some wear, is losing fibers, and my new Roomba just cannot handle its fringe and I cannot handle having to untangle it every.single.run.  I'd like to stay with the same general look and love this fringe-less natural and gray number from Wayfair.
five
patterned tile
Ever a lover of cool patterned tile, these pretty subway tiles immediately caught my eye while browsing around the other day.  How pretty would they be as a counter to ceiling backsplash?!  They come in other shades too if the blues aren't your thing.
six
pineapple basket
This pretty fella really needs no caption.  I mean, neutral wicker pineapple basket?  Yes please.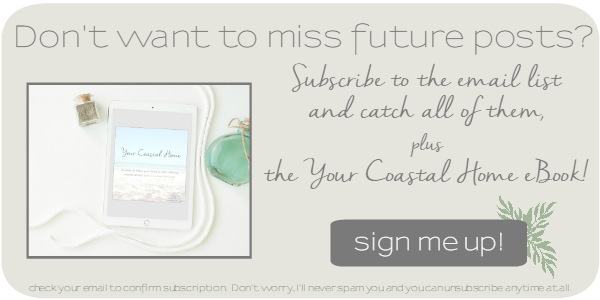 Share this!