I normally would start this off with a "happy spring!" sentiment, but I think most everyone, even us way down here in south Texas, are still feeling pretty winter-ish.  It got into the 40s here on Saturday night which is crazy for April.  I'm not complaining though, I love a good cold front, but it definitely changed our weekend exploring plans.  Hopefully this will be the last bit of it and everyone can carry on with their fun springtime stuff, I know I'm still feeling it…as apparent in this month's favorites!
*affiliate links included for your convenience, click here to see my full disclosure policy
one
new Yeti colors
I have a beautiful set of glassware at home but all we ever drink from is our Yetis because their voodoo keeps my iced tea cold pretty much all day (my record of ice in one is 26 hours), and now they have pretty new colors!  I'm dying for that Coral when it comes back in stock because it'll be so perfect for summer, but I do love the clean White one too.
two
scallop shorts
I have all of one pair of shorts that fit me after baby (ugh) so I've been on the hunt for new pairs but it's been pretty brutal considering the style is super distressed, high-waisted, or showing half your cheeks.  Can I please just get some simple and clean chino shorts?!  I LOVE the scallop trim on these and the fact that the inseam isn't 0.002 inches.
three
glass straws
We try to use reusable materials as much as reasonably possible, like reusable food pouches and cloth diapers for Connor and reusable food storage bags and cups for us.  Working in the marine biology field, I know all too well the impact that plastic trash, particularly single-use items, is having on our environment and especially the oceans.  Straws and lids from to-go cups are a huge culprit so I am getting myself one of these awesome reusable glass straws to replace those with!  This, paired with the Yeti I always have with me, can keep me from contributing to the problem.  Plus, they come in a ton of pretty colors!  (read more about the issue along with a good video here)
four
striped cloth hamper
I think I could design an entire bedroom off of this pretty little hamper.  I love a good ticking stripe and these butterfly hampers are super handy on laundry day.  We have a double one in our closet and love it, and this would be great for a kiddo's room.
five
galvanized circle wall planter
Nothing says spring like some new pretty plants and I like that this cute planter takes them vertical.  Plus it'd be a really cute mail organizer or magazine holder if you didn't use it as a planter.
And of course, what is more springtime than a little mint-colored watering can?  I recently started browsing around H&M Home and they have the cutest stuff!  Now I'll have more to add to my cart when I make orders for 38484 baby clothes…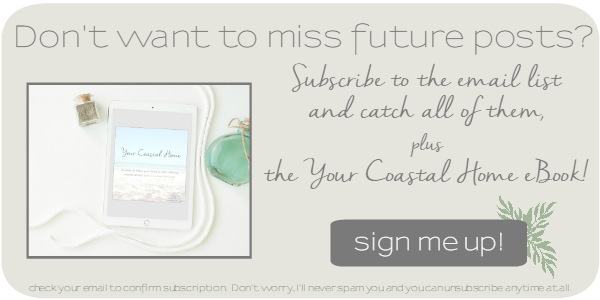 Share this!