It's funny, last month I opened this talking about how it had still been in the 40s here and now it's in the mid-80s everyday already…summer is here friends, and I am SO not ready.  While I can do without hunting for a new bathing suit, I do love summer in terms of home decor.  The bright whites, beachy and botanical elements, and fun textures always draw me in!  The struggle was real trying to narrow it down to just six Favorites this month:
*affiliate links included for your convenience, click here to see my full disclosure policy
If you caught my recent Insta stories, you saw that my years-long hunt for a sideboard to put in our entry finally came to an end this week thanks to a sale at World Market. I had been hoping for a painted piece but just couldn't resist this deal so wood finish it is, which means the starburst mirror we have now will need an upgrade so I've been looking at allllll the mirrors.  I think one with a shell finish like this would be a great balance with the rustic wood.
two
striped linen pillow cover
H&M Home is always a trove of great finds but these stopped me in my scroll.  1) gray and white stripes, 2) linen,  AND 3) buttons.  Be still my heart.  If only I had just one more bedroom.
three
ombre floppy hat
Last weekend I met up with my girlfriends from graduate school for a girls weekend floating the river in New Braunfels and man, float trips in our mid-30s sure do look different than in our mid-20s!  One-pieces, coverups, and wide-brim hats were the outfit of the day and with another river trip coming up next month with family, I need to stock up on all three.
I don't think there's a single piece of decor in our home that is pink but for some reason I absolutely love this little lumbar pillow.  I always love botanical patterns and blush is one of only two shades of pink that I like (the other being coral like my new cup from last month).  This would be really cute with our new guest bedroom bedding.
five
crocheted starfish cushion
I also need a complete extra bedroom for all the adorable decor pieces that PB Kids always puts out, I can't even take all the adorable sea life things they have right now.  A giant all white crocheted starfish?!  Yes please!
Our little explorer has discovered our two junk crates under the coffee table and the baskets of stuff in the entertainment center and they're like baby magnets now.  One big latching trunk like this as our coffee table would let us hide all kinds of stuff, plus the wicker is a pretty coastal texture.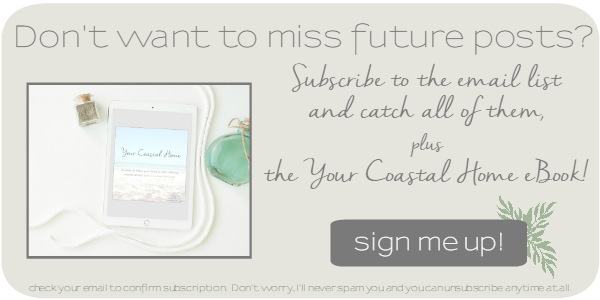 Share this!