So, here we are in March and we now have a toddler!!  His party was Saturday and was a huge success…once he finally woke up from a nap an hour into it. We had so much fun with all our friends and family on a beautiful warm and sunny Spring Break day.  I've got a ton of pictures to go through and will be sharing the fun nautical decor we did here on the blog shortly!
Since last week was full-on party prep I totally missed getting this week's favorites out but here they are, better late than never.  Now that it's spring here and the weather is definitely warming up (happy and not happy about that at the same time…) I'm itching for more summer-y items lately so here's some of my favorite finds!
*affiliate links included for your convenience, click here to see my full disclosure policy
one
oar shelves
I'm a sucker for old oars at local flea markets (exhibit A) so I'm currently scheming how and where I could make one of these myself, but if you're not so inclined this shelf is 40% off right now!
two
bow sandals
My wardrobe has been seriously lacking now that I'm a mom but I'm trying to step it up outside of the office and ditch the yoga pant look.  I have zero pairs of shorts and still rock my maternity tops but my priority is obviously to focus on cute sandals, ha!  I'm not usually a bow sort of person but I like that this one is super oversized and looks more like a knot, plus they look really comfy since it's all so wide.  Now to choose between the blush and nude?!
three
fishnet pillow
Again, I could *probably* figure out how to DIY this onto an existing throw pillow, but I'm thinking that spending 294848 hours tying twine knots is worth way more than $25 (less with the current sales!), plus it comes in a bunch of fun colors in addition to the white.
four
rustic baby gate
It has become clear that we're going to have to block off our bedroom from the little guy.  Our cat hangs out in there all the time and it's where he runs to immediately when he's roaming the house.  Cat food, litter box, and our open glass shower are all in there so #nope.  I'd really like to find a more stylish gate to use so it blends into our decor well and like the driftwood color of this one.
If you have a stylish gate that you love let me know in the comments!! 
five
wicker storage trunk
While we're talking about baby-magnets, he's discovered the canvas bins of junk at our coffee table.  He's mainly after the remotes but I'd really like to just have all that stuff stored away but still accessible to us (everyone has that living room junk "drawer", right??) so I've been eyeing these latching wicker trunks to use as a coffee table instead.  Closing and latching lid, pretty finish, still useable as a coffee table, and less sharp corners to worry about too.
I finally tossed out the freebie Victoria's Secret PINK tote bag circa 2009 that I had been using as a beach bag and it's time to replace it with something a little less college. I like how this one has a shoulder trap and is tall so towels would fit better plus they have this navy stripe and a really cute off-white grid pattern too.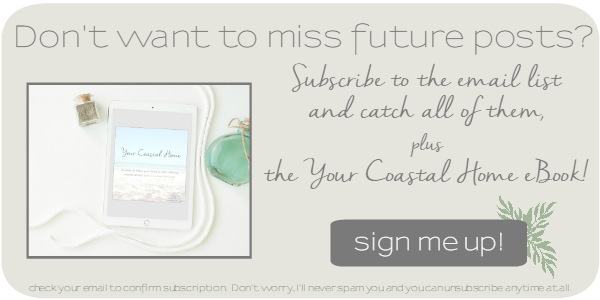 Share this!