I totally planned on having this post up yesterday morning, but got sucked into watching True Detective Sunday night.  It's the husband's choice for what to binge-watch next, since we got caught up with my choice, Orange is the New Black, the night before.  I'm not quite sure what to think of it yet and am trying really hard to follow along.  We've just gotta find something to get us through until Ray Donovan comes back next month :)
*some of these are affiliate links, thank you for supporting this blog!
This recipe is one that was pivotal in my cooking journey.  Matt's favorite cake is German chocolate and a few years into dating, I really wanted to surprise him with one from scratch.  Of course I turned to Joy of Cooking, as always for the classics (hint: I'm giving one away here!) But I saw "sifting", "egg whites", "folding", "double layer" and other intimidating words and quickly dismissed it.  so.many.steps.  One year though, I dedicated a whole day to do it.  It was my Everest.  The kitchen was annihilated, every bowl was dirty, there was icing everywhere.  And it was the best cake I've ever eaten.   Every year since he's gotten a double-layer from-scratch German chocolate cake and every year I still pat myself on the back when we eat it with  the obligatory scoops of vanilla ice cream.
The key to this Everest (which I'm sure pales in comparison to real culinary Everests) is to practice the best "mise en place" you've ever done and have it all ready to go .   Gather up every little prep bowl and container you have, measure it all out, melt, sift, crack, and blend as needed. 

I line my batter ingredients up in the order they'll go:  butter, sugar, eggs, chocolate, then the flour and sour cream mixtures.
After the butter is creamed and the eggs and chocolate are in, definitely take heed to scrape down the sides of the bowl as there's alot of the butter mixture that doesn't get incorporated so easily.  Then start with your flour/cream/flour/cream/flour/cream additions.  You'll be ending up with the smoothest, silkiest, most delicious batter EVER after this.
In a separate bowl, either of your Kitchenaid or with a hand blender (I have this little dude and LOVE him), beat your eggwhites until they make stiff mounds.  It usually takes about five minutes or so.  Then, with a wide spatula or big spoon, carefully fold the egg whites in with your batter in large batches.
You want it incorporated just until there's not any big white sections, not super duper mixed together.  It gets crazy light and airy.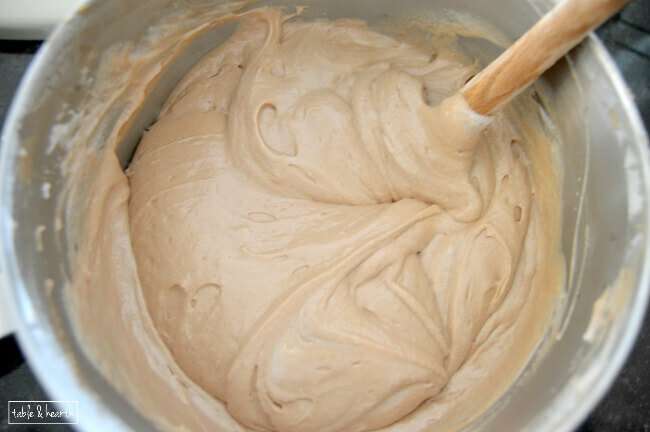 Ok, this is one time where I'll say do as I say, not as I do.  I lined my round baking pans with parchment paper in hopes that I could release the cake from the pan better.  But as soon as I poured the batter in, I knew this was stupid and that they'd come out super ugly.  So don't worry about lining your pans, just grease and flour the hell out of them and you'll be good to go.
In the meantime, make your icing.  This is the part that really stressed me out the few times I made the cake, just because it takes sooooo long for the cream, egg, and sugar to thicken.  So be patient, don't bail when it's taking too long!  It will eventually get there and when it does, all you have to do is pour in your pecans and coconut flakes and it's ready.  
Once your cakes are baked and fully cooled, it's time to get them onto your pretty cake stand in two whole pieces.   This seemed like a disaster waiting to happen the first time I tried, but a few flips and flops using the stand and the cooling rack to help, and a swift lift of the second cake, and it's ready to ice!  You'll want the cakes totally cooled but your icing just a little warm so that it's easier to move around.  This step takes some patience and makes a huge mess (at least for me it does) but it's nice that you don't have to worry about how ugly your cakes may be because the icing covers all that :)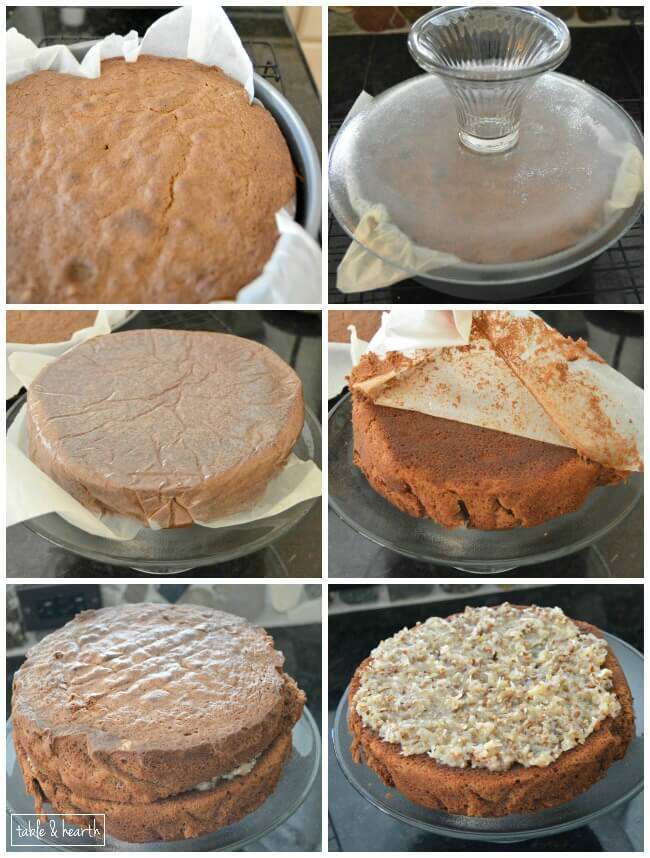 Congratulations, you've just made one hell of a good (and fancy) cake from scratch! Just look at those fluffy layers!  Talk about a spoiled husband.  

If you don't have it already, I cannot recommend owning a copy of Joy of Cooking enough.  My aunt gifted me a copy when she was teaching me to cook, and she has her grandmother's copy which is beautifully "seasoned" now.  I can only hope mine looks like that some day.  Joy has everything you ever need to know about techniques as well as all the classic recipes.  It's the perfect gift for a new homeowner or newlywed, for yourself, or even for that dad who loves the kitchen this Father's Day!  
I'll be giving one lucky reader a copy this Sunday so enter now!