I know I'm not alone in loving Christmas decor but DREADING the pain of adding lights and figuring out extension cords. Always, always a mess right?! Half the time of putting the outdoor decorations out is getting the lights ready. Plus, a lot of the greenery I've bought is super cheap and stands no chance against the elements here in south Texas so I just end up buying a couple more replacements every year. There's no way I'm forgoing our outdoor decor, so this year I'm making it a little easier on ourselves with faux greenery that is pre-lit and battery-powered!
This post is brought to you by CJ Affiliate's VIP Content Service. Thank you Pier 1 for sponsoring this post. While this was a sponsored opportunity from Pier 1, all content and opinions expressed here are my own. Affiliate links included for your convenience.
We do put lights up on the front of our house but my favorite area to really decorate is our back patio where we spend almost all of our outdoor time, especially in our mild winters when it's finally not 38382 degrees back here.
This year, instead of the old, faded, disintegrating cheap greenery with loose lights I've used before and instead of grabbing more of those, I used pieces from the outdoor collection at Pier 1! Their greenery is meant for the outdoors so it'll hold up for much longer, plus it's a) WAY prettier and more realistic, b) has many battery-powered pieces, and c) is pre-lit with LED lights so it'll last much longer.
The centerpiece on the coffee table is actually a swag for a mailbox but it fit perfect on the coffee table…plus I'm partially worried about it getting stolen if I put it on the mailbox :/ So I'll use it as a centerpiece for now!
Of course I couldn't resist throwing a few of their gorgeous pillows (hello Santa octopus pillow!) and some other cute Christmas pieces out here. That little reindeer coaster set is my FAVORITE and the cable-knit throw is gorgeous and super soft.
I chose the "cashmere" design for all the greenery pieces. It was a super hard decision and I really love the snowy looking design but since it last snowed here, oh, about twelve years ago, the more basic greenery with pinecones fits a bit better I think. Plus, it matches our artificial Christmas tree inside that has pinecones and different textures of needles. The miniature trees, wreaths, and mailbox swag are all battery-operated so they can go anywhere you want but the garlands are plug-in (hoping they'll have some battery garlands down the line).
The greenery has both big crystal droplet bulbs as well as regular bulbs so they make various sizes of light in a pure white color (I always add a strand of big bulbs to our tree inside to give it more interest too).
Even though I couldn't get myself to do the snowy greenery, I did cave in and get a strand of these snowy pinecones because they were just too pretty and I like the natural touch they give.
The area in front of the wall needed a little light too so a trio of simple black lanterns and battery candles did the trick. I'll use these in the house after the season for sure. I used to scoff at the battery-powered candle idea but they've come a long way and are very realistic now, plus I don't have to worry about them melting out in the heat during the summers.
Of course it all looks even more magical at night with all the lights on and everything glimmering. It just needs to be about 30 degrees cooler now to really feel like fall/winter :)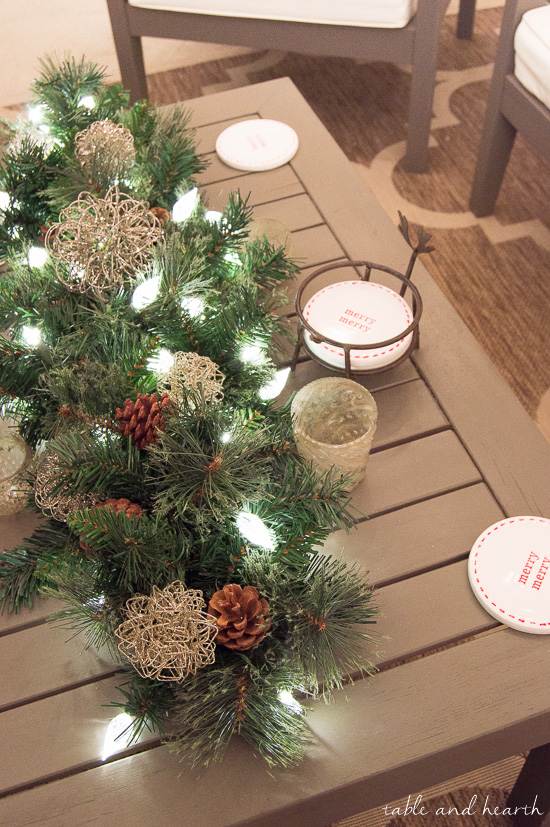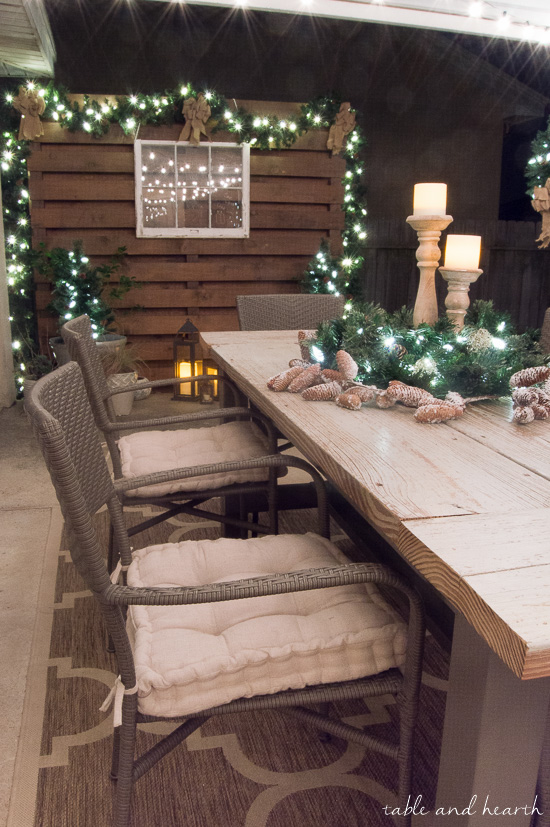 It is such a relief to have some quality greenery to use outside for the holidays now and not have to worry about how it's going to hold up or have to re-light it each year, plus I won't have to go buy new ones every year or so as they wear out. These should last us for a loooong time!
Now that we're all decorated inside and out we can sit back and enjoy our holiday season and our cozy glowing home :)