31 days guys. 31 days before Christmas!!! Whoa.
To help you get in gear for all that shopping you need to do, I gathered 25 of my best blog friends to bring you a full week's worth of crazy helpful, thoughtful, and creative gift guides PLUS, each blogger will be hosting a giveaway for one of the items on their guide! So while you're kicking back with family this week (happy Thanksgiving to my US friends!) get a head start on that shopping with these wonderful guides!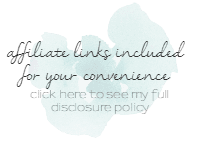 I mulled over all sorts of topics for my gift guide, but finally settled upon the recipients that I always struggle with for some reason…the in-laws. Now, it's possible I may have the best in-laws in the world (hi guys!) but for some reason I always struggle with narrowing down just the right gifts for them. So, I figured I'd help myself AND you guys and compile some of the front runners for this year and past successes, plus a few that may be on my own wish list as well ;)
1
wi-fi Crock Pot
let's face it, this may be put on my own list as well! Talk about convenient, and there'd be so many more dishes she could make with the flexibility of starting it remotely.
2
classic vest
My MIL is the cutest and she's adorable in vests. I think I've gotten her one the past two years or so but I thought this one was classic and gorgeous.
3
cute doormat
Whether your MIL is a little bit sweet, a little bit sassy, or a little bit silly, these awesome mats from Nickel Designs make a statement at her front door. I have a custom anchor one that we LOVE but hope to add some of the funny ones to our entry someday too. I especially like the "shut the front door" one.
Spoiler alert: Stick around to the end of the post to see how to score one of these cuties for yourself!!
4
jewelry roll
I got my mom, MIL, and myself one of these last year and we love them. They're so pretty and organize alot of pieces, plus I love that they're monogrammed.
5
covered casserole
Give her a beautiful dish for those classics she's known for.
6
signature Magnolia wreath
If your MIL is a Fixer Upper fan (or even if she's not), their classic Magnolia leaf wreaths are beautiful and are so easy to decorate with.
1
steak knives
Pretty much no description needed here. Some uber-nice knives for his famous steaks.
2
active polos
I've gotten my FIL a few of these over the years (as well as for the husband too) and they love them. They hardly ever wrinkle, are lightweight, and come in a zillion colors and styles.
3
leaf blower
Ok, this may be on our own list as well, but fathers are usually pretty obsessive about their outdoor spaces, so make it super easy for them to get it all cleaned up. Bonus, you can build on it's ONE+ platform for future tool gifts for him ;)
4
grilling basket
Great for fish, veggies, wings, and apps, plus it will help keep his grill cleaner.
5
Yeti tumbler
Ok, there's some serious voodoo going on in these things. We got a couple this summer and I've done a few experiments in mine to see how awesome it really is. Well…the average time mine holds ice is 24 hours. 24 HOURS!!! Again, I don't know how they do it but it's pretty much life changing. No cup will ever compare.
6
Sperrys
A father-in-law (and husband) classic. They have a ton of awesome styles to choose from now.
1
whiskey decanter
Every cool guy needs a fancy way to serve up the whiskey. I love the monogrammed ball stopper on this one.
2
baseball tee
We visited this store when we were in Cooperstown this summer and it was the coolest mix of vintage baseball meets hipster meets humor. If your BIL is a big baseball fan, they'll love all of their items. I actually got the "6+4+3=2" shirt for myself there, a nod to our love for keeping score at each game we go to (it's a common double play).
3
toiletry kit
If only we could just toss all our stuff into a bag, right ladies?? That's how they roll, and they love to do it in style too. This one may be under the tree for my BIL soon :)
4
awesome flashlight
Matt got one of these from his brother a couple years ago and it's amazing. Small but super bright and powerful, with its own little charging dock/charger. There's a million styles to choose from too.
5
multi tool
Ok, I want this one myself too. Matte black brings it to ultimate cool-guy status.
6
outdoor bluetooth speakers
Also something the husband got a few years ago that we LOVE. This thing has been everywhere with us; on the patio for a party, in the garage for DIY work, on the boat for fishing, and to the beach. Never an issue with water or sand and it stays charged forever.
1
fingerless gloves
Because every girl needs like three pairs of these. Even down here.
2
monogrammed mug
When used in conjunction with #1, heck, #6 too, that's one cozy chick!
3
passport holder
My SIL is a little jetsetter so I though this cute Kate Spade passport holder would get some good use. There's also a matching wallet that's just as adorbs.
4
Stitch Fix gift card
I swear by Stitch Fix for keeping me looking like a girl, and what chick wouldn't want to be pampered with a custom wardrobe right at their door every few weeks or so? Give her a multitude of outfit options with a Stitch Fix gift card to go along with her membership.
5
Hunter boots
Ok, on my list too. I saw my first pair in person this weekend and fell in love. Every girl should have a pair of these.
6
cozy throw
I am obsessed with throws that have big tassels or pompoms right now and think the blue of this one is beautiful with the little fur poms. Cozy cozy cozy.