It's time for the Monthly DIY Challenge!  This month we got to work with a material that most of us had never used before, air dry clay, and man did it test us!
I was thisclose to making this a "How to not DIY your own faux coral" post, but I do think it can totally work, just with a few tweaks that I'll talk about.
I STRONGLY encourage any of you coastal style decorators to find (or make) faux coral to use in your displays rather than real specimens.  You can rarely tell the difference and it helps discourage the horrible collection trade of coral from coral reefs.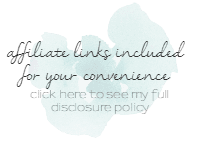 Supplies for DIY Faux Coral
air dry clay (I used Crayola's)
toothpicks
cake tester (or similar poking/smoothing device)
sand (optional)
spraypaint (optional)
First up, I formed the base of my coral.  This air dry clay is much more like true CLAY clay than I thought it would be.  I used toothpicks to support the arms as needed since the clay is pretty dense and heavy.
Now, this is where I will suggest that you do this differently than I did.  After making my base, I continued attaching all the arms and towards the end, they ALL started sagging and falling (insert shocked emoji here).  I tried to fix it as much as I could, propping them up on things for the drying time, but in doing so alot of what I had done got sacrificed :/  
So, I suggest making the base and inserting however many toothpicks you think you'll need for arms into it, then letting that dry on it's own (dry time is about 24 hours).  THEN proceed with putting the arms on.  I think this will allow the base to be much stronger and not cave with the weight of the arms.
To make the arms, just roll some of the clay with your hands, making it slightly smaller at one end.  Stick a few toothpicks in it to help hold it, I guess you could even use small dowels too.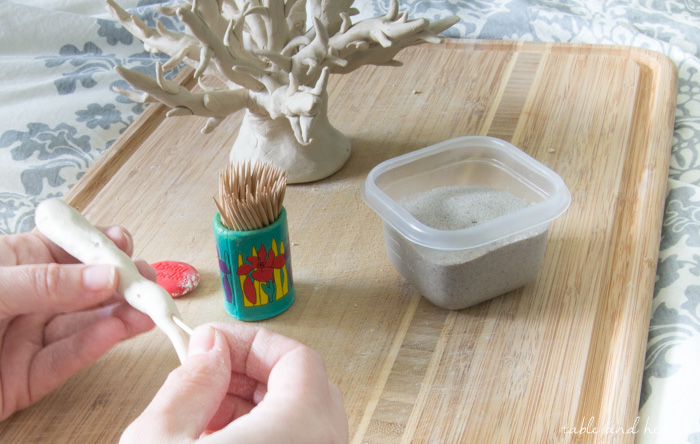 I wanted my coral to be spiky so I rolled some little pieces into a comma shape, then stuck and smoothed them carefully onto the branches.

I used my super high-tech clay working device to make the coral's "polyps" all over, as well as try to smooth out any places I could.  After that, I sprinkled some fine beach sand over it to give it a little more texture.
The air dry clay takes about a day or so to fully dry, so I just made sure it was in a safe place (and all propped up) while it dried.  I really thought about spraypainting this piece but liked the matte look of it and it dried lighter than I thought it would so it worked out.  But if you want a crisp white or even a fun, bold color you can spraypaint it once it's all dry.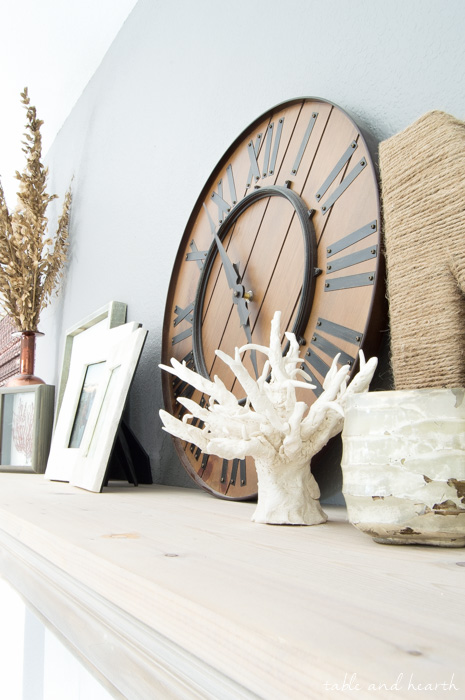 Even though my first try at air dry clay coral had some hiccups, I think this is an awesome way to get the look of coral without having to buy and condone the selling of real pieces.  Plus, you can make it whatever size you want for where you want to put it!
Now, hop around and see what the other girls created with their air dry clay!!