One of the very first elements I knew I wanted in our nursery was changing out the standard closet door for a sliding barn door.  Aside from being driven by finally having an excuse to install one of these beauties in our home, it also would allow us to save some space in the small-ish room, create some visual interest on that side of the room, and have one less door to make noise.
*affiliate links included for your convenience, click here to see my full disclosure policy
The initial (ambitious) plan was to build my own door but then I found a beautifully chippy old farmhouse door at a vintage shop up in the Texas hill country back in November and knew it would be perfect and unique to use as the barn door.  I could tell it was thinner than a standard door and, given our experience with old doors, I was sure there'd be some funkiness to the install that we'd have to work through but I went ahead and snatched it up since it wasn't something I'd find again.
I was intimidated to install this and most tutorials I found for installing a barn door didn't detail the full detailed process and usually used a standard-sized door.  So, in hopes to help anyone out that may be wanting to install an old funky-sized door as a barn door like we did, I figured I'd lay out how we did ours!
How to Install a Vintage Farmhouse Barn Door
As with all old doors and chippy-paint pieces such as this, be sure to test the paint for lead and be sure to seal them thoroughly before using them in your home, especially in a child's space like this.  I was nervous about this door having lead paint since it seemed so old but was thrilled when the test was negative.  As with our vintage laundry door and farmhouse table, I sealed the door with a couple coats of my favorite low-VOC sealer to make sure no pieces fall off down the line.
Depending on the style of your space, there's a multitude of various styles and looks of barn door hardware to choose from along with different finishes.  I opted for a classic style in oil-rubbed bronze since the door has so much texture to it.
Supplies Needed
wall door guide (if needed)
header board (if needed)
primer and paint (if needed)
3″ screws (if needed)
drill (good quality with some strength behind it preferred)
tape measure
painter's tape
pencil/marker
sawhorses
sealer (if door is chippy)
Instructions
We chose to put a header board up to mount our track to for extra stability.
Luckily we had a leftover 1″x6″x8′ board leftover from the privacy wall project which I cut down to size then gave a couple of coats of paint and primer.  The length is determined by the track size plus a few inches on each end as stated in the directions. For this kit it was 76″ total.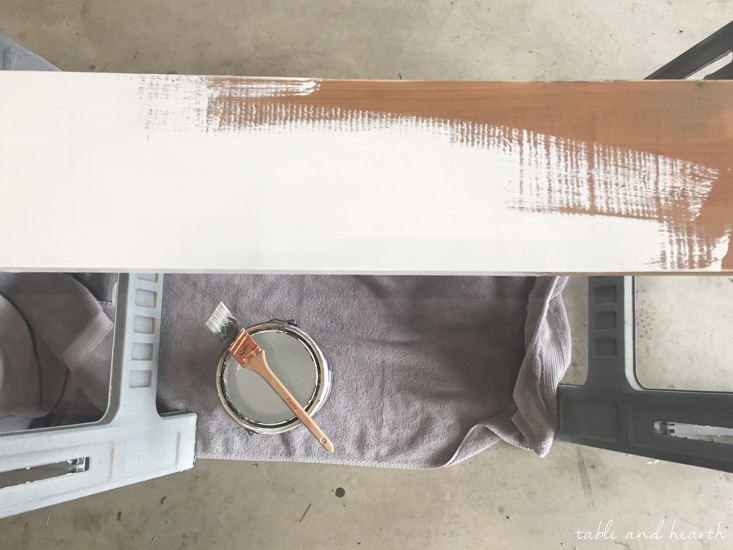 To install the header board, I first marked where all the studs were on that section of wall then cut a piece of painter's tape to the size of the header board.  I put the tape on the wall and marked where all the studs were located (did test holes to verify as some locations were questionable).  We then put that tape on the board (on the ground) and predrilled our holes.  We placed the board on the wall, made sure it was level, then attached it to the studs using the 3″ screws.  We put an extra screw on the ends that didn't go into studs just to make sure it stayed flat there.  I later went back and painted those screw heads white :)
Now we were ready for the actual hardware.  I was really overwhelmed at how this exactly worked at first but after getting the pieces out and thoroughly reading and re-reading the instructions I was able to visualize it much easier.
BUT…this is where we had to kind of rearrange the directions.
Since we were using a VERY old vintage door, it had wonky dimensions (as they usually do).  It was only 72″ tall versus 80″ that a normal door is and was only 1.25″ thick versus a normal door which is about 1.5″ thick.  The specs on our hardware kit state that it is made for doors from 1-3/8″ and 1-3/4″ thick but it still worked fine for this one which was slightly thinner.  If needed we would have used a thin batten on the back to beef it up.
We laid our door down on sawhorses so we could work on it easily.  Going by the directions, we measured and marked where each bracket needed to go and used a socket wrench to get the bolts in.  Our kit came with two different lengths of bolts, we used the shorter ones since our door was thinner than usual.
We also attached the jump guides to the door per the directions while we had it down for the brackets.
Next came figuring out what height our track needed to be installed at in order for our door to look halfway decent.  We knew there was going to be a large-ish gap at the bottom since it's a shorter door than standard but I was fine with it and just wanted to make sure the trim at the top of the opening was covered.
I held the track up to the board while Matt lifted the door as if it were sitting on the track and we adjusted both until we found the height we needed, which I quickly marked using one of the track holes with a pencil.  Then we held the track up by itself and marked the rest of its holes.  (sorry, no pics of this process since it took both of us)
We predrilled each hole then installed the track and mounts/bolts with the socket wrench.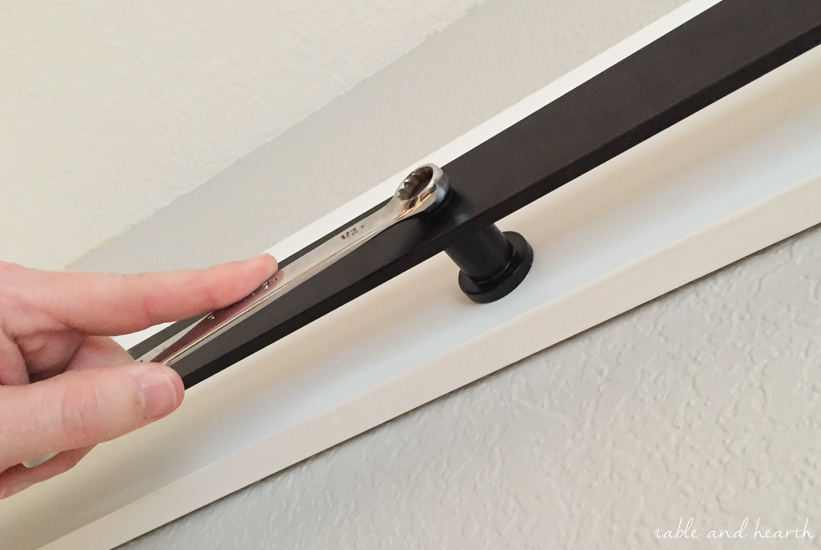 Once the track was up we could hang the door and see where we wanted to put the stops.  The stops slide onto the track and came with their own little allen wrench for tightening, just be sure each one is facing the right way.
The track has holes at each end so that tracks can be added as needed if there is a long span but of course we didn't need this so at this point we put the provided little stoppers in the holes.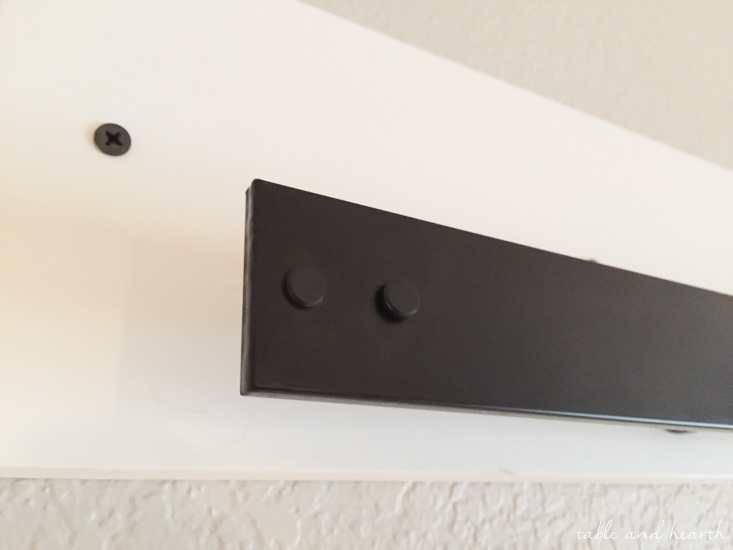 That was it for getting the door hung!  The jump guides keep the door from being able to be lifted off the track but a big concern of mine was how the door could swing in and out as I've seen before with barn doors.  The kit comes with a guide that goes along the floor, however, not only is our door far off the ground, I wouldn't want to drill into our floors to install them one bit.
We needed something to hold the door flush though (when it's open which will be 98% of the time) so I spoke with Everbilt and they sent us a wall bracket which worked perfectly.  With the door open I held the bracket where I wanted it then moved the door and marked where the screws needed to go and installed it.  The front flat part moves in and out so it is adjustable for various width doors, but it can also come all the way out so once I knew where it needed to be for our door I glued it in place so little hands won't take it off in the future.  (Their particular guide isn't available yet but I'll update this post as soon as it is)
The door will remain open almost all of the time since I'll be in and out of the closet so much and because I think the closet storage is too pretty to hide (at least as of now, ha!).
As usual, the door's hardware had been removed (which may be one of my biggest pet peeves) but I was able to track down the right size backplate and single knob on Etsy (try this search and this search) that allowed the back of the door to still be flush.
I know barn doors are ev.ery.where right now but I just really wanted to get it out there how we handled installing one using such an old and funky-sized door since it really intimidated me.  It was TOTALLY worth it in the end because this door is such a statement piece in the room!  I'm so happy I went with my gut and grabbed that door instead of using something else.
Have you guys installed a barn door somewhere in your home?  I'd love to see a pic!
I'll be back next week to share how I made the cute little driftwood mobile over the crib!  If you missed the big nursery reveal, click HERE!
*I was provided a barn door hardware kit for this project but all images and opinions are my own, thank you for supporting the brands that support this blog.  Click here to see my full disclosure policy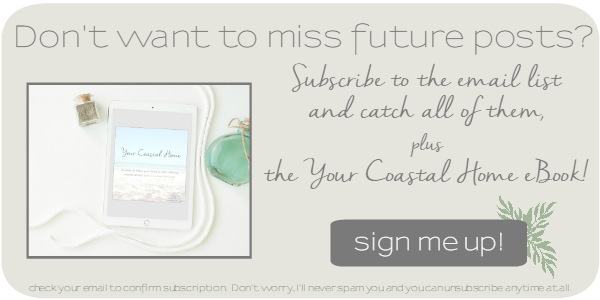 Share this!