A quick and cheap burlap frame makeover to display all shapes and sizes of art in a standard frame!
One of my big goals for 2018 was to really hustle with my Etsy shop and get back into making prints as well as marketing them online and locally.   In the push to get them in some local venues (which is going well, yay!) I realized I needed a bunch of frames and a look among those frames that was cohesive but still unique.  After buying approximately 3948 frames this year, I started focusing on frames that would hold pairs of prints together then tried to come up with unique ways to make the displays stand out in general.
The result is this super simple update to a common poster-sized frame!  By transforming the back of the frame with some simple burlap ribbon it now has depth, texture, and interest with the ability to display more than one print or prints of any size you want.
Burlap Frame Makeover Supplies

This can work for any size frame but works best with a larger poster frame so you can see multiple layers and have plenty of room to play around with prints.
Frame – glass removed, you will use the cardboard backing
Burlap ribbon – this is my favorite
Scissors
Double-sided tape (optional)
Art or printables – find my prints HERE ;)
Burlap Frame Makeover Instructions
Disassemble your frame and set everything but the cardboard backing aside.  Unroll your ribbon and cut pieces just a little larger than the width of the board.  Keep cutting pieces and layer them from the edges in (not gluing yet) spaced as you prefer until they fill in.
Get them positioned how you like then glue them down along the top and bottom of the cardboard, making sure to get a good amount of glue on each piece (since they are overlapping).
Once the glue is dry flip the board over and trim the ribbon flush with the cardboard edges.
Place the cardboard back into your frame and use double-sided tape to attach your prints.  If there is room in your frame you can use the glass or you can go with a glass-less look like I did here.
Aaaand that's it!  I know, it barely needs a post, but still.  It's such a simple way to make a boring standard frame way more interesting plus it gives you a backdrop to attach multiple prints.  It could easily be used for 4×6 photos or even given some padding behind it to be used as a memo board.  I really love the open glass-less look too.
After dropping off the next batch of pieces at the imaging place last week, I need to crank out a few more of these to show off those new prints this fall!  Plus maybe pop in a holiday printable here and there too…because SOMEHOW it is already fall, whoa!
Love the coastal prints?? 
You can shop our Green Sea Designs prints and our new(!) greeting cards
–>> HERE <<–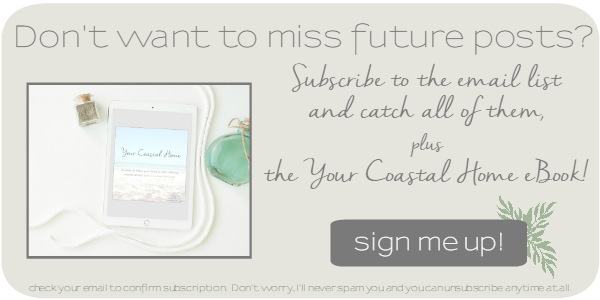 Share this!