Happy Friday everyone!!
I'm so excited to be joining in on an AWESOME blog hop today put together by my sweet friend Ursula at Home Made by Carmona as well as Balsam Hill's Light Up the Night Challenge! She gathered some crazy talented bloggers to have alittle virtual escape this summer, taking a stroll through all their beautiful outdoor spaces.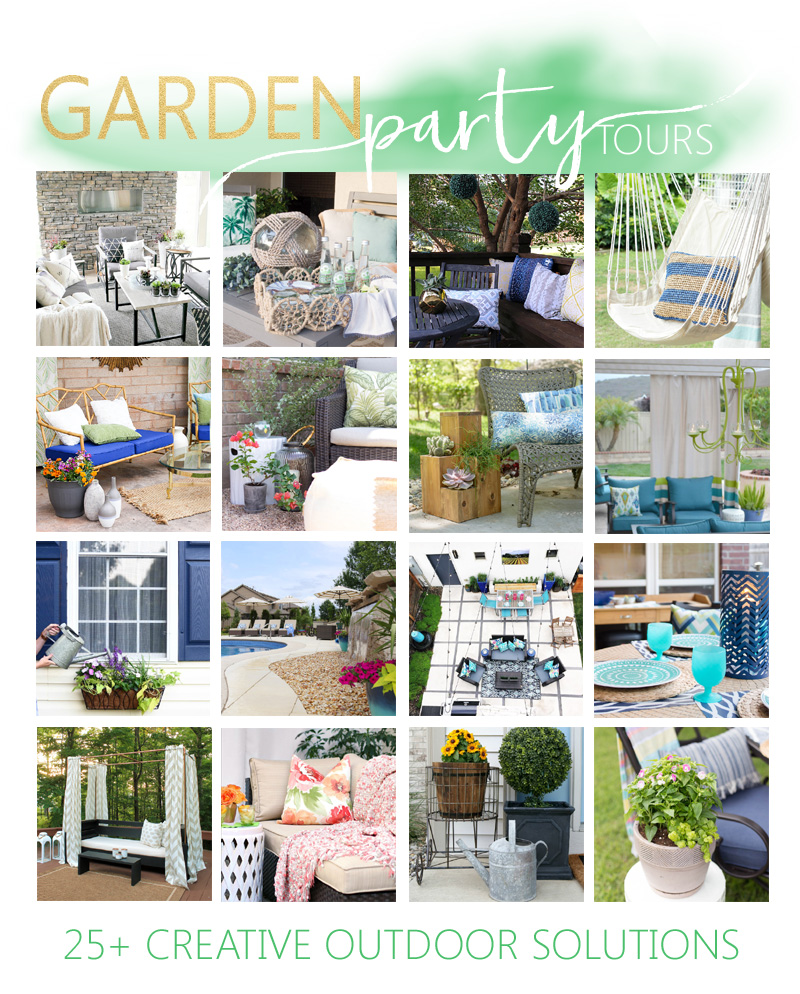 You guys know I love my neutrals, but for my tour I wanted to give our back patio a little more color with some fun tropical accents and the rustic, coastal flair we always love. We're also going to stay on the patio because we're in the time of year when the yard is fried to a crisp, we'll look at that again in the fall or spring and in the meantime you can see it nice and green on the Our House page ;)
(find all the sources in the gallery at the end of the post)
AFTERNOON SOIREE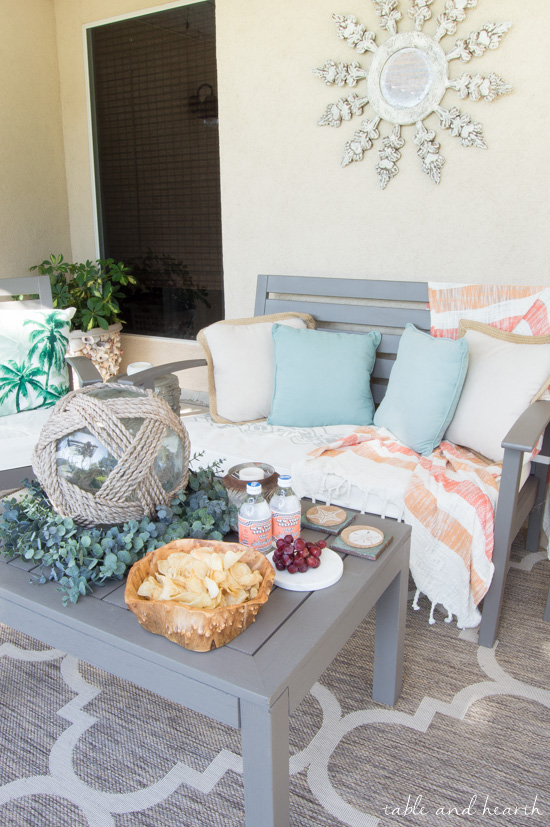 *affiliate links included for your convenience, click here to see my full disclosure policy
For our seating area, I added a lightweight throw blanket to up the cozy factor, and a couple of fun tropical print and aqua pillows. I love the palm tree pillow because it looks just like the palm trees in the backyard (although not quite as tropical, boo).
Hands-down my favorite greenery to decorate with is eucalyptus, BUT I can't find the real thing an.y.wh.ere here in town and the famous Trader Joe's eucalyptus is two hours away. So I was stoked when Balsam Hill sent me an email about their faux eucalyptus wreaths and garlands. They are super high quality and look so real it's crazy, definitely the perfect substitute! I knew the patio would be the perfect place to use them, well, and pretty much anywhere else in our house!
Since I'm on a tablescape kick, our dining table got some sea creature friends with sea life plates, coral napkin rings, and one of my recent driftwood finds. The eucalyptus garland was the perfect length to go down the middle of it all and I'm kind of loving how it has a seagrass/green algae vibe next to the plates.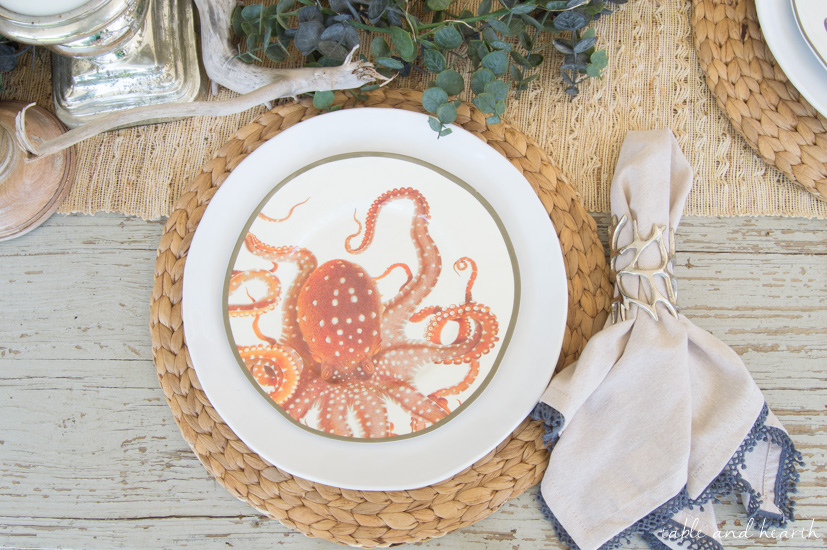 I rolled the bar cart back out by the privacy wall and made it into a little wine/beverage station. Just missing the cheese!
LIGHT UP THE NIGHT
Our patio is gorgeous during the day, but our absolute favorite time out here is a late summer evening when we get to turn all the party lights and candles on!
Remember those awesome faux eucalyptus wreaths and garlands? They came with battery-operated little fairy lights that tuck away discretely but put off the prettiest glow.
Wax candles aren't an option out here when it's 100 degrees for four months, so battery-operated LED candles are the way to go (and of course are much safer anyway). But of course we'll still have those Citronellas burning.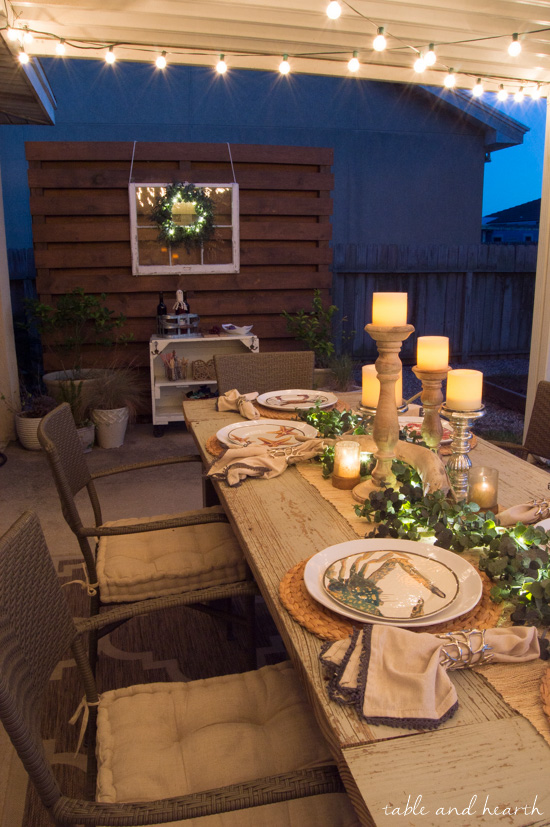 Thanks for hanging out with us out here this afternoon! I hope you got some inspiration for your space this summer and had a nice little escape for your Friday. Thanks so much to Ursula for the invite, it was fun to create a summery space! Now to have a party :)
*thank you to Balsam Hill for sponsoring product for this post, click here to see my full disclosure policy