Now, I KNOW I've got some Fixer Upper fans out there and I dedicate this post to you guys!
It's no secret that the hit HGTV show, which is about to start it's third season, has almost a cult following, myself included. Fans are equally drawn to the Gaines' themselves as we are to the beautiful homes and spaces they create. They're just the kind of people you want to hang out with, laugh with, and learn from. For me, it's that, but it's also about inspiration. Style inspiration of course, but also and more importantly, inspiration to pursue what you really love to do and to take leaps of faith to do it.
*I apologize in advance for the crappy iPhone photos. It was cloudy, rainy, muddy, and I was hauling bags of loot
I was enamored with Fixer Upper from the first episode and told everyone I know to tune into it. I loved Chip and Jo, I loved their style, and I loved that they were in Waco which is just a couple hours south from where I grew up in north Texas.

On the last season, we saw their decision to purchase the silos and then got snippets of their progress on social media in the months following and heard rumors of a grand opening party this fall. This summer, right before we were about to head offshore for the weekend to fish, I got the email that tickets were on sale for the grand opening party on October 30th. I immediately texted everyone I knew that maybe would go with me, and impatiently waited to hear back. Once I got at least one on board (thanks mom!) I went in to see about tickets and was super bummed to see that they were already sold out. BUT, they had opening it up for a second night, on Oct 31st, which worked better for me anyway. I ordered three tickets as we cleared the jetties, just before we got to where I lose cell service.
My mom, her best friend, my mother-in-law, and me all headed up that Saturday morning. It worked out good that we had Saturday tickets because, while we may have missed the true grand opening on the first night, we avoided crazzzzy storms and flooding in the area and were able to make it there just fine.
The main barn building on the right is where their new headquarters, the retail store, and their office are and it is so gorgeous with it's bright white exterior and black accents. This color palette was repeated throughout the compound which allowed the historic silos and equipment in the buildings to be the stars. The headquarters have a rooftop deck where they held the VIP cocktail party, and where we got to see a proposal shortly after I took this pic :)
My Fixer Upper posse. My mother-in-law Paula, my mom Teresa, me, and my mom's best friend Gayla. Thanks for letting me drag y'all along ladies!
Aside from the headquarters/store and the silos, the grounds also contain a food truck park, open areas to run around in, picnic tables, and raised garden beds which they use as a farmers market and community outreach. Or as a pumpkin patch like it was when we were there. Wish my garden looked as pretty as this!
We sipped on lemonades and wandered around for a while, listening to bands throughout the day. It was muddy and messy because of all the rain over that weekend, but nothing that some boots and rain jackets couldn't handle. See that guy on the right in the hat? That's Jimmy Don from the show who makes all those amazing metal signs! I was too sheepish to actually go talk to him :/

After hanging out around the barn and grounds, the silos closed and reopened just for ticketholders, so we headed over to get our shop on. I had been psyching myself up for this for months and was so nervous! #weirdo. It was really hard for me to focus on making decisions, focus on not stepping on someone, and take pictures at the same time, so I apologize for the lack of great store shots :/ Plus, there were like a million people in there.

The store was jam-packed of course but the crowds were so friendly and it all flowed very easily. The displays were gorgeous (duh) and oh man, that black cabinetry had my heart! The staff was AMAZING and by ways I'm not quite sure of, they kept the line to only about 20 minutes, kept everything in stock, handled custom requests, AND were the happiest most friendly bunch of people while doing all of it. We were blown away by them. I don't really do well with crowds so I was concerned how this was going to go, but it was an easy, pleasant, and happy experience. Thank you Magnolia crew!
I had seen on the web that Chip and Jo made handprints in the store's new concrete countertops somewhere, and I was stoked to look down and see them next to me when I walked up to check out at the last register.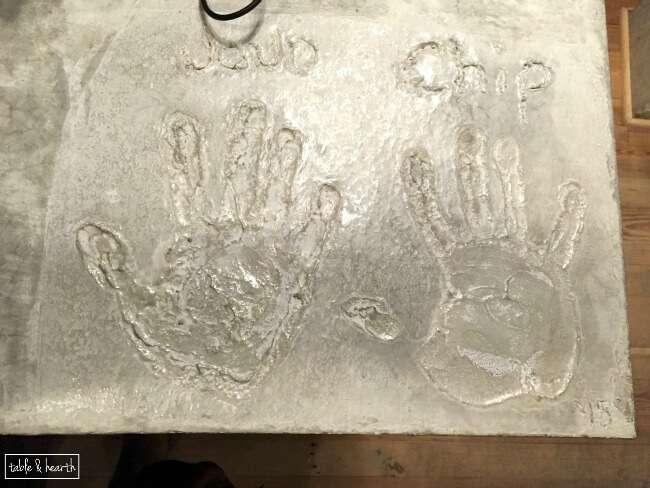 After shopping, it was time to catch the Johnnyswim concert. I hadn't heard of them except the Fixer Upper theme song till then, but they were awesome! I definitely downloaded their album when I got home :)
After a few songs (and another trip into the store for me…) it was time for Chip and Jo on the stage. Cute little Joanna was escorted out near us, but Chip, in full Chip fashion, chose to rappel down one of the silos to get to the stage. They gave a speech about their journey that was inspiring and heartwarming, just as we knew it would be, and then shared a short video sneak peek into Season 3 that was hi.larious. After a little Q&A session, they joined Johnnyswim and sang along to "Home", their theme song from the show.
Also, earlier in the day, we made a jaunt over to Harp Design Co. to check out Clint and Kelly's beautiful shop and creations in person. I love to see Clint's work on Fixer Upper as much as I love to see Jo's. Clint is definitely one of my woodworking/furniture-making idols and I had really hoped to get to meet them here or at the silos but didn't get to…maybe next time :)
Their shop was adorable and had the coolest items. I had been praying for weeks leading up to our trip that they'd have their famous candlesticks in stock so I could get the four more I needed to add to my one, so I was thrilled to see a table-full when we walked in. I snagged four immediately and may or may not have pushed through a couple people to do so (sorrynotsorry). I also made out with one of those cute glass juicers in the top right photo and realllllly wanted one of the painted letter signs too. Again, next time!
We had such a great time and although it was a super quick trip, we were pretty successful and I came back with a good little haul, most of which was going towards my new patio space. You can see alot of it in action HERE ;)
The Gaines' story is just so inspiring and they're every bit as adorable, kind, and genuine as they seem on Fixer Upper. It must be such a dream come true for them to be in their new spaces, I know it was a dream come true for me just to go see it in person. A big thank you to Chip and Jo for inspiring all of us, for making such an awesome place for us to hang out, and for putting on such a seamless event in much less-than-optimal conditions.
I absolutely cannot wait to head back up there soon!! There's so many other stores and businesses I want to check out and really want to spend more time at the market just hanging out. So, road trip anyone??