Welcome to Week Two of the One Room Challenge!
In case you missed it last week, I decided to participate in Calling It Home's spring One Room Challenge and update our master bedroom! The plan is to completely redesign a room in your home within six weeks and each Thursday, all of us linking participants post about our progress. It's so much fun to browse through the projects and see what rooms and different designs everyone is tackling and follow along. The 20 big designer participants post their progress every Wednesday and it is absolutely amazing to see what they do, so inspirational! So around here, every Thursday through May 7th, I'll have a post about my progress on updating our master bedroom. As I showed last week, this room has already come a LOOOONG way but it never quite felt finished to me so I'm finally dedicating some time and attention to getting it to the cozy, fresh, and clean feel I want in here. Let's take another look at the mood board:
This week I am posting the to-do list (I love lists!) as well as going through what progress I've made so far in here. Here's where we're at as of today:
– update lighting to these wall sconces
– decide on a paint color and paint walls SW "Ice Cube"
– new duvet cover
– update algae print frames with chalk paint and mats
– repaint wainscoting SW "Extra White" (NOT happy about having to do this)
– add euro pillows (I REALLY want these)
– 8×10′ jute rug under the bed
– two X-bench ottomans to replace leather bench
– get an oversized clock
– new rectangular mirror over the dresser
– new solid ivory/white curtains?
– artwork on each side of the window?
– new floor-standing fan
– procure new decor for dresser and nightstands
Picking out the new paint color in here was a NIGHTMARE! I wanted a super light gray with a tiny hint of blue but the room was a light green my mom and I painted back in January 2011 and every single sample I got looked lavender against the green. The light changes in here so drastically throughout the day that as soon as I liked one, a few hours later I hated it.
In the end, there were no less than a dozen colors tested. So, a few weekends ago, driven by the looming end of a Sher-Dub 30% off sale (that's Sherwin-Williams BTW), I had to make a decision so I picked up a gallon of regular 'ol white Valspar from the Ace up the street and put two coats over that green in the whole room. Buh-bye! After that, it was insane how different those samples looked when they weren't next to the green anymore.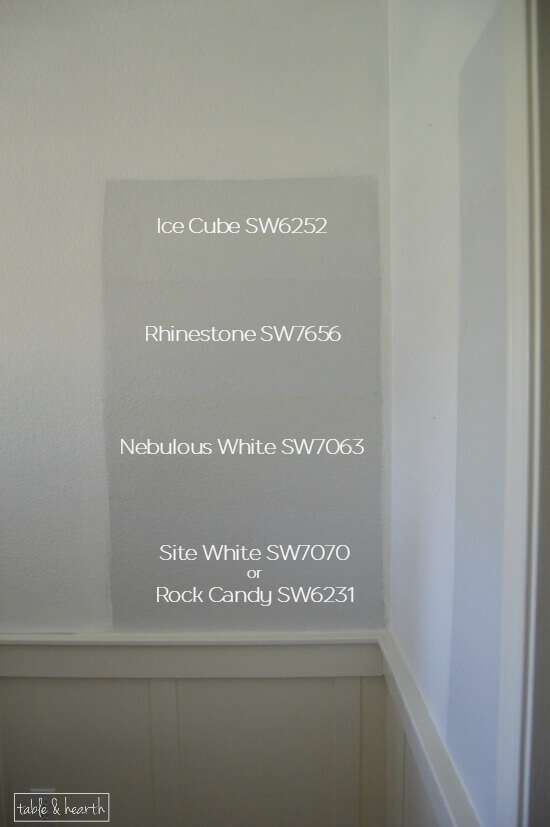 We narrowed it down to these four, then finally to Ice Cube. *tip: always paint your samples in alphabetical order so you'll know which is which, especially when your chip tags fall off because they've been hanging there for over a month. Ice Cube was light enough, didn't have the touch of beige that some others did, and was the most true light gray to us. So, the next morning I picked up a gallon of Ice Cube in Duration matte finish from Sher-Dub and started working on coats 3 and 4 for that weekend. I did have a scare when I painted next to it's sample that it was a wrong, lighter color, but I gave that area a second coat and a fan for an hour or so and was relieved when it came out much closer to what it was supposed to be. I chalk that slight difference up to the sample being painted over the green instead of white. Once all done, the room was instantly more tranquil and soothing, buttttt, my wainscoting in SW "Westhighland White" now looks suuuper dingy :( Back to Sher-Dub to get a gallon of "Extra White" for this new to-do on the list.
I ordered the sconces back in February but they were backordered until mid-March. Even though I knew I needed to paint, I couldn't wait and put those puppies up. I absolutely LOVE these sconces. They plug in so there's no hardwiring or anything, just installing the mounting bracket, screwing the lamp onto it, and plugging it in! They are plenty bright for a master bedroom and angle the light both upwards and downwards which is nice, although I may replace the bulbs as these seem to be putting off a slightly yellowish tint.
Here's a couple peeks at some of the other items I've gotten in lately, eeee!!!
That's where we're at this week! Check out everyone else's progress today and see you next Thursday!