Today, I'd like to pick y'all's brain and get some decorating advice slash reinforcement of my ideas for our master bedroom. I gotta step it up in this room stat. Now, there's no doubt our master bedroom has come a loooong way from when we moved in five years ago:
But it still just hasn't felt "done" to me. We've gotten the larger stuff "done" like the furniture, flooring, wainscoting, and even the master bathroom, but the decor itself just isn't pulling it's weight. The husband could care less, but it drives me crazyyyyy. So, after I saw how helpful it was when my friend Karisa sought out advice for her living room (that came out awesome, btw!), I wanted to do the same for our bedroom. If you've been around here for any amount of time, you can probably tell I'm not a huge fan of bright bold colors so the mood I'm looking for is calm, neutral, and clean with a slight coastal vibe. Here are a few of my inspiration pictures from my Master Bedroom Refreshin' Pinterest board :)
*affiliate links included for your convenience, see my disclosure policy here
I drew up the below basic images showing what I'm looking to change/move/update in here. Before that though, a few things to remember:
1. The furniture stays – I love our furniture and actually like that it all matches, I think it works in here just fine.
2. I would kill to put a jute rug down under the bed but we have a certain feline with an affinity of taking care of her sensitive stomach issues on my rug in the living room, so I really don't feel like crawling under the bed to clean that shiz up!
3. The drapes stay. They are the Riviera Stripe blackouts from PB and I seriously heart them.
4. The ceiling fan stays. We live in south Texas. So yeah, it stays. And we actually like the way it looks. And yes, there are two other fans in the room too that also are not going away but rather are being replaced. Seriously, y'all…it's hot as shit down here.
The DIY marine algae prints I made a few years ago need to be a bit bigger and the frames not be dark brown like the furniture. I've been stalking HomeGoods for the last few weeks to no avail trying to find the awesome watercolor ones The Blissful Bee used in her new dining room so I'm just gonna have to beef these up.
It's just a matter of time before we knock one of these lamps off our nightstands so in order to free up space on them, plus give more height and visual interest on each side of the bed, I'll be putting these plug-in wall sconces from Pottery Barn in soon. Can't wait to get them!
I'll add a duvet folded down at the foot of the bed as well as some larger matching euro or king shams. Looking at this set in gray but aren't sure if I want to do a solid white like that or something with a subtle pattern. I have pattern commitment issues :/
I LOVE having a bench at the foot of the bed, and so does the cat. I got this dark brown leather one from Pier 1 last year cause I was too impatient trying to find the perfect one. So now, instead of a single bench, I'm thinking two "X" ottomans with nailhead trim would look better. Not sure of the fabric yet as I feel these could be a great accent, but again, I'm pattern noncommittal. Whatever fabric it is, it can't be snagged by cat claws…I'm thinking a velvet would be great. There are quite a few options on the Pinterest board, but I'm dyyyyiiing to have some nailhead trim in here!
As you can see, it's taken quite a few tries to find the perfect blue-gray-but-not-too-blue-but-still-light-and-not-all-gray color. I finally found a winner with BM's "Silver Half Dollar" and the can is sitting in the corner ready to be put on when I get around to finishing painting the trim in here first. I may lighten it by 50% though, not sure yet. Would love to hear how that works out for folks, as I have no experience with that yet.
I think a pretty rug would totally polish the space off but again, see my barf-cat reference above. If I do put one in here, it'll have to be a jute rug so I can clean it easily :/
The only wall art I have in here now is the algae prints and our canvas wedding vows, so things will get added and shuffled around a bit.
Again, with the lack of art. I want to do another driftwood and acorn hanging and have a few ideas for some other wall art DIYs so the spaces by the window may work for that.
This area is the one that gives me the most headaches. I got a big round mirror on clearance to go somewhere in here, possibly on this wall next to the door (hence the canvas-moving above). But I also had planned to get a pretty round mirror (like this one) to replace the matching one we have now which would clash with the round clock being on the small wall. Maybe a cooler rectangle mirror here instead?
And yes, while it sucks to have a fan out as "decor", it is a necessity both for air movement and as noise. We both have to have at least one fan going at night. I just don't understand why they all have to be so gosh dang ugly!!! Any suggestions on better-looking fans? We are thisclose to getting the Dyson stand up.
Here are my super-simpleton mock-ups with some of these ideas to help see what it'll look like. Picture the one above with white bedding and the ottomans in whatever other color…and the one below without the pile of paint supplies in the corner. #trashy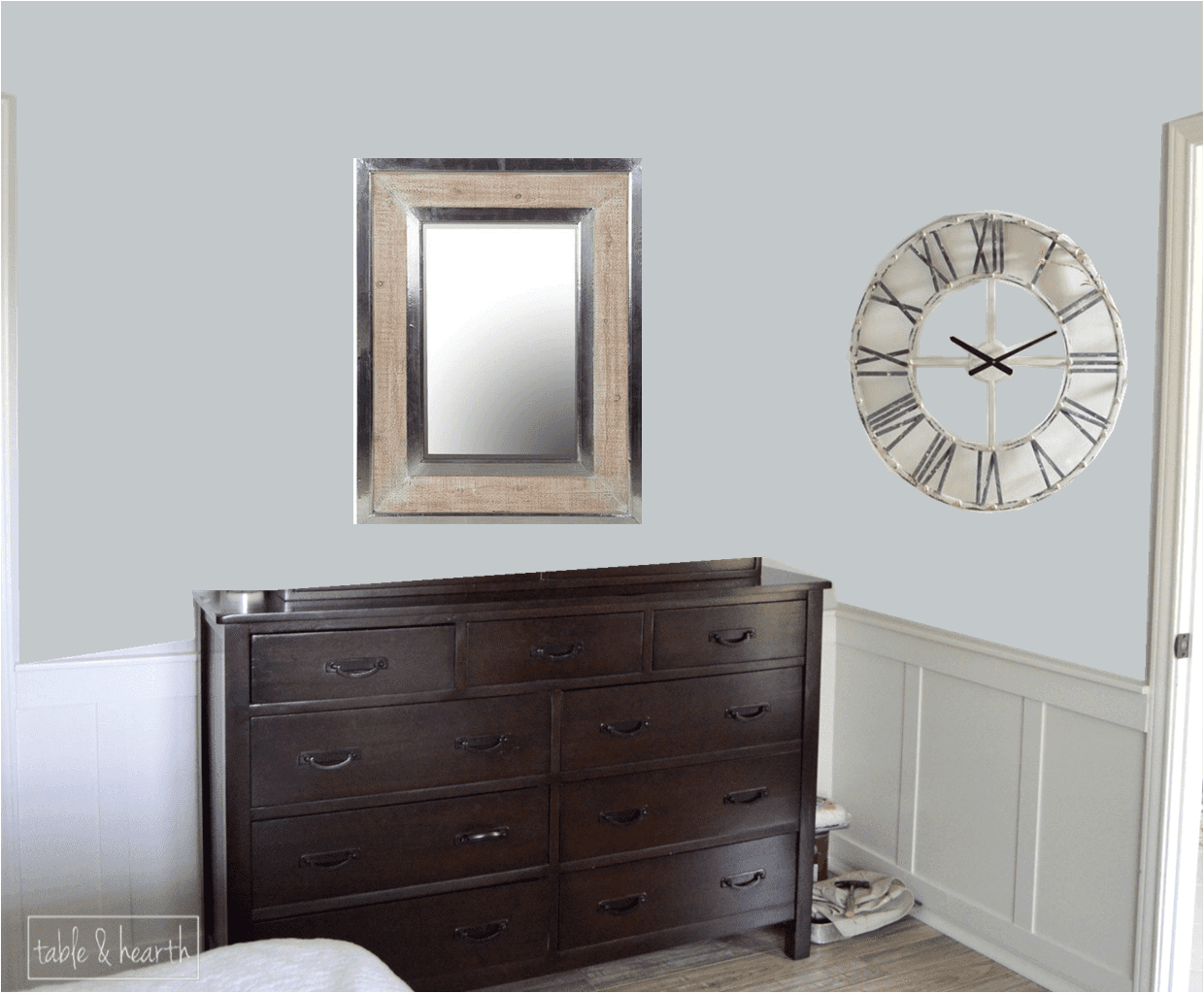 Ok, this post is pushing 1000 words so I'll shut up now. But that number directly correlates to how frustrated I am in this space. Pleeeeeease help me! Any advice/critiques/support/general comments/hell no's/product suggestions will be greatly appreciated and hopefully in a few months I will be revealing something that I finally am comfortable with and that you guys helped me with.
***UPDATE: Our bedroom finally got a makeover, see the big reveal HERE!!****