Happy week of Christmas everyone!  We had a short but sweet early Christmas with the in-laws on Sunday with our Christmas tradition of fried local oysters with them, his mom makes the best fried oysters!!  Then we are heading up to northern Arkansas for Christmas with my family Wednesday morning.  My aunt and I have planned out daily feasts that I can't wait to share with y'all when I get back :)  We are really looking forward to going back where it actually feels like winter, there's even a chance of snow, squeeee!!!  But before signing off for the holidays, I wanted to share this last-minute tree skirt I made this year, inspired by this one from the beautiful and talented
Gwen at The Makerista
. (if you don't follow her, go do it now, she has such a great eye and a brand new house to work her magic in! do it now.)
See, this is why I needed a new tree skirt.  Now, this picture was taken in 2009, our first year in the house, and that is our old skinny-minny tree, but the tree skirt we've been using ever since is still the same.  Don't get me wrong, I am SUPER proud of it because I crocheted it over the course of many months (
here
), but even after all that work it was still.this.small.  One layer of presents and it was long gone from sight.  I've wanted to upgrade for years but nothing I saw was worthy of ditching my self-made one until I saw Gwen's and there was no looking back!
These are the only supplies it takes.  A square of fleece or wool, 13ish yards each of various fringe and trims, disappearing marker, liquid fabric adhesive (get the big bottle, I ran out and went back and got 
this
), scissors, and measuring tape.  I couldn't find white cotton fringe trim like Gwen used at either our JoAnn's, Hobby Lobby, nor our Hancock Fabrics, just a tan/white version and in only about half what I needed.  So I improvised by getting some ivory and white (not shown) polyester fringe trim, a little bit of gold fringe trim, and a little bit of white pom-pom trim.  While this is an easy project, it does get a bit costly with buying all this trim so if you can, make multiple trips using those coupons and sales!!!  And I had to make multiple trips to all three stores, but that's not really out of the norm :/
And a quick little PSA for any trim-clueless people like me, this fringe trim doesn't come already all fringed-out, it's stitched together at the end to keep it together so before you start, you'll need to remove this little piece of string.  I kept seeing trim in colors I liked but thought they were flat so they wouldn't work and kept trying to look for the fringey stuff.  Then I saw one unraveled and duh!!!  So picture these fringey and you'll be good.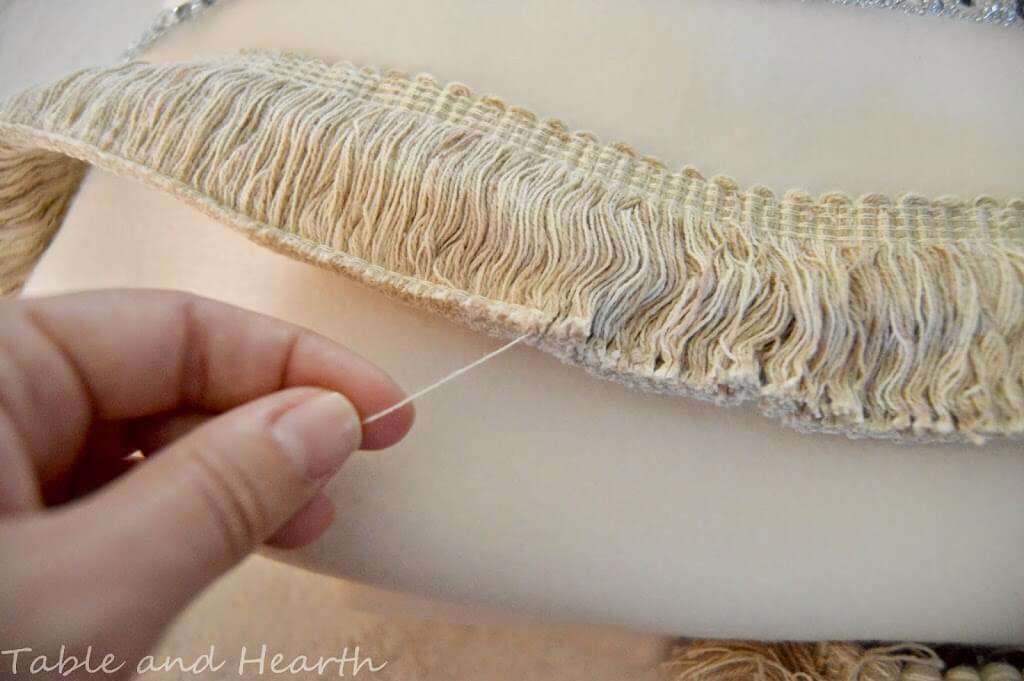 I did mine in roughly the same dimensions as Gwen's (55″) but I used fleece instead of wool cause it was cheaper so my square was about 58″.  Fold it into quarters, then cut a small hole in the middle using a rounded corner of something (like a plate).  Make it quite a bit smaller than I did, it only needs to be as bit as your tree trunk/pole so mine ended up being a bit too big.
While it's still folded, measure the length of one straight side, then make marks around to the other side at the same length and cut along those marks, making your circle. You can faintly see my little purple dots arcing across.
Then just cut a slit down one side and you've got your shape.  The fleece is more flexible than wool would be so my edges got pretty rough due to it stretching, but luckily the trim will cover almost all the edges so that jaggedness won't be seen.
Start by gluing fringe to the inner and outer edges, then measure off some rows in between wherever you want your other rings of large fringe to go (you can kind of see my marks).
Once you have a few rings down, you don't really have to measure off anymore if you don't want since you can use those as a guide for the subsequent rings.  After I had five, I just eyeballed laying the rest.
I was a bit worried that mine may not look Morroccan-wedding-blankety enough since I didn't use the same (or all white) trim like Gwen did but in the end I think it's alright and I'm really happy with it.  The pure white polyester fringe trim I went back and got, along with the pure white yarn and pom-pom trim evens out the other shades of white fringes I had to use.
Such an improvement!!  I just love that it matches the proportion of our newer, bigger tree and even with all of our presents down you can still see a good 8″ of skirt!  The lights sparkling off the sequins and gold trim is just beautiful and it looks so soft and snowy with the fluffy yarn and bright white.  And it matches perfectly with our weathered white beachy tree!
Thank you Gwen for the inspiration, this puppy will be below our tree for many many years to come. I just can't stop looking at it, if only all those presents weren't covering her up!  Psssht that's crazy talk, nevermind.
With that, I am taking a blog break till the new year but follow me on 
facebook
,
instagram
, and
twitter
, I'll still be around there of course! #cantstopwontstop
This year has been so amazing and I am so thankful that nine months of it (exactly!) has been spent with you guys and I'm crazy excited for what next year has in store.  Wishing all of you a safe and happy holidays!!
via
Linking up with:
create and share, hit me with your best shot, party in your pjs, wow us wednesdays, worthwhile wednesdays