So, you guys got the 32 week bump update on Monday and now you're getting the 32 week (well 33 week now) nursery update…which is *almost* just as exciting. While there definitely have been quite a few tasks checked off the list, it's still not even close to being all pulled together soon. However, what has been done is so, so good and I'm excited to show you guys where we're at now!
Like before, let's take another look at my plan for the space. We aren't finding out what we're having so the nursery needs to be gender-neutral, but as per our usual relaxed coastal style, it is of course a color-neutral space as well. The focus is more on textures and has driftwood, gray, ivory, and beige tones. I'm not a big fan of themes in nurseries at all, but couldn't help but sneak in a few nautical/ocean touches here and there.

*affiliate links included for your convenience, click here to see my full disclosure policy
Biggest news this update is that the crib is here!!! Isn't it a beaut?! It's the Winston 4-in-1 Convertible Crib from Wayfair and is exactly what I had in mind when I first thought of this room. It'll go from crib, to toddler bed, to daybed, to full size bed which is awesome and it was super easy to put together, we had it up in maybe 20 minutes. I love the way it looks against our dark shiplap wall, light rugs, and that it brings another material into the space but in a cool vintage way.
Slight progress on the other side of the room with the barn door hardware arriving too, but I've got to buy and paint a header board this weekend before we can get it installed. I'm weirdly intimidated by installing this thing, even thought most people I know that have say it wasn't bad. Any veteran barn-door-installers feel free to send over any advice.
As you may have caught a couple weeks ago the closet DID get pulled together and is all ready to be organized and filled with teeny clothes and supplies thanks to a cubby bookcase and these hanging crates. The first load of baby laundry was done last night so operation organize all the little things will soon commence in the closet and the dresser.
Speaking of the dresser, I found this AWESOME drawer divider trick from one of my favorite bloggers, House of Wood, using these handy adhesive strips and simple 1/4″ battens which I have tons of scraps of from various projects (yay for using even more of the scrap wood pile!). Unfortunately my scraps are only 3″ wide where 4″ would work better for these drawers so I'll be grabbing those and re-cutting the dividers this weekend.
I got the little gallery wall above the changing dresser hung which was a piece of cake using my favorite layout technique; cutting shapes of things out of kraft paper, arranging how I like, using painter's tape on the back of each item to mark it's holes with, then using that tape to align where my holes need to go on the wall. One of those tricks you wish you had learned a looooong time before for sure.
I also hung the corner pendant lamp (and finally did get more cord cover in for it, ha) but am wondering now if it's going to be bright and glaring for the babe on the changing pad down below? Stay tuned for a fun DIY on the dresser in just a couple weeks too!
If you follow me on social media you may have seen me share the amazing new Spring 2017 limited collection of rustic signs by my super-talented friend LZ from The Summery Umbrella. Well, here's the piece I chose which is PERFECT for this room. Not only is it beautiful but the quote means so much to us.
Otherwise the rest of the room looks like this, eeesh. The bookcase still needs to be organized and styled, some of that gear will go to our room and soon to our cars, and there's still a couple DIYs in process too. I can't wait to walk in here and have everything in it's place and cleaned up, it'll be a huge sigh of relief!!
Till then, here's where I'm at on my list. Looking here it looks like I'm so close but man it sure doesn't feel like it! Maybe that's because my belly is getting HUGE and it's getting a lot more difficult to do anything and still breathe.
Move guest bed and jute rug over to office
Get crib
Get wingback rocker, storage ottoman, and side table
Get lamp for next to rocker
Get tall bookcase
Clean up and seal old door for barn door for closet
Order barn door hardware
Find vintage back plate and knob for barn door
Install closet barn door
Figure out storage in the closet – crates and cubbies
Get and install new curtain rod and blackout curtains
Install wall hooks by door
Make hanging book holder
Make mobile for above crib
Make little DIY wooden sign for gallery wall – changing this to the shadowbox
Install gallery wall above changing dresser
Hang pendant light
Figure out storage plan for the dresser
Decorate bookshelves
Organize everything
Stay tuned for the changing dresser DIY tutorial at the next Monthly DIY Challenge February 8th and be sure to follow along on social media (links below) to get fun sneak peeks until the next update!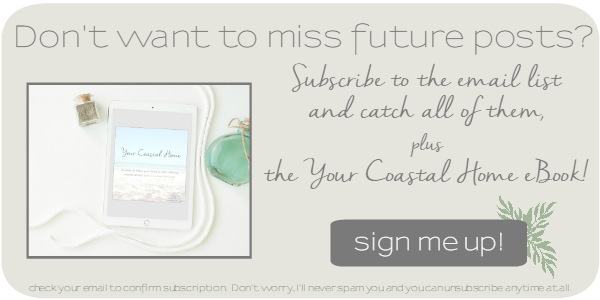 Share this!