In the fall of 2020 we sold our first home and made the move up the coast to Rockport to this beautiful home in a great neighborhood and much needed bigger space. We're now working to make it ours with new finishes, decor, and some eventual DIYs of course. You'll find all the before pics and current process pics here as well as sources for the decor we are using.

(affiliate links are included for your convenience, click here to see my disclosure policy)
Exterior
Before (listing pic)
Current
The exterior was newly painted and the house has a new metal roof and new windows since Hurricane Harvey so there isn't much we have needed to do out here. We replaced the sconces by the front door and garage, updated the handleset and doorbell, added a door from the garage to the side yard, and had the trees pruned to clean them up and help them rebound after Harvey.
The Foyer
Before (at inspection)

Current
We had the main living areas painted white and new vinyl plank flooring laid over the tile throughout the home shortly after we moved in. In the foyer we replaced the can light with a semi-flushmount fixture and I plan to put a larger runner rug here soon. The floofy front door scrollwork isn't really our style so I may investigate having that part welded off if possible or we'll get a new front door someday.
Living Room
Before (at inspection)
Current
New vinyl plank flooring and white walls have made it seem much larger and brighter in here and the ceiling fan was moved to the office and replaced with this brass stunner. I replaced alllll the 90s brass hardware throughout the house with matte black knobs as well. Styling the built-ins will forever be a process but they are fun and offer a ton of storage. We are waiting on an accent cabinet for that tall blank wall to make a little bar cabinet for Matt.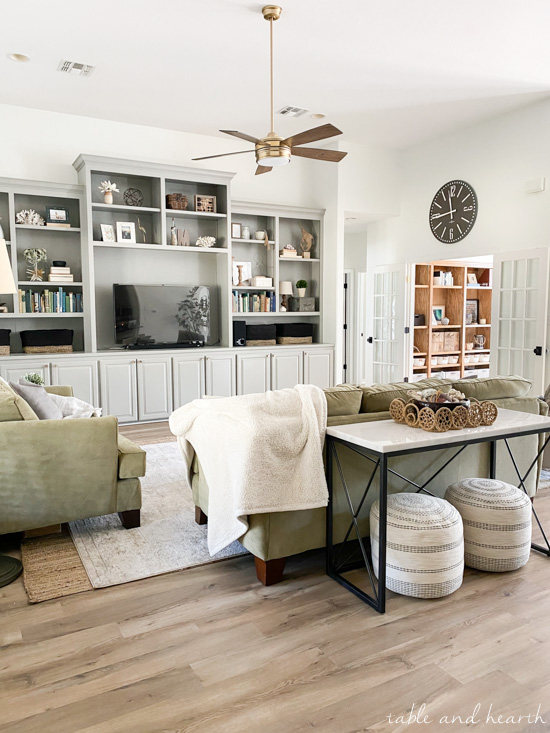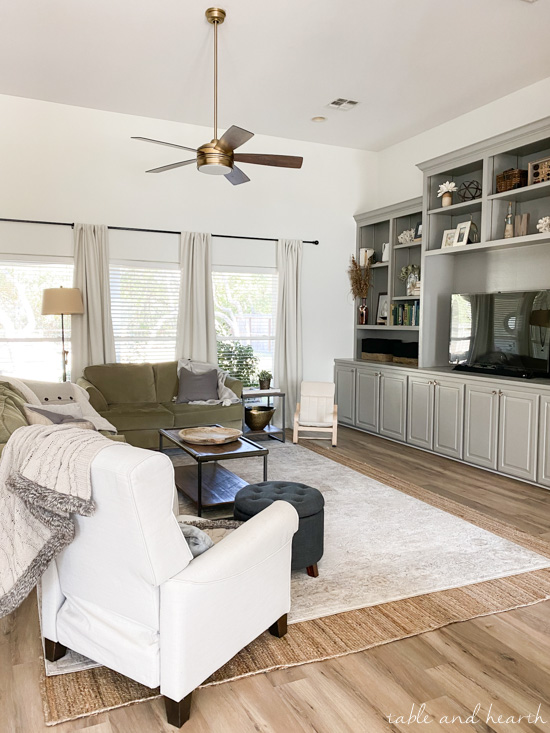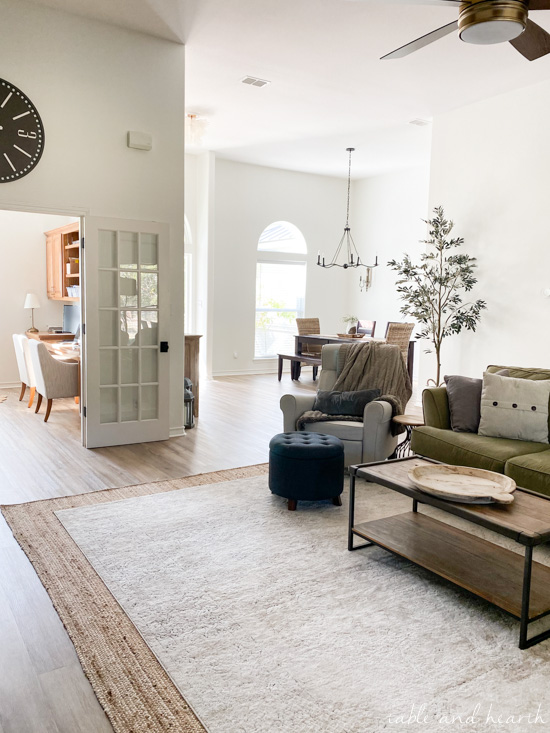 Office
Before (at move in)
Current
We are thrilled to finally have a separate room to use as an office as well as even more storage, but the brown walls were horrid and so dark. We've done new flooring, painted the walls white, and moved the fan from the living room to here. Future plans are to shiplap the walls and paint the cabinetry white as well. And style the desk wall with better baseball card collection concealment.
Kitchen
Before (at inspection)
Current
I am so glad there are a ton of cabinets and that they are already painted, BUT they did a horrible job and are kind of beat up so they could stand to be sanded and given a good new coat wayyyy down the line. I'd also love to get light quartz countertops and change the backsplash, but again, stuff for much later. We did replace the leaky faucet and garbage disposal and get a new dishwasher and refrigerator. I'd like to do something fun with the pantry door soon, maybe have frosted glass instead of the louvers? It has a pretty small pantry, but I may be able to gain a few more feet back during the master bath reno next year, maybeeee. I also want to fashion some nicer covers for the air intakes because they are so noticeable.
The laundry room has a good bank of cabinets and countertop but I'd like to take some of it out and make a small mudroom bench with hooks for more of a landing spot someday, plus the cabinetry is suuuuper beat up and it's tight with the kitchen door there. But for now just thankful to have a larger laundry area and more storage.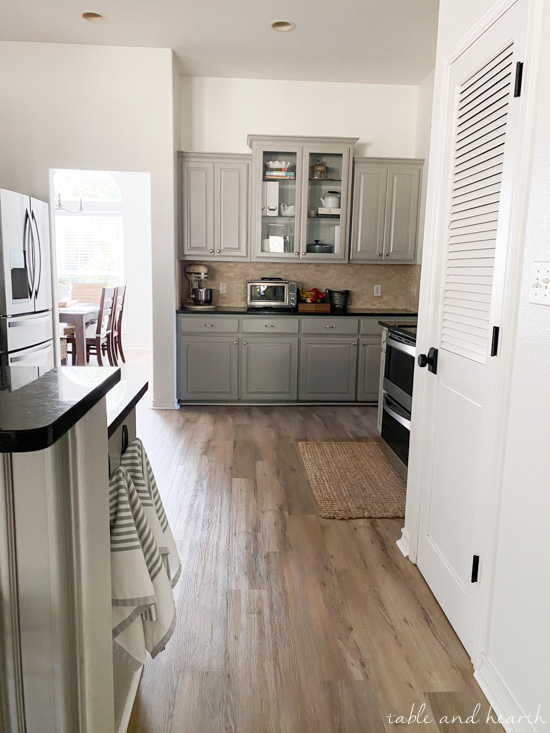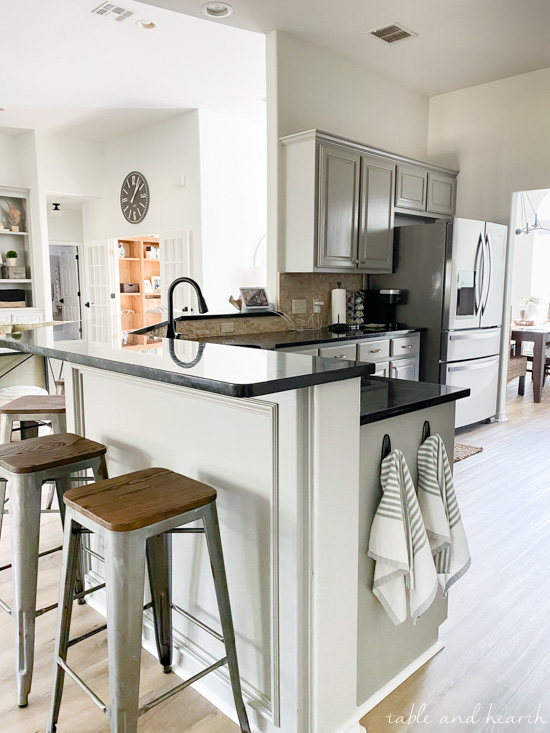 Breakfast Nook
Before (at inspection)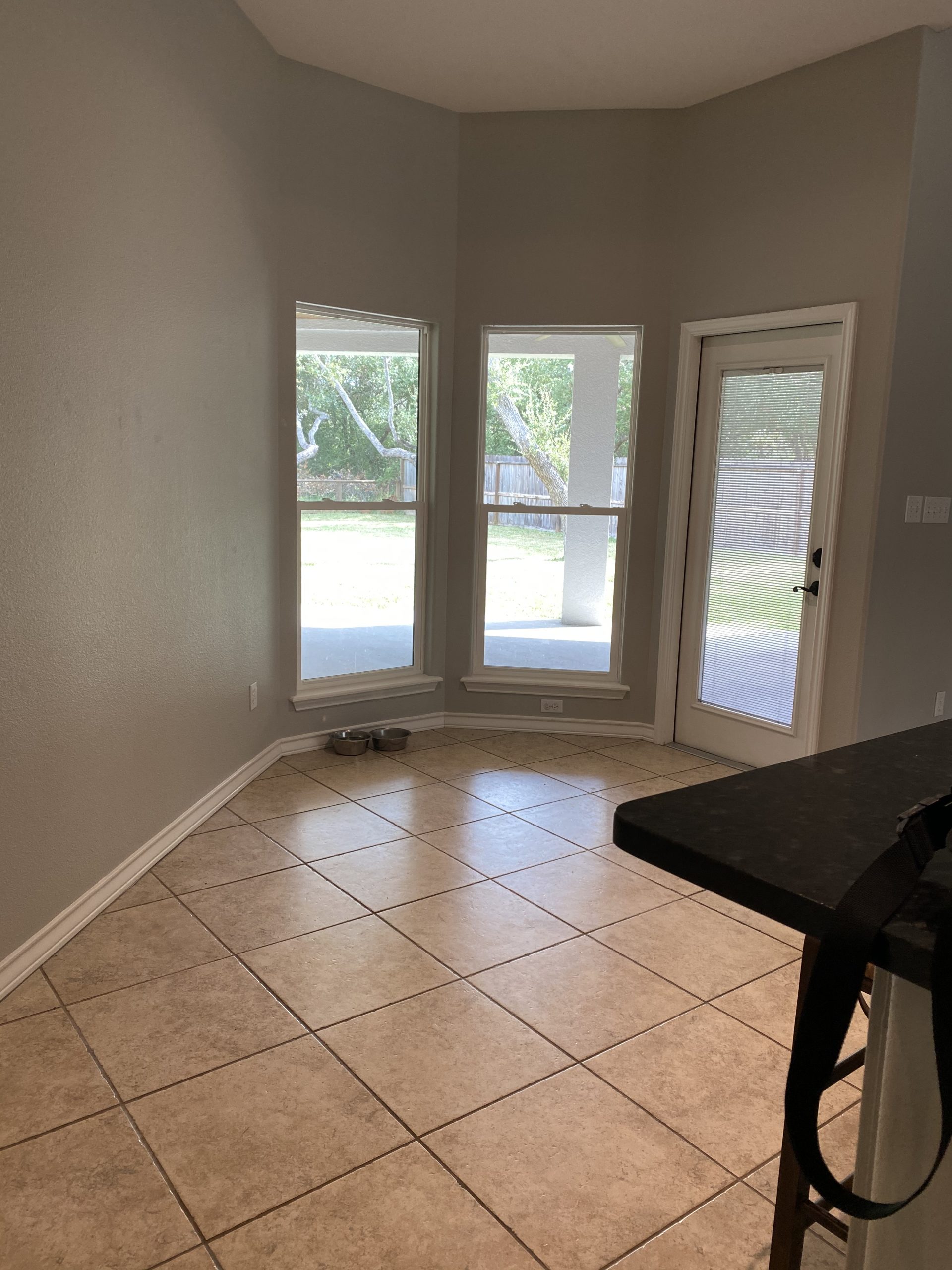 Current
This is an awkward space and I'm not really sure what it needs to be quite yet. We eat at the main dining table so I don't see a need for a breakfast table here and don't want to crowd the back door anyway, so we'll see what it becomes. I wish the back door was in the center of the wall or at least opened the other way. For now I have a antique table and Connor's snack table here and will just live with it to see what we need.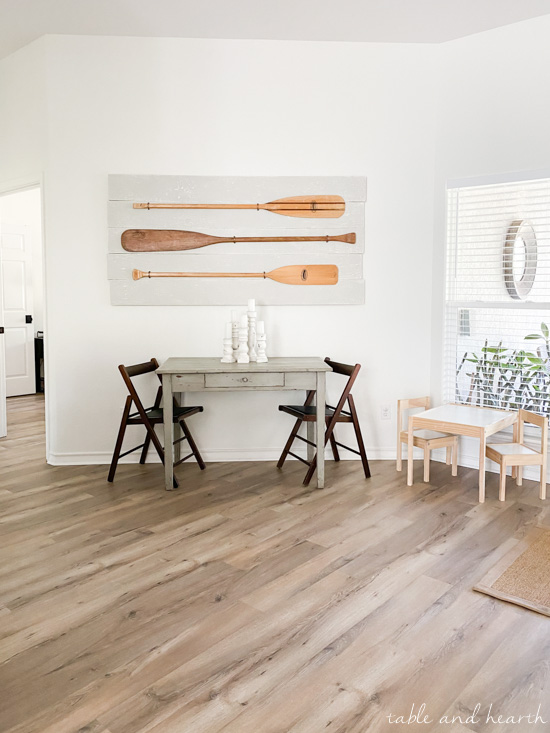 Dining Room
Before (at move in)
Current
This area has the new floors and paint as well and a new chandelier was just installed as well. I will be getting new sconces soon and will have them centered on the wall because they drive me batty right now. I've decided to put curtains up on this window too but trying to coordinate what color/pattern given I'll have a rug by the entry and a rug under the dining table eventually once Connor isn't as messy (thought we'd be there by 4 but not so much). Would also like to have a great showcase art piece between the sconces someday.

Master Bedroom
Before (at move in)
Current
This room has gotten new flooring, paint, curtains, ceiling fan, and bedding but is still kind of awkward and giving me stress. I hope to find a new lighter/softer bench soon that can further soften things up. I know new furniture would really help in here but that will have to wait another year or so.

Master Bath
Before (at inspection)
Current
Don't get me started here, this was almost a deal breaker. How on earth this bathroom hasn't been updated blows me away. But we both agreed that we will start saving to have it remodeled within a year or so so we are hanging in there. There is just so.much.wasted.space and old fixtures. The shower is a big cultured marble insert and is huge but only half of it is by the faucets (which are too close together), the rest is just open space, the jacuzzi tub is leaky with broken trim and we don't use it, the wall of mirror is obnoxious and corroded, cabinet doors are broken, and there's about six feet of (too short) vanity for nothing. We didn't bring the new floors in here since we will be updating it someday and will do a new tile then with the vinyl plank in the closet. We are very thankful to have a water closet, double sinks, and a spacious closet now finally though. Dreaming of our future bathroom every day until then.
Hall Bathroom
Before (at inspection)
Current
This hall bathroom is the one we use for Connor and luckily guests have their own now at this house. I still wanted to keep it matching the rest of the house instead of clearly a kid bathroom though. It's got new floor, new paint, new mirror, new shower curtain, new fixtures, and will soon have painted cabinetry. I'd like to get a new countertop and faucet maybe next year as well, maybe even a pedestal to free up some room around the door.
Connor's Room
Before (at move in)
Current
This was the first room we put together so Connor would have as smooth of transition as possible. The wall color needs a new coat but I actually like it so probably won't change this one. He got new flooring, a new ceiling fan, new artwork, and new curtains, but he's mostly good to go here. I miss his dark shiplap wall and may do that again though. Planning on getting a smaller dresser soon to gain more openness by the door (this one will go back in the guest room for linen storage).

Guest Bedroom & Bathroom
Before (at inspection)
Current
We really love how big this room is for guests and that it is an ensuite, and also love the big walk in closet for storage and the built in desk. This room will be a pseudo-studio for my art since I can keep my inventory in the closet and make pieces at the desk. We did new floors, a new shade, and a new ceiling fan but it still needs new paint and a new rug once I decide the look I want to go for in here. I'll work on the desk area to make more wall storage and will paint it as well, and need to figure out if our barn door will work on the bathroom. Not loving the yellow here so it may get painted. The single small window isn't great, and we've casually discussed having another one put in by the desk someday to let more light in. The dresser in Connor's room will come back in here soon so I can decorate that big blank wall above it.
The bathroom is decent and has a stand up shower insert. I'll be painting walls and cabinets and kind of want to do a fun wallpaper in here someday. The faucet didn't work right so we replaced it with a gorgeous champagne bronze single handle, but I'd like to do a new countertop and mirror in here someday too.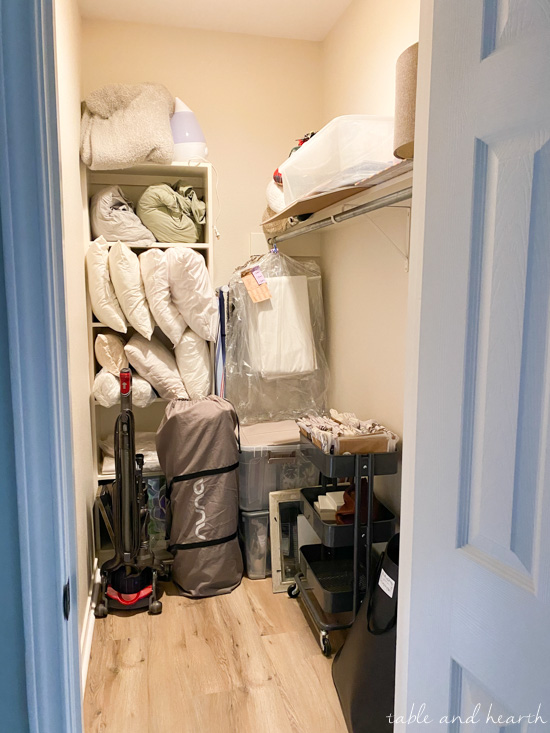 Backyard & Patio
Before (at inspection)
Current
We initially wanted a house with some small acreage but were still happy with the size of this yard and that it backs up to empty wooded property instead of houses, so we kind of have the feel we wanted still. Connor LOVES the backyard and has so much more room to play. We get deer behind the house all day long which is fun. We just had the trees trimmed to help them rebound after Hurricane Harvey a few years ago, so hopefully they start shading up more. We will plant a few more and do some landscaping as well as install a pond this spring. I'd like new patio seating furniture but that may be a next year item. (ignore the plumeria hobby wintering on the porch right now)
We are so incredibly happy in our new home and in our new town and feel really lucky that we could make this happen. This house needed a little TLC when we got here but we finally have most of that taken care of and are now able to really make these spaces cozy and comfortable. We definitely don't have the DIY time like we used to, but it is exciting to have some ideas in mind that we can work on when we are able to.
Thank you for being here and hope you'll follow along!