If you follow me on Instagram or Facebook, you may have seen that I headed back home to north Texas last week for my cousin's wedding.  What's right smack dab on the way from south Texas to north Texas?!  All you Fixer Upper fans know….Magnolia Market in Waco!!!!!
My mom, mother in law, and I were lucky enough to head up for last year's grand opening Silobration (see my recap post HERE) but this year the Silobration fell on the same weekend as the wedding so we had to settle for stopping by the Wednesday before it all started.  Totally fine by me because while the big celebration was fun last year, there are SO.many.people so I was looking forward to being able to freely toil about and shop this time.
After grabbing lunch at Torchy's Tacos (an Austin original that is a MUST if you're anywhere around central Texas), we headed over and started shopping right off the bat.  I really should reconsider this plan because it's kind of a pain to haul loot around the rest of the grounds, so note to self to shop last :)
We started in the main building first and I loved all of Joanna's new rug and pillow line scattered throughout, especially those white textured pillows!  Many of the displays had a slight fall feel to them which was perfect, and I really liked the little kitchen accessories section and the office/stationary section.
There's my little mom shoppin' away :)  Just LOOK at all that open shopping prettiness.  It was soooo much better to go on a normal day during the week when there were less crowds.  You really need time to go through a couple of times at least because there's cool little finds tucked away all throughout the displays.
The big barn area of the building was filled with vendors last year for the Silobration (mmmmm, cinnamon nuts!) but this year it was yet another whole shopping space.  This is where Chip's Corner has moved along with all the wonderful farmhouse signs, children's gifts, as well as a cute display of the new Magnolia Paint line.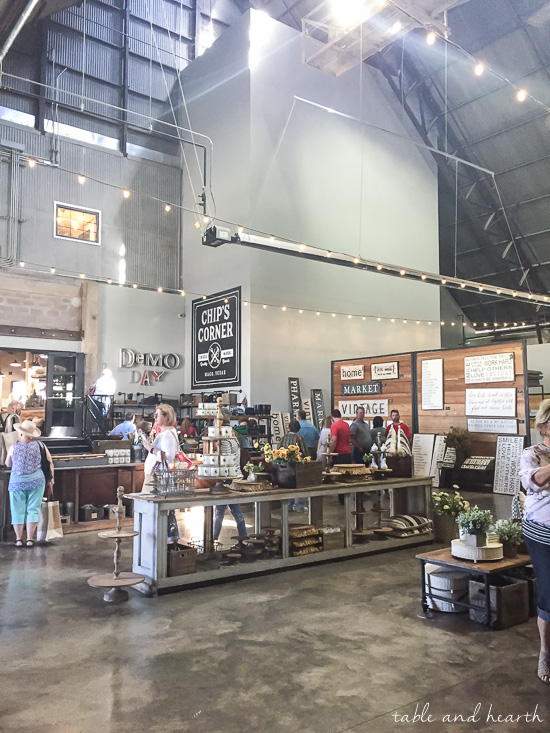 After about five more full rounds through the store I finally made my decisions and had my double bag ready to go.  We then took a stroll about the grounds, taking in the chill relaxed vibe, beautiful (but hot!) day, and the gorgeous gardens and plants everywhere.  Last year when we came everything was still so new and we had gotten torrential storms and downpours the days before so the grounds were a quagmire of mud, gravel, and straw.  They have come a LONG way in a year!!
An outdoor space in Texas always needs a good shade structure and this awesome reclaimed barn they installed this year was MUCH needed and fits in perfectly.  Read more about this special guy HERE.
We REALLY wanted some of the famous cupcakes from the bakery but apparently so did everyone else, there was a huge line to get in.  Since we still had a few hours drive ahead of us we decided to save it for another time and head out.  It's not a complete loss though, luckily my husband had to travel near Waco for work a few times a year so last time he was up I got a little cupcake surprise.
Here's my haul from this year! A couple of collapsible seagrass baskets, hanging chalkboard signs, florals (because they're always so pretty there), a few wire hooks, some kitchen goodies, and the CUTEST little yellow guest book for our guest room.  It'll work so much better than the little sticky-note pad in there now :)  I could have made it out of there with so much more and oh man did I want some of those signs and pillows.
I'm so happy I was able to get back up there this year and fully plan to go back when we can have more time to just relax and hang out, and take advantage of all.the.food.trucks.  This little stop was the perfect way to unwind and get ready for a weekend filled with family I hadn't seen in forever, for some quality time in my hometown after many years, and to see my beautiful cousin in her beautiful DIYed wedding on a beautifully chilly fall night <3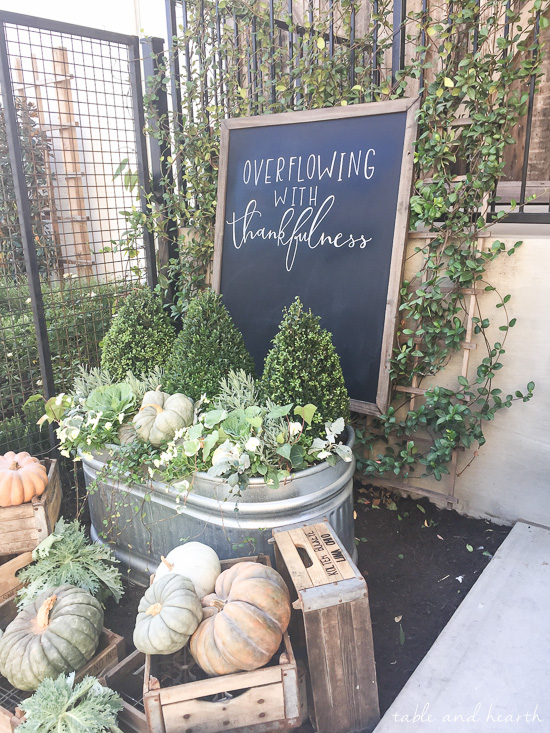 The silos are definitely a magical place and one I hope all of you farmhouse and Fixer Upper fans get to visit someday!  Just be sure to give yourself plenty of time to take it all in and really enjoy all that it and the pretty little town of Waco have to offer!
* there are many more items in the store than they have online unfortunately but I've linked what I could of what I bought below so you can check it out if you love it :)
Have a great weekend everyone!