Well, the sun is shining, the grass is greening, and flowers are popping up everywhere…all meaning spring is here!!! And to celebrate, I'm finally sharing the full tutorials for all four of the DIYs I did for our patio makeover last fall for the One Room Challenge all this week! We'll call it "Spring Patio Week" and hopefully it'll give you guys inspiration for all those outside projects you've got planned this spring.
Back in October and November, I overhauled our backyard patio space in six (short and crazy) weeks, creating relaxing lounge and dining areas full of texture and neutral tones. You can see the full reveal and catch up on the process HERE.
When I started, I showed you guys how word and weathered our wood patio set had become. Even though our patio is covered, it faces west so in the afternoons the furniture was exposed to super hot sun and also gets a little splash and spray during rain events.
We got the set from World Market about three to four years ago and it held up well up until recently when it really started to show some wear. It didn't help that last year we had some slightly unwelcome carpenter bee guests set up shop in a couple of the pieces (one of their dime-sized holes can be seen in the below pic).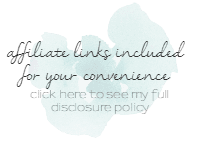 Luckily, the set is solid wood so it just needed some quality time with a sander and some new stain/paint and I knew it'd look good as new!
Refinishing Supplies Needed
How to Refinish a Patio Set
I cleaned all the pieces with a broom and blower to get rid of all the leaves and cobwebs, then started sanding all surfaces with my sander. Since I was re-staining in about the same color, I didn't bother getting all the way to the raw wood, just enough to get rid of any finish left over and to smooth out rough weathered areas.
After sanding, I made sure all the bees had vacated their tunnels (some were NOT happy and stayed in through all the sanding) then filled each one as much as I could with the silicone. From what I've read, they are not deterred by wood filler but cannot tunnel into silicone so that's why I used it instead. This page has good information if you've got carpenter bees too. I don't mind them being around so I didn't want to kill them, they just weren't welcome to make their home in my furniture :)
Once bee-proofed, it was time to start spraying. I had just received my Homeright Finish Max sprayer and Spray Shelter and couldn't wait to play with it, although I admit I was pretty nervous, never having used a sprayer before.
It did take some getting used to but I was blown away at how easy it was to use and at how quickly I got the hang of getting an even, (relatively) drip-free finish. (Since this was during the crazy ORC, spraying had to be done at night and the only suitable well-lit space was the garage, so I apologize for the grainy pics here). Also,I would suggest a real mask instead of a Buff, but that's all I had on hand…
The spray shelter was MUCH bigger than I anticipated and comfortably fit a couple pieces at once which was nice and helped make this go alot faster.
The water-based SuperDeck stain had awesome coverage so I just needed two coats on each piece, sanding down or touching up any drips, blemishes, or missed spots in between coats. I then sealed them with two coats of water-based spar urethane to make them more weather and UV resistant. Homeright also sent me their Rapid Clean kit which was an absolute lifesaver. I could only do a couple pieces at a time, and with four total coats of material on them there was alot of sprayer cleaning going on and I was pretty nervous how long and involved that would be. But with the rapid clean kit, all you have to do is hook the sprayer up to your garden hose and run it through until all the paint is worked out. So.much.better!!!
The original cushions have held up relatively well over the years but I wanted to make sure they were just as weatherproof as the furniture so I gave them two coats of Thompson's Fabric Seal. Water just beaded up on them afterwards!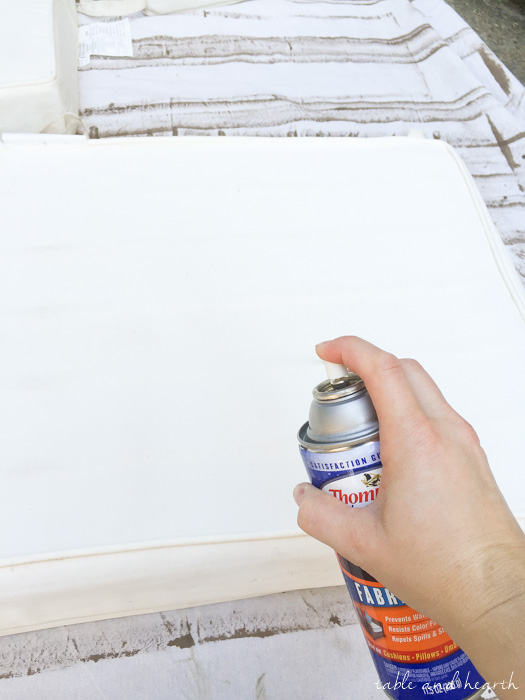 When everything was all dried and cured, I moved them back out to the patio and was blown away by how new they looked! They may actually look better than new if I do say so. I used a semi-gloss finish in the urethane and like the slight shine on them now, and how water just stays beaded up on them. No more water damage!
*******(full decor source list can be found in this post)********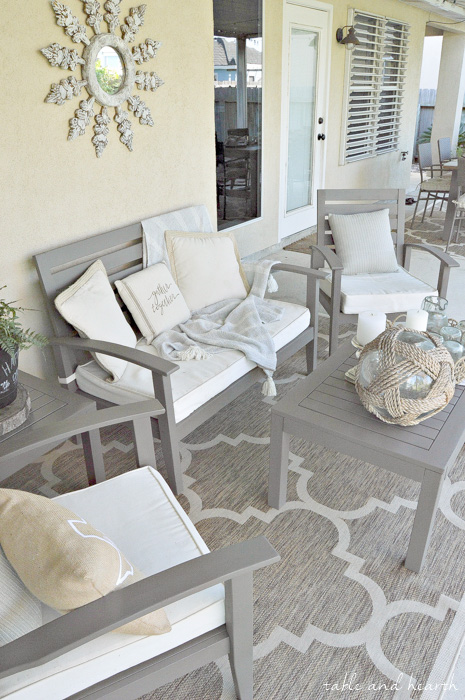 We're all ready to go for those springtime evenings out here!
Spring Patio Week continues tomorrow with some beautiful and budget friendly (and no sew!) outdoor curtains for our pergola!


**I was provided supplies for this project but as usual, all opinions and commentary are my own. Click here to see my disclosure policy.**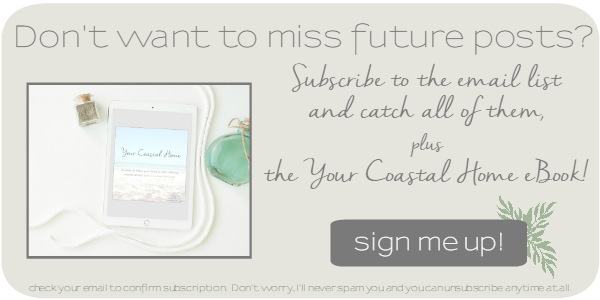 linking up with: march before and after, pretty project party