So, as most of you guys know, we live on a barrier island on the Texas coast and are just a couple miles away from the Gulf of Mexico.  Awesome of course…BUT, it is absolute hell on anything outside!  We can't have anything nice outside, no matter what side of the house it is on, ESPECIALLY if it is metal.
*affiliate links included for your convenience.  Click here to see my full disclosure policy
About four Christmases ago, Matt got me these new outdoor light fixtures that were so adorable and perfectly nautical.  I LOVED them! But within a year, they were starting to rust, and after four years this is how they were looking.  Crazy, right?!
So, it was time to replace them.  We wanted to stay on the farmhouse/nautical side as well as keep it under $40/fixture since we had to get three of them.  These are the choices we pondered (click each one for more info):
While all of these are beautiful and are the perfect farmhouse/nautical-inspired look we love so much, all but one of them are metal which would put us right back where we are now in just a few short years.  It doesn't matter how "weather-resistant" something says it is, out here it WILL rust in a VERY short amount of time and need to be replaced.  May as well put that money towards something that will last more than just a few years.
So, this light, being the only non-metal one, was our choice.  And, funny story, we actually looked at these back when we were initially shopping four years ago but I totally scoffed at the plastic idea and fell right into the "weather-resistant" sell of the other ones.  The husband made sure to point out that these were the lights he wanted all along…SMH.
I don't have any pictures of Matt installing them, because it took him not even an hour probably to install all three.  Just your basic light installation process, and most of the time was spent figuring out which breaker worked each light.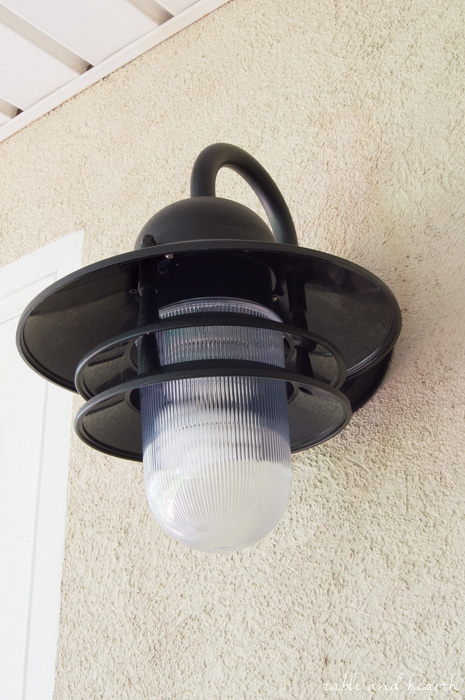 I love that they are a little bit larger than the ones we had before, and the light seems to be distributed further laterally since more of the bulb is shown. I'm not sure how the plastic would hold up if installed in direct sunlight over the years, but I'm confident ours won't fade and stay nice and black since they're on our covered patio. (Also, I SOOO wish we had updated these during our patio makeover last fall!  grrrrr)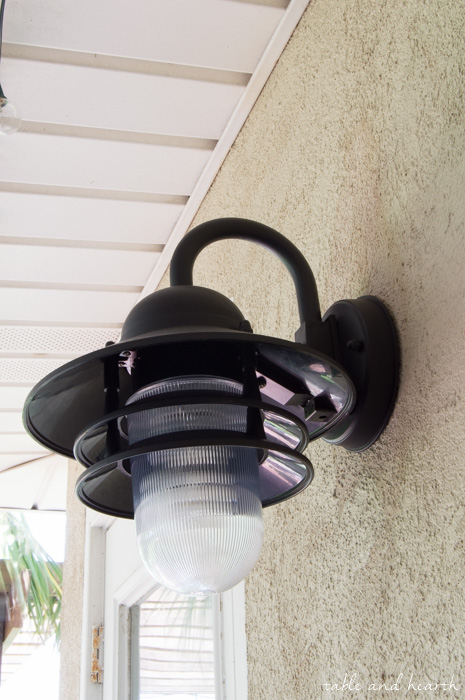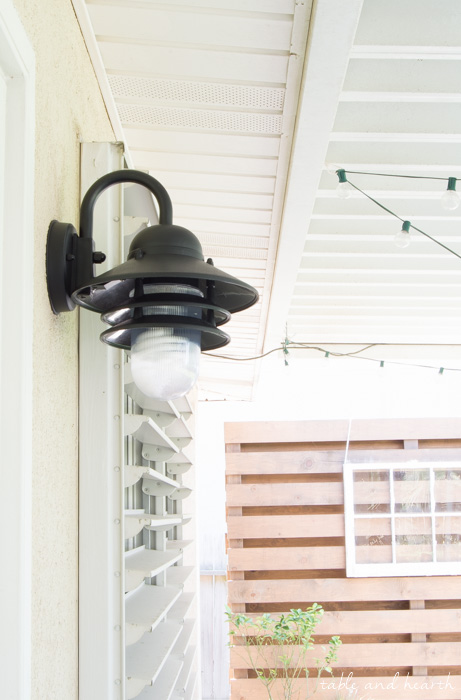 I'm so happy to have fixtures out here that we won't have to worry about for a much longer time!  We've seen these on many of the nice beach homes around here and now we know why, they'll actually last!  If you're trying to find some outdoor lights that can withstand wet and/or salty air, I highly suggest these guys!!
** Update **
These guys held up perfectly even after 100mph winds during Hurricane Harvey in 2017. We installed two more for our garage door sconces on the front of the house as well in 2018 and they've also held up great!