Hi hi!  We're now at Week 4 of the One Room Challenge!!
Two measly weeks left until the big reveal on November 11th!!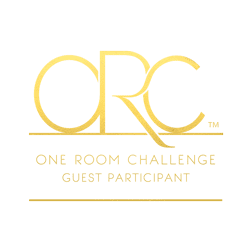 The One Room Challenge is put on twice a year by Linda at Calling It Home and myself and a bunch of other talented bloggers take part in it as linking participants, making over a space in just SIX weeks.   Weekly updates and the reveal will be on Wednesdays here because of our link party on Thursdays, but every Thursday make sure to hop over to the link up at Calling It Home here and catch up on everyone's projects.
The space I'm taking on this ORC is our back patio, transforming it into a rustic,weathered, coastal, and relaxed space!
See all the oh-so-boring before pictures in Week 1
See the design board, inspiration, and (initial) to-do list in Week 2
See the new container plants and one plant pot I'm excited about in Week 3
outdoor fans / wall stain / rugs (*see Week 2 post*) / dining chairs / chair cushions / glassware / dinnerware / napkins / napkin rings /candles / mirror / patio set / patio set stain / jute-trimmed pillows / button pillows / lanterns
(*similar items given as needed, not all items shown here)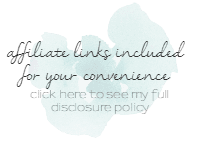 I was provided various products by the below companies, however all opinions are my own of course
Probably the biggest news this week is that the TABLE IS DONE!!!!!!  I repeat, the TABLE IS DONE!  I spent a few late evenings getting the base assembled, then joining the top and base together.  I was a Kreg screwin' fool!  When we flipped it over that night, it dang near took my breath away.  I seriously almost got choked up (#lame).  I've never built anything on my own and it is just an awesome feeling to look at something and say "I made that".  I told my husband I felt like I had had two nights of labor and had a table baby :)
Since I got my table baby done before the weekend, I planned to sand and spray the "bar" and furniture over the weekend, but someone by the name of Hurricane Patricia rolled into town and squashed those plans.  I decided to go ahead and get as many of the planks for the privacy wall as my SUV could handle and sand and stain all of them in the garage.  All.day.Saturday, staining.  Nice view of the downpours while doing it though :) I'm using the same stain as I used on the pergola (Sherwin-Williams SuperDeck in semi-transparent "Hawthorne")…1) so it'd be a cohesive look in the backyard, and 2) because I had a half-gallon leftover (this stuff goes a looooong way) so I wouldn't have to buy two gallons, just one .  They're all stained and ready to be put up now and I'm pretty excited to get to break out my new Ryobi Airstrike finish nailer to do it.
Oh the sanding.  So.much.sanding.  The 18 boards for the privacy wall, the little bookcase I'm making into our "bar", and the whole furniture set.  I'm about halfway through it all and just have the furniture set left.  Luckily what's on it is pretty thin so it comes off easily with the 80-grit sandpaper I'm using, but I don't know what the heck I used on this little bookcase all those years ago but it did NOT want to come off.  Lots of elbow grease and quality time with the Corner Cat on this one, luckily it's getting a solid color so I don't have to get it to raw wood.  Sanding is the worst.  I want to jump-hug whoever invented the palm sander.
The GORGEOUS Safavieh rugs are here and they instantly make the space feel so much more cozy and welcoming (see Week 2's post for a special discount on them)!  I need to put the one down under my table baby but will wait until the privacy wall is finished (buffer zone).  When I couldn't do anything else because of the rain, I repaired this pretty mirror I got on clearance at a boutique back in September, painted it up with some chalk paint, and grew some lady balls to drill a hole in our stucco and hung it above the seating area.  That wall was such a big, blank eyesore and now it looks awesome!
Plant friends from Week 3 are doing phenomenal thanks to all the rainwater, and they even stood up to Patricia's 45mph wind gusts like champs.  Grow on little dudes, grow on!!
So, at the end of Week 4, here's where I'm at with my list.  I vacillate between freaking out that there's not enough time and feeling like I'm super ahead and have it in the bag.  I'm going to err on the side of caution and go with the former though.
I'm headed to Waco this weekend for the Magnolia Market Silos grand opening party (eeeeeee!!!!) but that means I lose a whole weekend of work.  And, I'm NOT very happy that I'm going to lose an hour of daylight in the evenings to get stuff done after work either.  I hope I can keep doing a decent job DIYing at night.  I'd like to get the plank wall up by this weekend and after that I'll just have to get over my first-time-paint-sprayer-user jitters to paint everything…in the dark.
Build a farmhouse-style dining table using reclaimed lumber as the top (these Ana White plans)
Stain table base to match seating set
Seal table top to keep chippy paint from coming off
Sand patio seating set, seal carpenter bee holes in it, and spray to match table base
Demo old lattice privacy wall
Patch nail holes in privacy wall frame, then stain
Purchase wall planks, stain wall planks, then install
Hang vintage window on privacy wall
Get and plant plants in pots to go in front of privacy wall
Spraypaint casters, hooks, and towel rack for rolling bar/cooler stand
Clean, sand, paint, and add casters to little bookcase to be rolling bar/cooler stand
Run conduit from outlet to install two outdoor ceiling fans – This is not happening because of the patio roof being metal :( 
Matching rugs for each space
(6) wicker chairs with cushions for dining table
New outdoor tableware
New pillows for seating area
Clean up piles of driftwood I've hoarded (aka: carpenter bee condominiums)
Waterproof all cushions and pillows
Find large wooden lanterns to put by seating area
Repair clearance sunburst mirror, whitewash it, then hang on fireplace wall
Get hose reels for hoses
Decorate the table
Remember to see everyone's Week 4 updates at Calling It Home tomorrow!  Also check out my Pinterest board for this project to see my inspirations, ideas, and sources!
Follow Emily @ Table & Hearth's board Patio Makeover on Pinterest.
**Again, I was provided various tools, supplies, and decor for this project.Thank you for supporting the brands that support T&H!  See my disclosure policy here