I did a project!! A project y'all!! It may have taken me two months to complete it but I did a project and it felt great! It definitely wasn't optimal to have a disassembled desk in the middle of our living area amongst the craziness of a two month old baby, but it was nice to have something to tinker on during naptimes and with an occasionally content observer. Welcome to what mommy does in her free time Connor ;)
*this project was sponsored by The FAT Paint Company and affiliate links have been used for your convenience. Thank you for supporting the brands that we love! Click here to see my full disclosure policy
We've had this basic desk from World Market for years now and it worked perfect in our old office with the daybed and my pipe bookshelves, but when we had to make a nursery and change the space to also be the guest bedroom it was a tight squeeze in there.

I decided to move the desk into our living room but it needed a LOT more personality to look good in there…luckily that's where The FAT Paint Company came to the rescue! We worked with them for this month's Monthly DIY Challenge and their artisan-style chalk paint in a beautiful dark gray plus my favorite medium to work with, old reclaimed wood, transformed this boring old thing into a one-of-a-kind piece of furniture.
Wood-Topped Desk Makeover
Now, of course the tutorial for this was dependent on my particular desk, but it can easily be adapted to any basic piece of furniture. It's a perfect solution for pieces that have a ton of issues and imperfections on the top :)
Supplies
Other than the reclaimed wood, the supplies for this are the same as you would use in any furniture makeover and I used roughly the same process as I did in our kitchen cabinet makeover.
Instructions
My desk had the standard mass-produced finish to it that scratched and scuffed SUPER easily so it has looked like crap for a long time. When I took the border pieces off the top I could see that it also has been discolored over time, losing the creamy white that it used to be (you can sort of see it in the below photo)
I took off the drawer fronts and top border pieces then got to work prepping them. I cleaned it all with the TSP, gave them a light sanding with a sanding block, then vacuumed and wiped them down with the tack cloth (remember from my kitchen cabinet project that I am a TOTAL tack cloth convert).
Once it was all prepped, I gave it two coats of the FAT Paint. The paint is thick (like many chalk paints) so you'll want to use a high quality brush and work in small areas. It also dries quickly so it was nice to be able to go back and handle the first areas once I was done. Anything that saves time in a project right now is a must in my book :)
As with most chalk paints, it is a thicker paint so you'll want to lightly sand in between coats. This makes a HUGE difference so definitely don't skip this step. It smooths it down sooooo much. Be sure to do a good vacuuming and use the tack cloth between coats. After the second coat I lightly sanded again and minimally distressed on some of the edges to keep with the rustic look that the top would have. I loved how gradual it was to distress and didn't take off too much right away.
After cleaning I applied one coat of FAT's CLEAR Top Coat to seal it. They offer waxes as well but I feel more comfortable with a liquid sealer so that's what I used here. It goes on smoothly but does dry fast so you'll want to work quickly and be sure to leave it alone once you get it on to reduce brush strokes.
The CLEAR Top Coat has a nice matte finish that keeps with the chalk-style paint and distressing. There's definitely not a lot of sheen to it which is great.
The boards I used for the top were some old fence boards that someone in the neighborhood set out for free. They listed it in our neighborhood FB page so I loaded the little man up early one morning and filled the back of my car with way more than I planned to grab, as per usual. I was so sure people would take them immediately so it was a mad dash to get us over there, at 8:30am on a Thursday, only to be like the only ones that picked any up for quite a while. Welcome to junkin' Connor…your mother is crazy.
Anywho, the boards were just a little too long and four was just a little too wide to fit evenly on the top so I had to cut them down.
I used my circular saw to rip a couple of them down a few inches, leaving full boards in the front and back. I liked how the planks would be different widths on top, giving it more charm. Then I cut them so they overhung the top by about 1/2″ on each end.
After using my palm sander to soften all the edges and get rid of splintery edges, I gave them a good powerful hosing and scrubbing to get rid of some of the algae and gunk. If this were an outdoor piece I totally would have left it because I really liked the more grayish color, but indoors they needed to be clean. I was amazed at how much gunk came off of them! Ew!
Once the boards were dry, I gave them a coat of my favorite sealer for old/chippy wood so that they'd be smoother to the touch. To attach the boards, I used the existing holes in the top, marking them by screwing in a screw just enough to make a dent so I could see where to drill. I then attached those border pieces as they were, just using longer screws than before to make up for the added inch or so from the boards.
So with some great paint and old boards, our old desk is hardly recognizable anymore and looks like a unique custom piece! It looks PERFECT in the living room and fills an area that's always been wasted space (except for the holidays when the tree is here). The colors and textures are right in line with our neutral coastal decor and it's so nice to sit in front of the window and work while watching critters in the backyard.
I also changed out the knobs for the two little drawers with some vintage-inspired ceramic and metal ones. Cute little knobs are always a fun update to a piece.
I'm pretty sure that dark gray and rustic wood is my favorite color/texture combo of all time, and now we have a "new" desk in all that glory! I am so happy the old fence wood top idea worked out and the dark gray FAT Paint color is perfection. This was just the project I needed to ease myself back in the project game…now hopefully the next project won't take me two months to complete ;)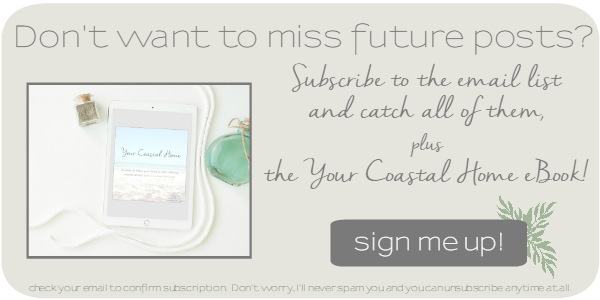 Share this!