Last month, in the can't-leave-well-enough-alone category, I took y'all shopping with me to try and find a new, big, rectangular master bathroom mirror.  When I redid this space a couple of years ago, I had the hardest time finding a large-scale mirror locally so I went with this big guy I found on sale at Kirkland's (one of my FAVORITE places for mirrors).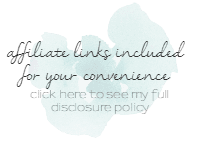 It was supposed to be a bronze finish, but was super dark and looked more like just dark wood like the cabinet to me.  I've been ready for a change for a while now, and finally just started looking around.  Mirrors in these sort of dimensions (~30″x 40″) were harder to find than I anticipated, BUT after browsing around the contenders last month, I made my decision!
(this room is so dark so it's super hard to photograph, thank goodness for a tripod, remote, and loooooong shutter speed!)
I went with the Kensington Pivot Wide Rectangular Mirror from Pottery Barn in Chrome.  I've always been a fan of pivot mirrors, but for some reason they didn't cross my mind until now.  But once I saw it, I couldn't get it out of my head!  So I hoarded all the coupons and rewards certificates I had, and splurged.
I was a little intimidated on installing it, concerned with getting it even and level and all, but I made a makeshift template of the bracket width and screw holes with some wide painter's tape and went by that to drill the anchored holes.  Painters tape templates have made things SO much easier to hang around here, it's one of my favorite tricks :)  Once the holes were drilled, I screwed in one of the brackets, then had super strong husband hold the mirror in while I screwed in the other bracket.  This thing is heavy!
It blows me away how much more open and light it looks in here!  I love how the chrome matches the light and faucet fixtures and the angle of it from pivoting is such a more unique and classic look.  I like it alot better for getting ready in the mornings too actually because it's angled and is a little closer.
I always feel it is best to have patience and try and wait for the perfect piece for a space, but of course sometimes we have to do the best we can in the meantime.  Just keep your eye peeled and that piece will eventually grab you, then go for it!  Plus, you can always sell the "in the meantime" piece on Craigslist to help pay for the new one ;)