It's time to get serious y'all.  This big, long overdue project needs to get started so I'm setting May as my deadline…operation gray kitchen makeover will be commencing soon!  A few weeks ago I shared 12 of my favorite light gray kitchens and just the other day I picked up samples to start narrowing down which color (eeesh!).
This isn't an entire overhaul so many of the components will stay like the flooring, appliances, countertops, and backsplash.  While they may not be what I would choose if I were doing this from scratch, they're not that bad and can totally work for the feel I want in here.  The only big issues I have are the cabinets and the lighting.
Here's where we're starting: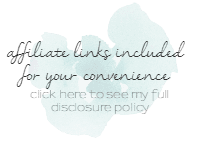 As you can see, the previous owners had quite the eclectic and bold taste in lighting.  That is QUITE the fixture, right?!  Plus two pot lights over the bar.  There's ALOT of artificial light in here!  We actually replaced the breakfast nook light with that beige pendant a few years ago but it's always been a little too modern for my taste still.  And obviously the cabinets are painful.  What you can't see here is how dirty and beat up they are also.
So, here's my plan for the space!  Light gray cabinet paint, new oil-rubbed bronze faucet and cabinet hardware, black farmhouse-style pendant lights, shiplap walls, and a vintage door for the laundry room.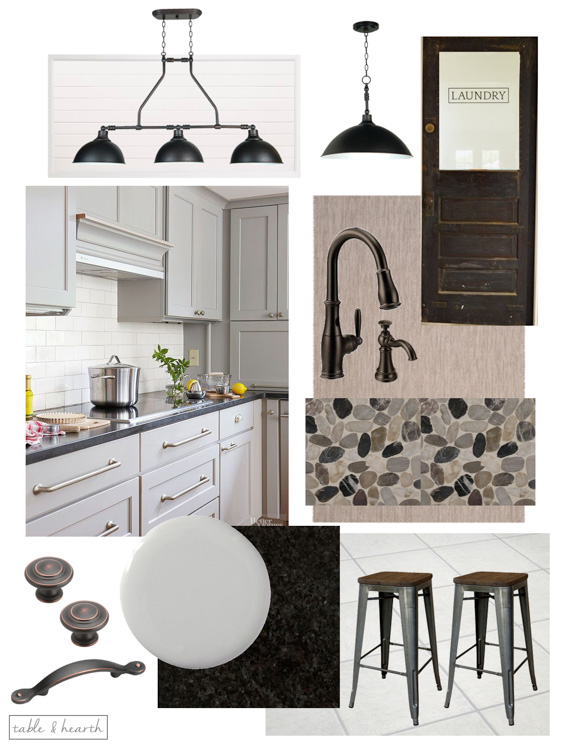 Like I mentioned, the white tile floor, black granite countertops, white appliances, and shaved river rock backsplash will be staying but I'm hoping the new cabinet color will completely transform the space.  We've actually already had the faucet installed because the old one was leaking too bad, look for a post on it soon!  (hint: this faucet is the new love of my life)
Here's my to-do list:
Install new kitchen faucet and soap dispenser
Install new breakfast nook pendant
Reposition and install new kitchen pendant
Sand, prime, and paint front of bar
Sand, prime, and paint cabinet doors
Sand, prime, and paint cabinet facing
Remove old trim from above cabinets
Install shiplap above cabinets
Prime, paint, and install trim around shiplap
Clean up vintage door for laundry room
Have frosted glass added to vintage door
Add decal to vintage laundry room door
Phew! I initially wanted to do this project for the current One Room Challenge, but quickly decided it'd be best for my sanity, and the quality of my work, to not rush this, so as much as I (well, mainly the husband) would like to get this done in a short time frame, I will take my time.  Plus, it's alot less stressful!
You can find my source list and links below, and follow along with my ideas for the space on my kitchen update Pinterest board here:
Follow Emily @ Table & Hearth's board Kitchen Update Ideas on Pinterest.
Wish me luck, and I'll share about these every few weeks ago (you know, so y'all can hold me accountable)!
*I'm excited and honored to work with Moen, Wayfair, and Sherwin-Williams on this project!  They have generously provided products for this project. Thank you for supporting the brands that support T&H.  See my disclosure policy here.