I started this year with a resolution to grow and build my little side art business, Green Sea Designs, so to have this last post of this year be about its very first market booth means so much. It's the perfect way to round out 2018.
The last couple of months have been the most hustle I've had in a long time, but every minute of it was well worth it because the first Green Sea Designs booth was a huge success! Despite working right up until the last minute the night before, despite the frantic set up, and despite happening during a 45 degree norther night, everything came out so good and surpassed my expectations.
sorry for the horrid iPhone pics, night market + poor lighting makes for crap pictures :(
The market was a holiday market held by the Women's Entrepreneur Society of Corpus Christi, a local organization I learned about and joined this year. They are an absolutely amazing and inspiring group of businesswomen and makers which I'm so happy to be a part of, so of course I decided to go for it and join them for this! It was held at a really cool bus station-turned-bar (called BUS, of course) and included food trucks, delicious cocktails, carolers, and Santa himself. They also partnered with the local Salvation Army for a toy drive and donations by the vendors. There were dozens of beautiful booths that I so wish I would have had time to shop myself!
As much as I was excited about sharing my pieces in person, I was just as excited about bringing the "GSD look" I've had in my head to life. Not surprising if you've been here a while, but that consists of neutrals, mixed textures, driftwood, and lots of crisp white to make the colors in the algae pop. Here's the design board from my announcement post:

*affiliate links used for your convenience, click here to see my full disclosure policy
Since this was a holiday market, I grabbed a ton little faux Christmas trees, left them bare with just their burlap bases, and placed them all over the booth. I was a bit worried how my booth would do since it wasn't filled with very universal gifts or holiday decor like many of the other booths but the majority of my customers were shopping for unique gifts and were happy to find my stuff so it all worked out.
I organized my loose prints by size and put them in various metal baskets, crates, and boxes and used some larger boxes for height. Luckily I got to shop my house for quite a bit of the booth decor since the booth is pretty much the exact style of our home too. We didn't have access to electricity so I snagged a handful of these clip-on battery LED lights to help illuminate the pieces once the sun went down.
I brought the little antique white table from our breakfast nook to use as my card table. I wanted to be sure and display all the different cards available and these driftwood card displays held the cards perfectly!
My backdrop was the biggest DIY of the whole project but I am IN LOVE with how it turned out! A shiplap wall is easy but I needed mine to break down for easy transport so I came up with a way for it to look like one whole wall but it actually consists of four separate pieces. Stay tuned for a tutorial in January!
I knew I wanted a stained wood sign to pop against the white backdrop so I worked with a local business, Milestones, to create the prettiest laser cut/engraved sign I've ever seen. I love how the algae in my logo is so subtly engraved around the edge. Continuing with collaborating with other small businesses for my booth, my friend Robin with Southern Florista created a pretty greenery corner swag which further softens the wall and ties in all the botanical elements happening in my pieces.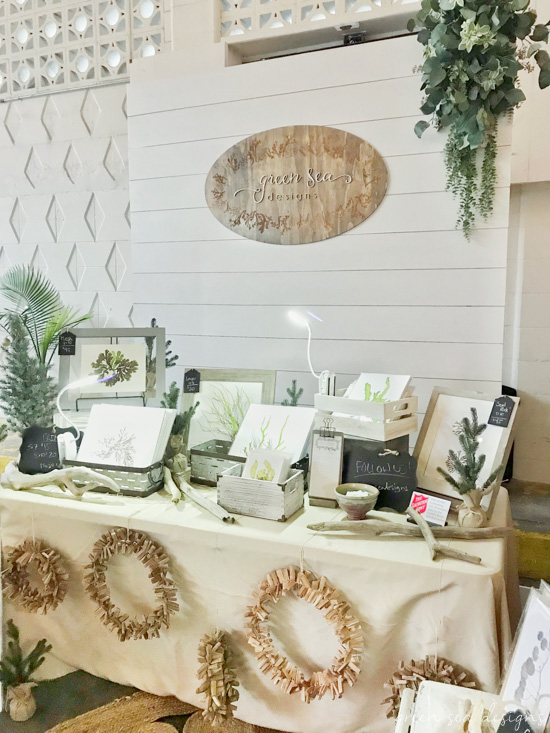 I always love a rug in a booth and I've been looking for an excuse to buy one of those pretty ornate round jute rugs for a while, so I chose this one which looked great. To bring in more holiday vibes, I hung some cute little driftwood wreaths over the front of the table.
I wanted to showcase some of my favorite pieces framed so I built this simple display rack then also put a few in these Hearth & Hand easels (that I got on hella sale during cyber week) on the tables. I found quite a few tutorials for a display like this online but of course kind of winged it, so I may do a quick tutorial when I build another panel in a few months, just in case it helps anyone.
I couldn't have asked for a better market for getting my feet wet. A few months ago the thought of working a booth and selling my pieces to people in person made me want to faint, but I knew I wanted to make myself do it someday and this was too perfect of an opportunity to miss, so I went for it. Even though I still had nervous shakes and just wanted to hide behind my backdrop, I am SO HAPPY I did it and actually hope to do more in 2019. I can't thank my husband enough for helping me schlep all this stuff around and wrangling the toddler while I worked on it, thank you to my friend Rosalie for hanging at the booth with me and being my hype woman, and thank you to the WESCC for the opportunity <3
But for now it's time to get the house out of booth disaster mode, work with the contractors on getting the new front door installed (hint: it's in!!), wrap the mound of presents, then kick back and focus on the holidays with our little one!
Here's to taking more scary chances and making more beautiful booths in 2019
<3 <3
Follow along with Green Sea Designs to hear about new releases and upcoming markets!
Shop / Facebook / Instagram / Twitter / Subscribe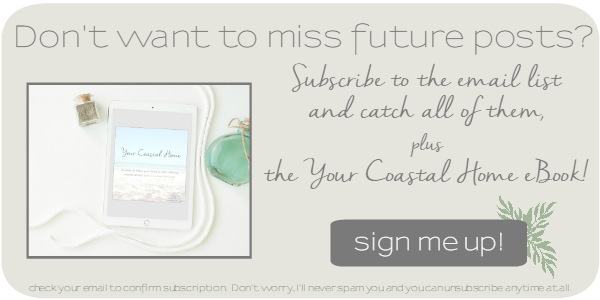 Share this!