Progress y'all!!!
After weeks of only getting myself to have the hired-out work done (like this and the new faucet) and some unexpected delays, I FINALLY got my butt to prepping, sanding, and painting in the kitchen!  Well, not the cabinets quite yet, but the bar will be finished tonight and that's a huge chunk of the painting done.  It's actually the part I was most worried about… I decided not to use my sprayer on it because that would entail a full crime scene tape off with our super high ceilings and ain't nobody got time for that.  The Sherwin-Williams ProClassic gave an amazing finish with brushing which was a HUGE relief!   Anywho, I'm hoping to get started on the cabinets this weekend and will share a little progress post with y'all soon :)
*affiliate links included for your convenience.  I was provided a fixture by Jeremiah Lighting for this project, however all opinions and thoughts are my own as usual, click here to see my full disclosure policy
But today, we're going to ogle at the new pendant lighting from Jeremiah that went up a couple weeks ago!
So, if you remember from this post about the kitchen lighting, what we had was crazy.  It was a 16′ track lighting system with seven pendants of FOUR different styles hanging off of it.  Definitely not our style and definitely overkill.
We needed something that would give us light across the majority of the kitchen's cooking side, but didn't need to go all the way over by the bar since there's two can lights there that are bright (yes, they had the track lighting AND two big flood can lights).  Linear multiple-light pendants were the best plan and we decided on this barn light inspired beauty from Jeremiah Lighting!
But, as per usual in our house, the old fixture wasn't centered to that wall at all.  I marked with blue tape where it needed to go…about 8″ from where it was (the trim medallion thingy is halfway).
We decided to go ahead and hire this out because 1) our ceilings are so annoyingly tall, 2) we had no idea how to handle the track lighting, and 3) it involved getting in the funky attic with barely any space which is no less than 9579292 degrees right now.  Um, no.  So, I just snapped pictures while helping the guy and asking him a million questions about what he's doing and small talk.
After we took down the track light system (yes we, I really did help him in all this), lo and behold yet another hole with wires coming out of it and no box in this house.  This is the third time we've encountered this here.   As sucky as it is, at least it's an easy patch!  He used a big hole saw to drill a new hole where my mark was then pulled the wires through it.   Then he crawled to where this was in the attic and I helped him install the new box.
I'm SO glad we hired this out because the track light system had a transformer box up in the attic that we never even knew about which he had to change out so this new light would work.
Here she is all installed!  The black is going to look awesome against the light gray cabinets and white planked walls above them, it's the perfect accent and will bring in the black from the countertops and backsplash as well.  I was hoping it would hang down a liiiittle more but it still looks fine and it lights up this side of the kitchen really well.  I also  really like that the inside is white and I also love the hammered texture on them.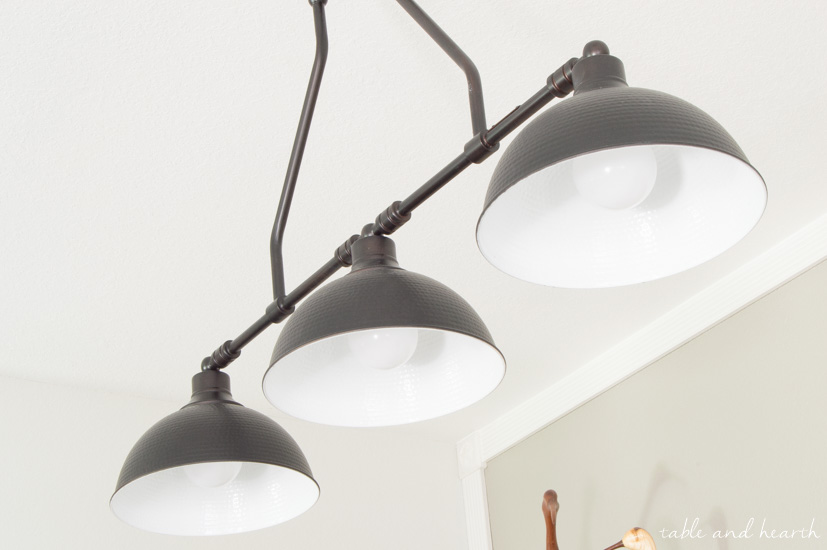 In the breakfast nook, we actually did replace the 1982 uber contemporary fixture that was here with this tan drum pendant a couple of years ago, but it never felt quite "us" and I've always still looked for something better.   This one actually has a legit box and is easy enough to install, but I went ahead and had our dude throw the new fixture up here too.
We got the matching Timarron single pendant for here and it's so, SO perfect too!  There's so much white over here that there really needed to be a dark fixture to make a focal point and bring some interest.  It has the same beautiful white inside with hammered texture like the other does too.
We found these globe LED bulbs to use which were a bit easier on the eyes since the bulbs are exposed in these fixtures.  They put out a good amount of light but aren't harsh at all.
I'm so happy to have these new lights and to finally have that damned track lighting gone!  It was just too much and distracted from everything else.  This space will soon be even more cohesive with the new cabinets and planking above them, but it already looks more open and bigger without all that busy stuff happening, and finally centered too :)
Also, if you're loving these lights but the black isn't quite your style, they also come in a nickel and bronze finish which are gorgeous too!  I really love the bronze ones :)
(click each pic for more info)
Wishing all of you a productive weekend, send me all the cabinet-painting mojo you have!!
*many thanks to Jeremiah Lighting for partnering with me on this project! Thank you for supporting the brands that support T&H :)