I have a long overdue introduction for all of you today.
Our little Seahorse was a boy…meet Connor Patrick!  He made his arrival two months ago and we've been in so much love ever since.
*amazing photos by Heather with Cat Herndon Photography <3
Everyone told us how fast these first few months go by, even though it won't seem like it at the time, and man are they absolutely right.  It feels like he's been with us for such a long time now but two months is no time at all and it seems like yesterday we were headed to the hospital.  I loved being pregnant and miss it terribly, but this little miracle is a pretty good ending.
Here's our birth story…
Connor was born on March 9th at 5:31pm after about 12 hours of labor.  It was a hard decision but we ended up choosing to do an elective induction at 39 weeks to be sure to have our doctor who was going to be gone the week I was due.  She has been my doctor for many years and saw me through our scary and emotional ectopic pregnancy last May, so I couldn't fathom having anyone other than her be our delivery doctor.
We were scheduled to come to the hospital at 5:30pm Wednesday the 8th but at 3pm they called and said they had a crazy number of births that day and didn't have any rooms available, so check back with them at 6pm.  We were such a wreck that evening having to just sit and wait, not having anything else to do or wrap up to occupy ourselves, as we had had this day in our heads for a month before and were ready to go!  We finally got the green light to come in at 9 so we loaded up, swung by to get my last fast food indulgence for a while, and got checked in.
I had a little freak out after getting checked in because it was all so rushed and impersonal, but once we were finally in our room and met our great nurse I was able to decompress some.  I was only 1cm dilated when I came in so my doctor gave me Cervidil at 10pm then started the Pitocin at about 3am.  At 7:30am my doctor came in and broke my water.  I had grand plans to try and labor unmedicated but after how painful some of those procedures were for me it was pretty clear I did NOT want to go through that, so I got an epidural that morning too.
I swear Matt planned this somehow, but the NCAA March Madness playoff games started the week we went in so we got to just chill in the room and watch games while things slowly progressed.  Finally at about 3pm we were getting close to go time.
Now, we both were under the impression that when it came time to start pushing, the nurses would come in and prep the bed and room, get the big lights on, drape up, and I'd have a small team in there while it all went down.  Wrong.  Once the pressure got strong enough to want to push, my ONE nurse just simply said to Matt "grab a leg and we'll start pushing".  No gown, no lights, no hype, no real guidance, no special prep, nothing…just my nurse, Matt, and me…and we started pushing.
It seemed like I only pushed for half an hour or so with our little team but Matt tells me it was really about two hours.  Even after all that I could tell that the little dude wasn't making much progress.  The nurse called for my doctor and she joined us and coached me on pushing stronger, but he still just wasn't coming.  I have no idea if my pushing just wasn't strong enough or if I wasn't feeling the urge to push quite as much as I should have been, who knows.  After a little while with her helping me push, the heart rate monitor started to sound a not as great through each contraction.
His heart rate was dropping at each push and in a split second things got a lot more scary.  My doctor made a phone call and in like two seconds there was a barrage of nurses in the room and the scene I had in my head of the lights, drapes, and various tools came to life and I got terrified.  I instantly had visions of nightmare birth stories and thought the worst, that he'd have complications and/or I'd be having an emergency C-section.
She said the baby just isn't coming and the heart rate is dropping so she's going to have to use the vacuum.  I REALLY didn't want anything like that used during delivery but couldn't care less in the moment, knowing he was in distress was scary as hell.
She got everything in place and on the next push he was out, in which moment Matt got to proclaim "It's a boy!!!".  All the stress of not finding out the gender during my pregnancy was worth it for that very moment.  He just kept saying it over and over again while crying, I can still hear him and it warms my heart.
They rolled his slimy screaming little self onto my chest and all three of us just cried and cried.  After everything we've been through it was the moment I never thought would actually happen.  It felt so alien to see this perfect little being just appear all of a sudden and I just kept inspecting him, amazed at how perfect he was!
He started nursing right away and did amazing, then Matt and him went to the nursery for all the business they need to do there while I immediately went to sleep.  Later that night we got to our recovery room and resumed the basketball games while a little baby burrito was nestled in his cart in between us.
His little metal cart was super squeaky so I could always hear when they were bringing him back from the nursery during our stay. I knew it was my little one coming back to me and I'd get so excited no matter how sleepy I was.  It's a one of my favorite memories from our hospital stay.
We got to come home that Saturday night and hunkered down for our first week at home while thousands of Spring Breakers partied on our beaches just a couple miles away, ha!  I thought that whole week how our Spring Break was sooooo much better than theirs, but probably just as sleepless :)
Granted the first few weeks were pretty brutal, way more brutal, scary, and stressful than I ever though they would be, but once he was about four weeks old we started figuring each other out more and things got much better.  Some extra arms and freezer meals from the grandmothers definitely helped too :)
I have no idea how he's already two months old.  I still can't even wrap my head around that he's ours or that this perfect little thing was what was in my belly all those months.  He changes everyday and it is amazing to watch him learn and try new things.  The baby coos he started last week are pretty much the best thing ever.
I know that you guys are here because you love home stuff, projects, and recipes…not baby stuff necessarily…but I definitely think of you as friends and want to share this part of our lives with you as well.  Rest assured I have no plans to stop doing projects or recipes, it is still my passion, I just have another little passion now so things are going a bit slower around here.
The last two months have been amazing but difficult, so of course I haven't been able to work on anything until just recently.  Hell, it's taken me two weeks to get this post done. But I've got just under a month left on my maternity leave so I'm trying to cherish every moment I have at home with this little guy, then we'll need to figure out a balance and routine all over again.
We appreciate all of your well wishes along our journey and I want to say thank you for sticking with us as we get adjusted to our new life of three, I promise there will still be fun home stuff around here soon!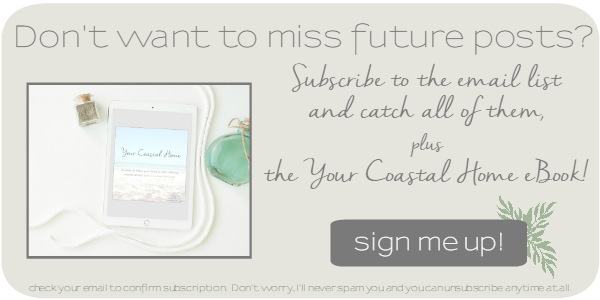 Share this!