Hi everyone! I hope all of you had an awesome Christmas holiday with friends and family! We ended up hosting Christmas at our house and while it was, unfortunately, still around 80 degrees, we had a great time with good food and great company :) So much great food that our garbage disposal actually went out on Christmas Eve! I guess that can technically be the first step in my kitchen makeover for 2016 :)
Before I share all about what 2016 has in store around here next week, I thought it would be fun to look back on the top 10 posts from 2015. In no particular order, these were the most commented, most pinned, most shared, as well as some of my most favorite projects and recipes, around T&H this past year.
I think it's funny how, not being a parent, the one project I've done for a child has ended up being one of my most popular :) I'm happy to report that the little dude this was for is now happily storing plenty of books in it and uses it everyday!
Hands-down one of my favorite projects. Not just because I'm obsessed with shiplap, but because it made such an impact in the space and was so easy to do. It helps that the husband is very proud of this project too.
These got shared by Buzzfeed in a college snack food post and took off. They may be the cutest food items I have on here, and hopefully you'll see more of these little Weck jars around here in 2016. They're the perfect portion size for dips and desserts.
If you ask him, this is probably my husband's favorite project of mine from this year because it stores all of his autographed baseballs. After our trip to Cooperstown, NY this summer for the baseball hall-of-fame induction, there's about three times as many on these shelves now. Looks like I should have made them bigger!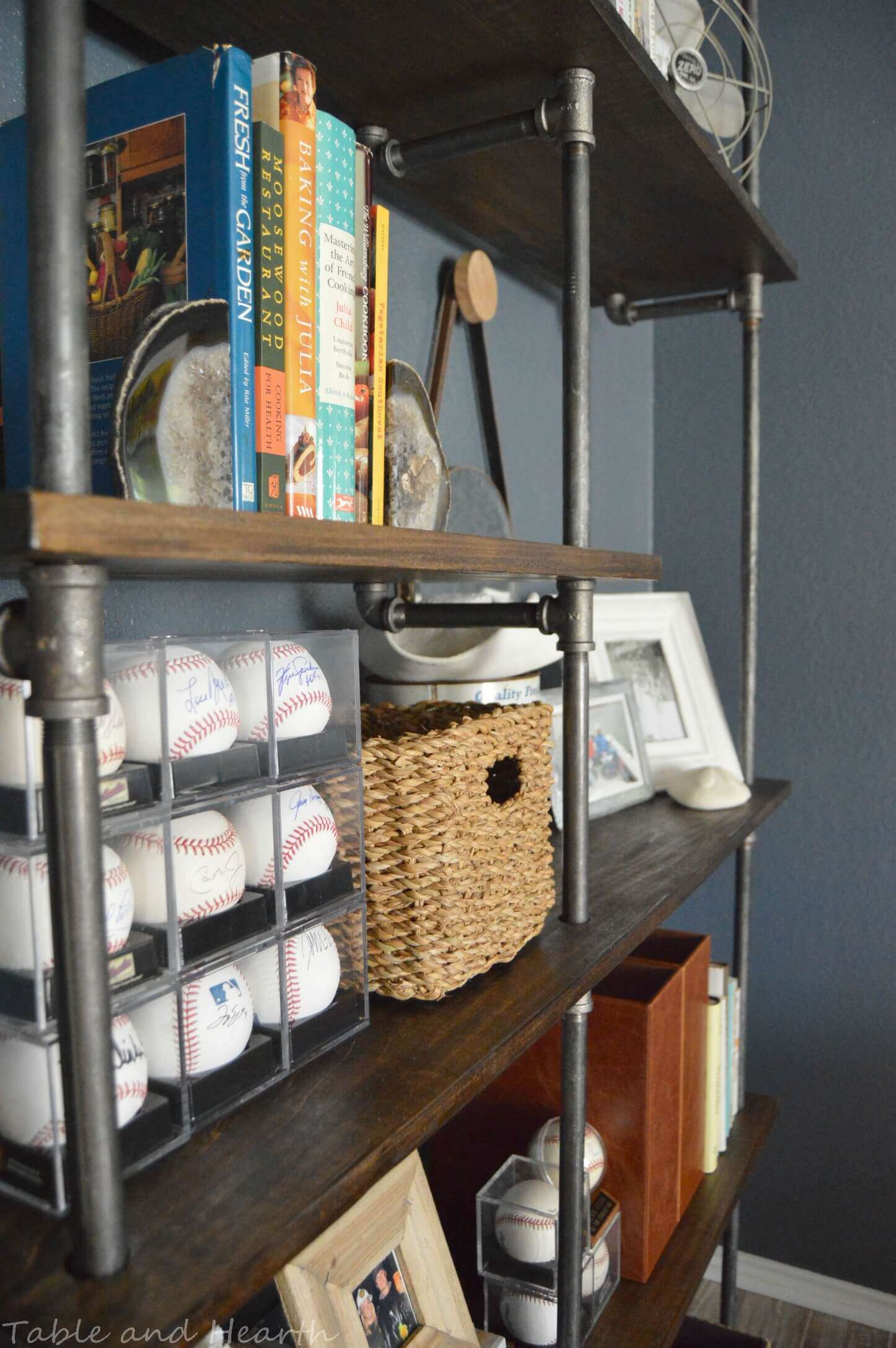 Relaxing Master Bedroom Reveal
This project from the spring was my first for the One Room Challenge. It's amazing how fast six weeks can go when you're overhauling a space and even this one, being mostly decor updates rather than DIY, tested me. It has stayed just as relaxing and beautiful, only with the addition of a jute rug and mirror which came later.
I loved taking part in the Monthly Ingredient Challenge and hope to get back into it next month. It's so much fun to have to be inventive with those key ingredients, some of my best recipes have come out of it!
Copper and Wood Magazine Holder
This little guy sure packed alot of punch for how simple it is, being my first Buzzfeed feature. It's still holding up just fine and is in frequent use in our bedroom.
While I was out this summer attending Haven and traveling to New York, I had some of my best blog friends do some guest posts for me. One of them was this genius DIY Boxwood Wreath from my friend Kristi at making it in the mountains. Everyone loves how simple it is to make your own and her beautiful photography has made it one of the most pinned projects on here.
Rustic Patio Makeover
This was my last big project of the year, and my second One Room Challenge, but is also one of my proudest. I tackled three big DIY projects for this space and it came down to the wire, photographing and writing the day before reveal day. I really thought it may not get done. We hosted Christmas Eve dinner at the farmhouse table and it was so much fun. Look for a couple more tutorials on those projects coming in 2016.
Still one of my favorite desserts to make! In fact, I have a bowl key limes on the counter right now just waiting to be juiced. Haven't quite mastered a tasteful looking cream topping on one, maybe in 2016 :)
That's them! This year was filled with a ton of projects and recipes and I can't wait to share with you what's in store next year!