Last month, I decided our entry console table area was just not cutting it anymore. There was just too much brown: brown wood table, brown wood art, brown wood mirror, tan/beige accessories…so I decided to paint the table.
We got this table a few years ago from World Market for about $40 suuuuper on sale, so it didn't scare me too bad to do something to it. I'm not a huge bright color fan but I knew I could find something that was more me, and I settled on making it a gray/navy blue. Somewhere between deciding on the color and getting started, I saw this picture (from Fixer Upper, shocker) and a lightbulb went off, put a metal top on it! I did a little more research and was further inspired by this, this, this and this, but there really weren't a lot of tutorials I could find so I was just going to have to wing it.
I was afraid I would have to go to a metal fabricator since most of my inspiration photos went that route, but I figured I'd check and see what Lowe's had first. There I found 2'x4′ sheets of various metals: aluminum, galvanized, stainless steel, perforated aluminum, brass, etc. They were all mixed up so it was hard to tell what price was what (some of the sheets were $77!!) but I got the aluminum which was about $27/sheet. It was the thinnest one available.
To adhere it, I generously squirted Liquid Nails all over the table, then placed the table top-down onto it, lining up the edges. Make sure and put a towel down first so that the metal doesn't get scratched up if you have hard floors. The table was just as wide as the sheet so to cover the smaller ends, I had to go back and get two smaller 12″x24″ pieces ($10/each).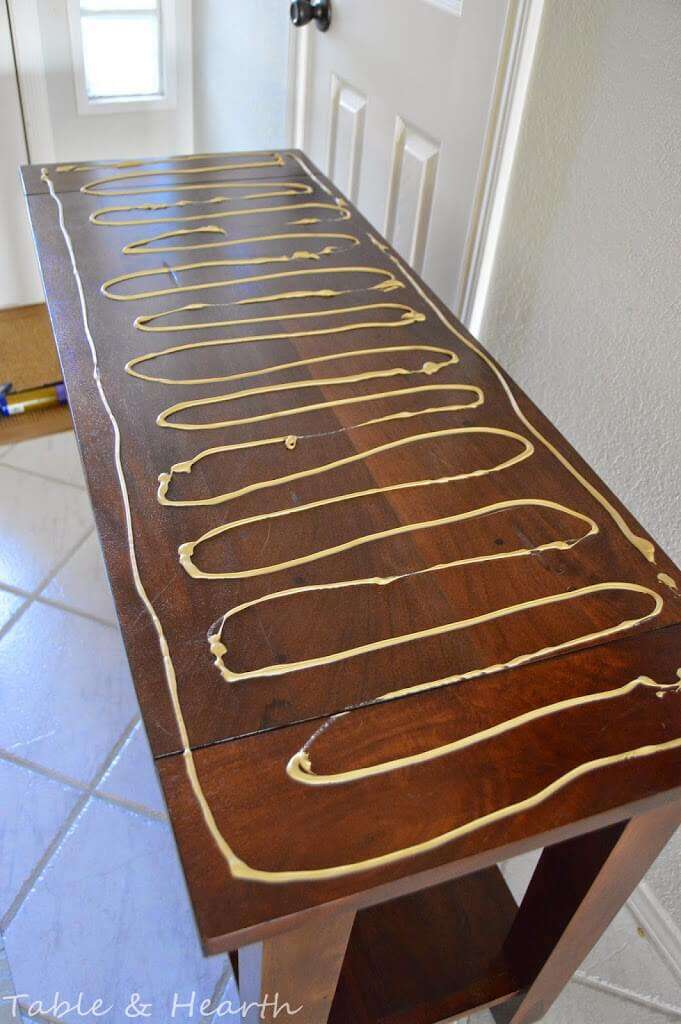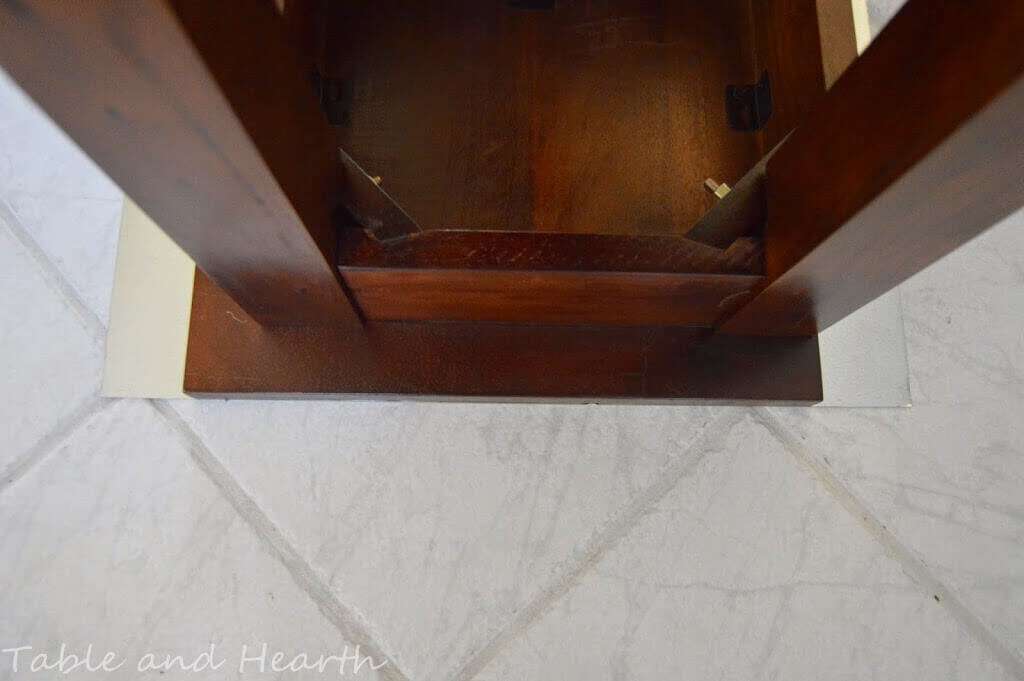 I let the table sit like that for a few days to make sure it was stuck well so I painted it while it was doing that. I REALLY didn't feel like sanding this thing so I gave in and finally joined the chalk paint train. Not for the distressed, shabby, antique-y look it's usually used for, just for the no-prep reason. I put one coat of Annie Sloan Graphite on the table and, while I got some Napoleonic Blue too thinking I would mix them for the second coat, the Graphite came out with such a blueish tint to it that I loved it and just went with all Graphite (and clear wax).
Everything was all fine and good to this point, but the metal manipulation stage was where this project's difficulty was way underestimated. I quickly realized I was at that point in DIYs where things come to a screeching halt but you still have to press on and overcome. I got the thinnest metal there was but it still took some muscle to bend it cleanly around the edges and I used a rubber mallet to help if it needed it, although it made dents if I wasn't careful.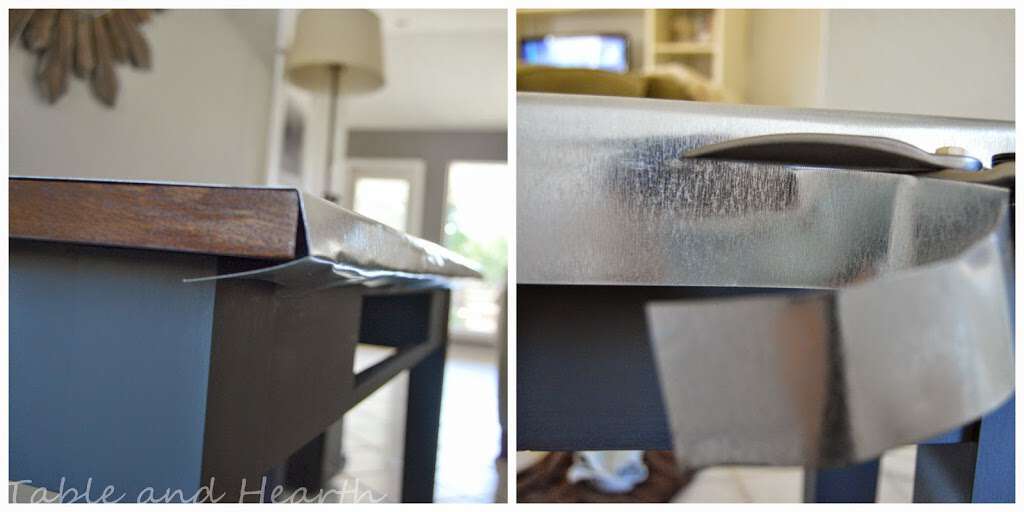 To attach the metal, I initially thought a heavy-duty staple gun would work for the underneath but they did this :/
So, I was going to have to nail it all down. I totally scoffed at the Lowe's guy when he said I'd need a center punch but it was definitely an essential part of this project! Without a punch, the bit just spins around on the metal and scratches it and it takes a lot of patience to get it to "bite" and start to drill. I'm sorry Lowe's guy. So, I made a dent with my punch, then pre-drilled a hole with a 1/16″ bit and hammered in these small wire nails. The front lip was a nice clean edge but the back has no lip so it had to be trimmed with metal snips that left a pretty jagged edge (which I was injured by a number of times…wear gloves!!!) so I hammered the sharp parts down but plan to put a small piece of trim or something over it down the line.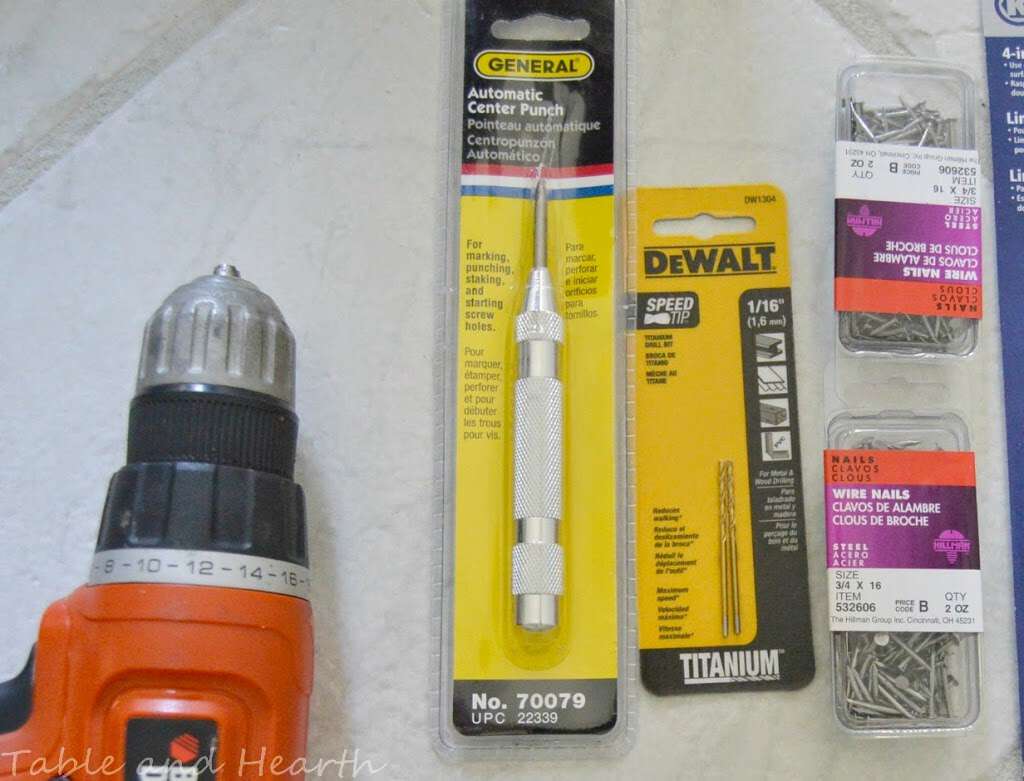 For the ends of the table, I measured how much of an overhang would give me a clean fold-over, and let the rest overlap the top (which I knew I would love the look of from this inspiration photo). I clamped them on, marked where they needed to line up, then Liquid Nailed them on and put the table on its top again overnight to make them stick, but they do pop up a little, no biggie though. I marked all my nail holes for the top seams then nailed a few in to make sure the pieces stayed put while I cut and bent them.
I trimmed out the corners as straight as I could with the snips but they weren't very pretty at all so after failing to find corner brackets that fit at the store, I cut some scrap pieces to use and nailed them on. Everywhere I had to drill into two layers of metal, it took a good minute or so for each hole so just be patient with it. I'm sure changing to a sharp new bit every once in a while would have helped but I didn't have any extras (I broke one off in a hole right off the bat of course).
I did some research on how to age the metal and was going to try muriatic acid but since it was raining outside (and we have 12 bajillion mosquitoes currently), I tried the acidic toilet bowl cleaner method on a scrap. While it did age it, it made it more "glittery" and I wasn't a fan, so I nixed that idea and just lightly sanded it all with fine steel wool. I may try something again down the line but I don't mind how it is now actually.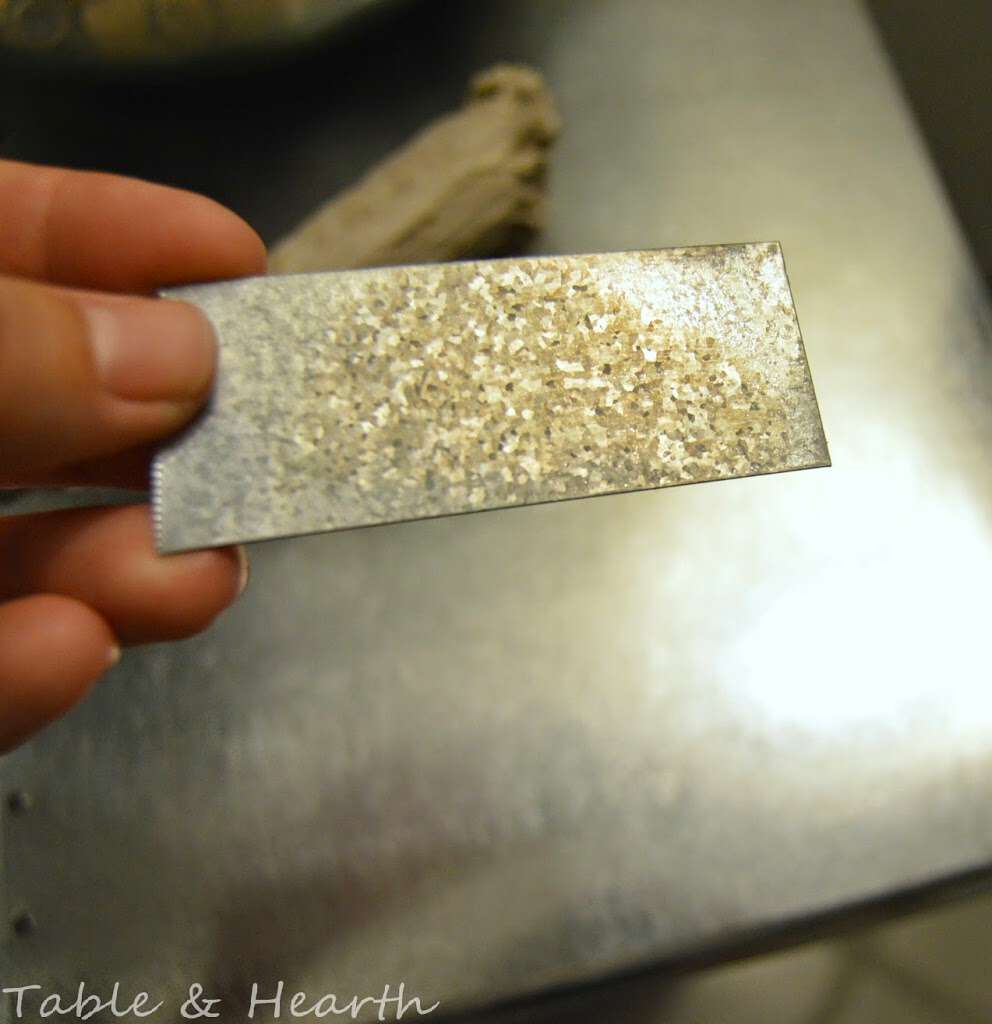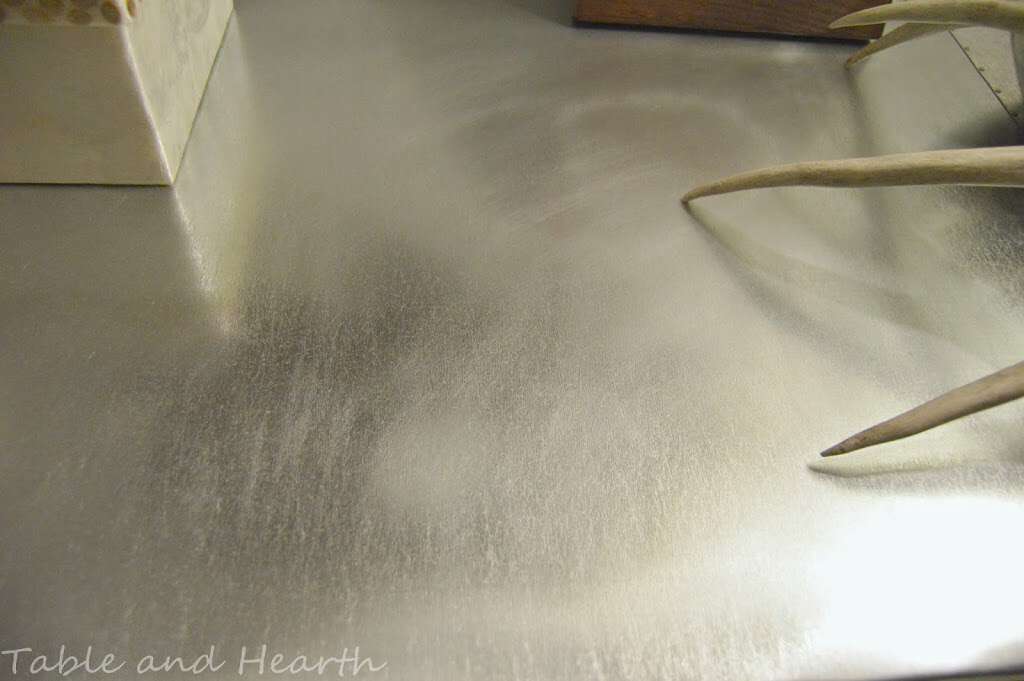 So here's the afters!
Oh man how I love those "riveted" seams on the top!!!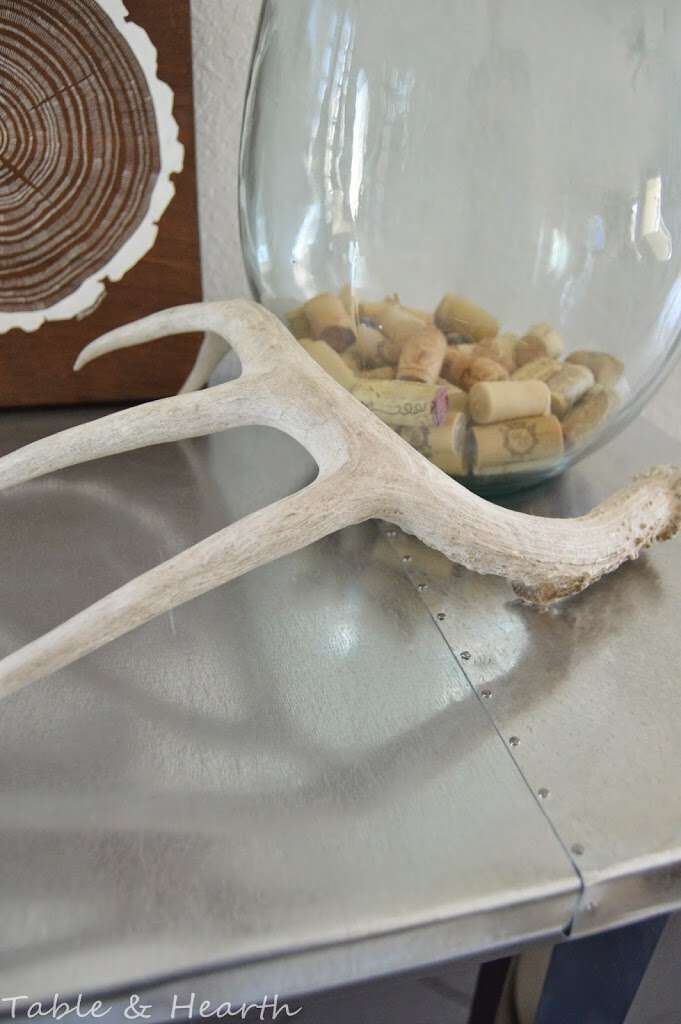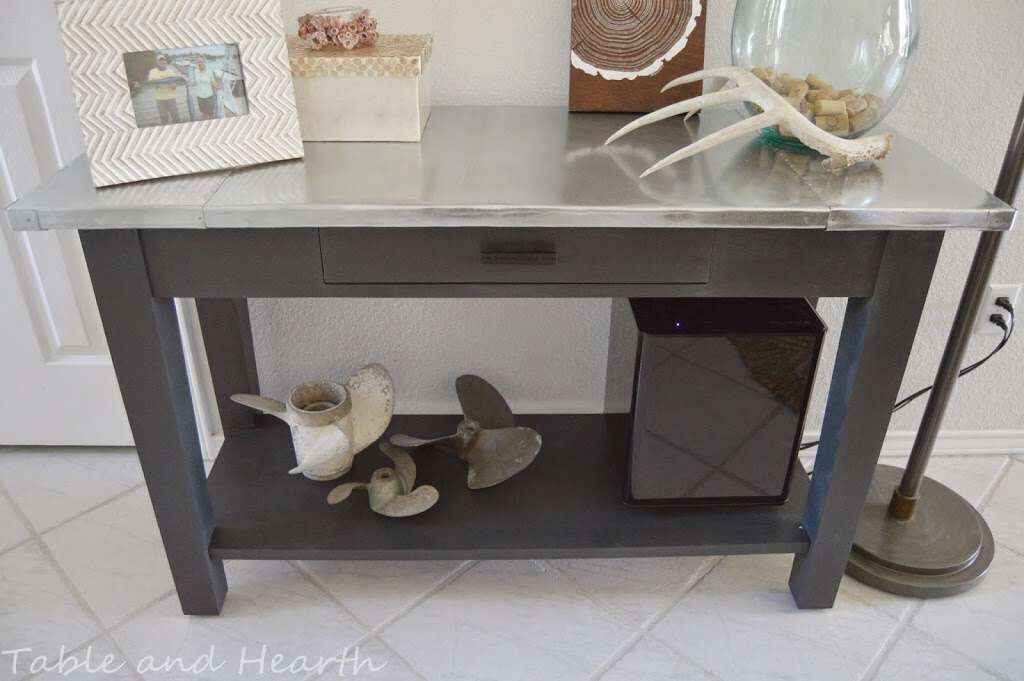 So although my simple "paint the table" update turned waaayyy more complex, I'm pretty proud of it! All the speedbumps I worked around, the half a dozen trips to Lowe's, and all the cuts, it all worked out in the end and it looks so good! The brightness of the metal makes the space look bigger and the hint of blue in the paint is just right. No more brown blob! Since I had to buy the chalk paint, its supplies and many of the tools/doohickies, this project probably came in about $200, but if you have the paint and all that already, it would only be the cost of the metal, so about $60 depending on how much you needed.
Next time I metal-top anything, I honestly will probably go the fabricator route just cause the metal is so hard to work with, with the uneven bending, difficulty cutting, and the not-perfectly-angled edges. It would totally be worth the $50-$100 to me to have them make a piece that perfectly fits which I can just plop on and nail down.
I am so glad I didn't just paint it cause it really feels like a new unique piece now :)