Welcome to a tour of our home on North Padre Island here on the Texas coast! It's just a standard little builder-grade home a la 1996 that we bought in September 2009 right before we graduated from graduate school.
She's come a loooong way in seven years so I'm happy to have some good before and afters for these spaces (but I am kicking myself for not getting proper move-in pictures so some of these have a decent before-and-after and some do not). I've also included links to related projects, wall colors I used, as well as product galleries of similar items in each room so you can get the look or find out where something is from.
(affiliate links are included for your convenience, click here to see my disclosure policy)
You can read more about our story here, but in short, we are both born-and-raised Texans and met here in Corpus Christi when we were both in graduate school. We've both always loved the ocean and were lucky enough to get a great deal on a little home just a couple miles from the beach on North Padre Island.
Exterior (…in progress)
Before
*before pic coming soon*
After
We are finally doing some curb appeal updates to our home! It's definitely not much to look at as it's mainly just a garage, a stucco wall around the courtyard, a paved area, and some small flower beds but we have a few projects going on this year to update a few of those areas. The side bed got new landscaping and a new privacy fence, the stucco wall will be getting some trim, and the courtyard and entryway will be getting a makeover including a whole new entry door system, so stay tuned for updates!
related posts:
Front Flower Bed Makeover + Privacy Fence Installation
Privacy wall stain color: Sherwin-Williams SuperDeck Semi-Transparent in "Cedar Bark"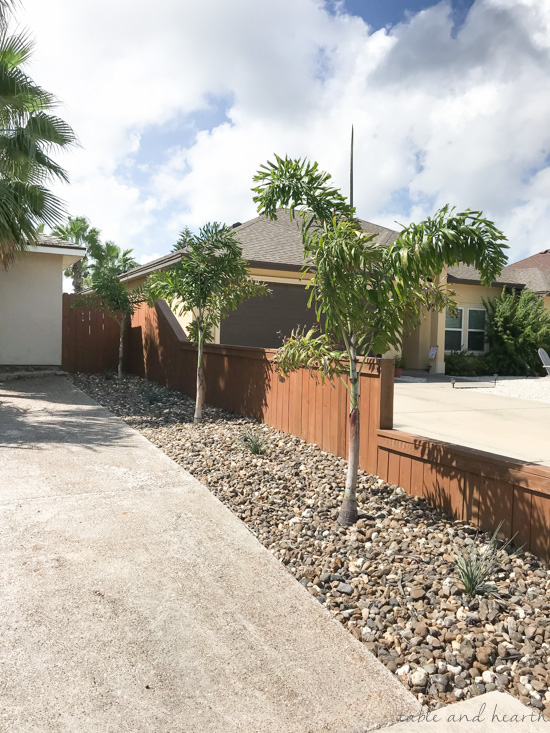 The Courtyard
Before
When we moved in, there were some super straggly non-blooming hibiscus, a large and leaning esperanza, a sago palm, some random other plants, and not much else. It is a nice area to have (I actually like the wall in front of our house) but definitely needed some love.
After
We took out the unhealthy and overgrown plants and have planted some plumeria and native plants and added some nice decor and seating. FYI, I despise our hurricane shutters but I know how important they are especially after Hurricane Harvey, and it is insanely expensive to get roll-downs for all these windows, so there they stay. This area recently got a beautiful makeover complete with a new entry door unit from Therma-Tru, click the links below to see the full makeover series:
Related posts:
Courtyard makeover + 5 tips for successful new plants
Coastal Farmhouse Entryway Makeover – Design
Choosing the Right Entryway Door for a Coastal Home
Installing a New Entry Door Unit on a Stucco Home
Courtyard Cleanup + Stucco Wall Border
Coastal Farmhouse Entryway + Courtyard REVEAL
The Foyer
Before
(no true before pic, but this is one of the early days)

After
We installed a new lantern-style light fixture, I updated the console table and its decor, and hung a collection of art as well as two big framed wedding pics on the walls. It now has a whole new door and sidelite unit as part of our Coastal Farmhouse Entryway Makeover.
Related posts:
DIY metal table top
Coastal Farmhouse Entryway Makeover – Design
Coastal Farmhouse Entryway + Courtyard Makeover REVEAL
Living Room
Before
(no pic) This room has probably undergone the most improvement decor-wise so it stinks there's no evidence of how sparse it was. Picture a tiny 36″ armoire (that fell off the moving truck…), navy blue bachelor pad floppy leather couch and loveseat, a wobbly light oak coffee table, and no rug.
After
After a couple years (eesh) we finally got the new couches and I finally splurged on my dream entertainment center and started pulling the room together. There's also usually a lazy tacky cat draped over the back of the couch but it's scared of the tripod. We also finally took the gaudy off-centered ceiling fan down, got a beautiful nautical-inspired one, and installed it centered in the room finally.
Related posts:
Decorating with shells
Rustic anniversary art
My coastal decorating eBook
DIY mantel update with driftwood finish
How to make a large wall display board
New coastal-inspired living room fan
DIY Driftwood Fireplace Cover
Accent wall paint color: Valspar "Bell Tower Stone"
Kitchen
Before
In all it's mauve-modern-but-still-rustic glory. The previous owners remodeled the kitchen and the master bath but no other spaces and they did so with quite a weird taste in fixtures. How does 16′ track lighting with FOUR different pendant styles go with river rock backsplash??
After
While yes it was remodeled, it is very much dated with the pickled oak cabinets and white appliances. I recently overhauled this space with new light fixtures, a new faucet, shiplap accents, a funky new laundry door, and beautiful gray cabinet paint. Unfortunately we are not able to update the appliances but I think the new cabinet color makes them look blend in much better.
Related posts:
Getting rid of the mauve walls
DIY wall organizer from rustic shutters
Plans for the kitchen makeover
New hands-free kitchen faucet
Finding the perfect farmhouse pendant light
New farmhouse pendant lights
Coastal farmhouse dining room update
Rustic gray kitchen REVEAL
Vintage touch: Rustic laundry door update
How to repair broken drawer fronts
The impatient-but-meticulous guide to painting kitchen cabinets
Shiplap paint color: Sherwin-Williams "Extra White"
Cabinet paint color: Sherwin-Williams "Repose Gray"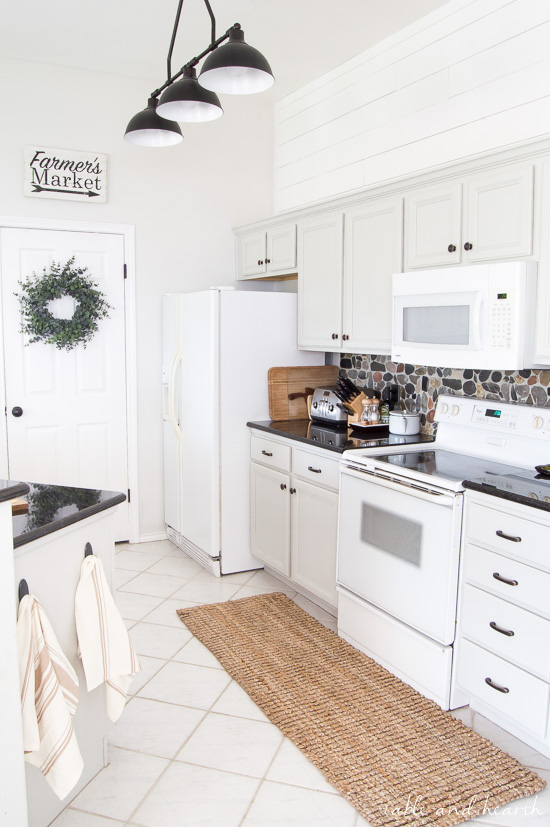 Dining Room and Breakfast Nook
Before
(no pic) I've had the little white antique dropleaf table in the breakfast nook since college but our first dining table was a four-chair light oak Walmart set from the husband's apartment that was teeny. There also were two absolutely hideous worse-than-1996 contemporary pendant lights that got replaced a year or so ago.
After
The bigger dining table was the first thing we bought for the house and it has held up great. I have had the capiz chandelier since I was a little kid, my great-aunt gave it to me and it has always been hung wherever I've lived. I love the sound they make when the windows are open :)
Related posts:
Shutter organizer
Wood home decor with Pier 1
New farmhouse kitchen lights
Coastal farmhouse table setting
Accent wall: Valspar "Bell Tower Stone"

Master Bedroom
Before
Where all of husband's bachelor hand-me-down furniture ended up…all of it. And where we shared a little full size bed for a grueling two or so years. This picture was even post-wall painting so picture all this awesomeness against beat up white walls. I still can't believe this is what our room used to look like.
After
We replaced all the disgusting berber carpet in the house with driftwood-colored handscraped laminate flooring and got a grown-up king bed set finally. I installed board and batten wainscoting and overhauled the decor in the Spring 2015 One Room Challenge.
Related posts:
Redecorating advice
Board and batten wainscoting Part 1
Board and batten wainscoting Part 2
One Room Challenge bedroom makeover
Full-length mirror from an old rustic door
Nautical rope picture hangers
Wall color: Sherwin Williams "Ice Cube"
Wainscoting: Sherwin Williams "Extra White"

Master Bath
Before
The previous owners did a remodel in here by adding the walk-in shower and upgrading the countertop with extra granite from the kitchen. But it still had honey oak-ish cabinetry, a builder's mirror, odd towel-holders and hooks, and a boring wall color.
After
The space got quite an update right before this blog started and I've added to it since then. We debated hiring a contractor to add another sink but since this space is only 60″ wide and we had a limited budget, so we scrapped it. It hasn't been a big problem for us since we get ready at different times and this sink is pretty dang big so I'm not worried. I have a big problem with that glass block too but it must stay, however if money was no issue it'd be outta here 'fo 'sho!
Related posts:
How to repair off center lighting
Master bath update Part 1 – Updating the cabinetry
Master bath update Part 2 – Choosing a white quartz countertop
Master bath update Part 3 – The new countertop
Master bath update – reveal
New pivot mirror
Luxurious bathroom decor update with Pier 1
Wall color: Sherwin Williams "Perfect Greige"
Cabinet color: Minwax Polyshades "Ebony"
Guest Bathroom
Before
(blurry pic, sorry) This was my very first DIY remodel/update. The previous owners didn't update anything at all in here so it had a cultured marble countertop, cheap light fixture, builders mirror, teardrop faucets, and about three different coats of paint.
After
I updated everything except the cabinets, shower, toilet and floor, and installed a white subway tile backsplash as well as removed the cabinet over the toilet to open it up more (I hate those cabinets).
Related posts:
Coastal bathroom update reveal
Driftwood towel organizer
Sea glass mason jar storage
Wall color: Sherwin Williams "Popular Gray"
The Nursery
Before
Our poor guests. There was just a small full bed, gross berber carpet, a brass ceiling fan, and my old college furniture. And yes, two deer mounts… that are still there. This was right after I painted the room its light tan/butter color, it was white before. And what, a crooked lamp shade wasn't a design trend??
This room got new laminate flooring, a new queen bedroom set, a new fan, and beautiful dark gray shiplap accent wall and it stayed like that for a few years, but when we found out we were expecting we moved the bedroom furniture into our office and made it the new guest room and this room became the nursery.
After
Since we weren't finding out the gender before birth and since we love our neutrals around here, the nursery has weathered textures and calm coastal colors so it blends perfectly into the rest of our home. Driftwood and soft ivory tones balance the dark gray shiplap wall perfect and the iron crib makes a perfect vintage statement to balance out the fun chippy barn door on the closet. We can't wait to now make it even more of a perfect space for our little man :)
Related posts:
Weathered and neutral coastal nursery REVEAL
DIY changing pad tray
How to install a vintage farmhouse barn door
DIY driftwood mobile
Hanging storage crates
Crate toy storage crates
DIY shiplap wall
Our cloth diaper storage and organization system
Wall color: Sherwin Williams "Alpaca"
Shiplap wall color: Sherwin Williams "Peppercorn"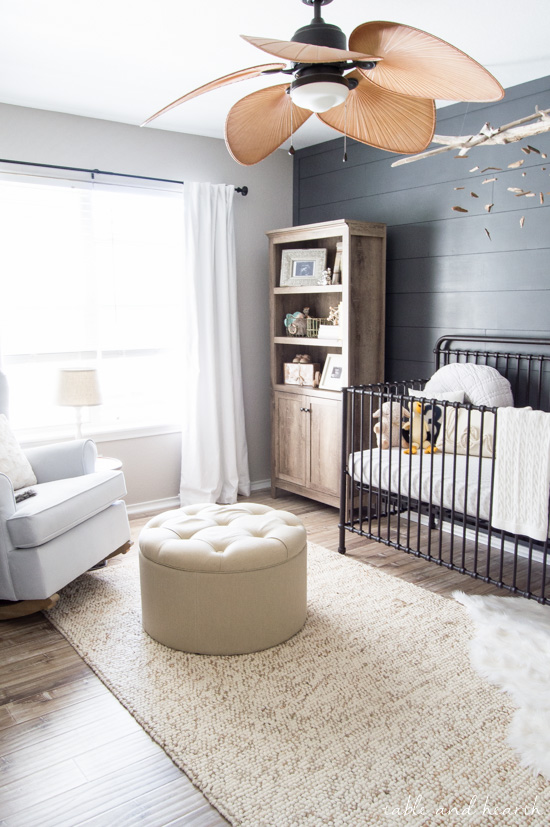 Guest Bedroom
Before
The Ikea daybed was another one of the first purchases for the house so we could sleep family members over the first Christmas here, but everything else was college style still, including one of my old aquariums. And it had the ugliest green fan I have ever seen. This room had three walls painted beige, the fourth and longest wall, however, was left white. I guess it was an "un-accent" wall??
After
All four walls are now painted a beautiful dark grayish navy, the fan was updated, the floor was updated, a little gallery wall is in the nook over some cool hanging shelves I made, and I also made some industrial pipe shelves for storage.
Related posts:
New dark wall color
Concert memorabilia shadowbox
DIY industrial pipe shelves
Wicker chair chalk paint update
Fixer Upper-inspired tulip crate
Nautical Rope Hanging Shelves
Crisp Coastal Bedding
Wall color: Sherwin-Williams "Outerspace"
Backyard & Patio
Before
The backyard had been neglected for a few years before we moved in so there were leaves and bare ground everywhere. There was an unhealthy mesquite tree and a non-working hot tub as well as alot of overgrown and leggy shrubs.
After
Probably our proudest update to the house, and quite the long process. We hauled off the nonfunctional hot tub, cut down the mesquite tree, and DIYed a pergola to replace the dilapidated sorry excuse of a "pergola" we have tolerated all this time. The patio got an overhaul last fall too.
Related posts:
Backyard overhaul
DIY pergola Part 1
DIY pergola Part 2
DIY pergola Part 3
Staining the pergola
Rustic patio makeover for One Room Challenge
DIY planked privacy wall
How to refinish a weathered patio set
DIY farmhouse dining table with reclaimed wood
DIY rolling bar cart
Pergola and privacy wall stain: Sherwin Williams Deckscapes in "Hawthorne"
That is our little home by the sea! This page will be updated as changes are made around the house and I knock more projects out ;)