Hi everyone!  Man, the project gods were NOT on my side this weekend y'all.  While I did get three smaller ones knocked out, the bigger DIY that was my mail goal this weekend was all sorts of messed up.  I'll save you the hella long story and just say that I am NOT friends with crown molding….at all.  It always seems to me that the easier I think a project will be, the more difficult it goes.  Does anyone else feel that way??  Hopefully it's not just my luck!
So, to make up for my craptastic weekend project-wise, I'm sharing one of my projects that was the opposite.  One I feared would be difficult but ended up being one of the easiest and most successful projects I've done yet…our DIY shiplap wall in the guest bedroom!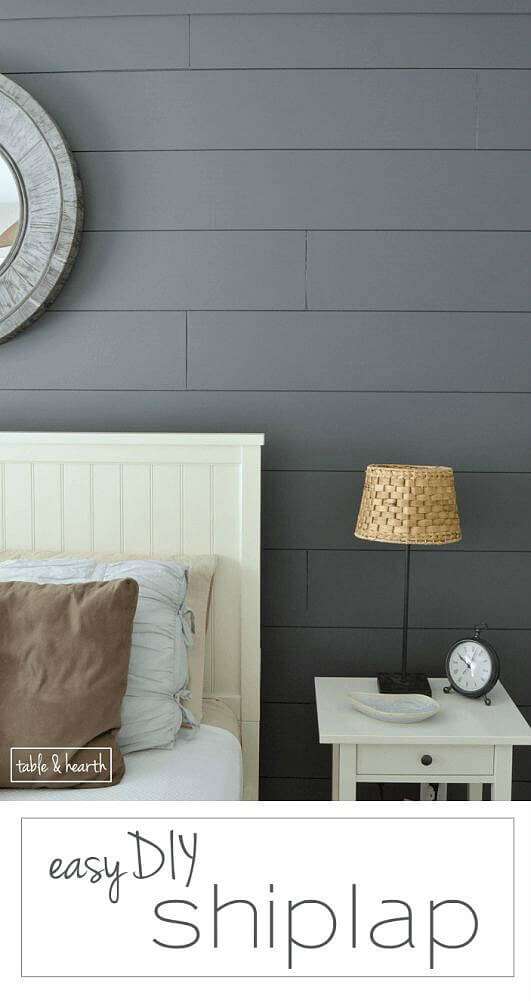 If you've been around here for any amount of time, you've probably sensed my obsession with planked walls.  It was only exacerbated by Joanna Gaines…now it's outta control.  They're classic, they're casual, they're farmhouse, and they're the perfect way to add a little interest to a boring wall.
The guest room has come a loooong way since we moved in six years ago (see it way back in the day here) but it still was lacking some ooomph (although, it DID have deer mounts which are sooo in right now, #nope).  The room finally reflects our coastal, weathered, and neutral style inspired by the beach a couple miles down the road, but it still needed some contrast and depth, some kind of focal point, you know, other than deer heads.  A plank wall was just the ticket!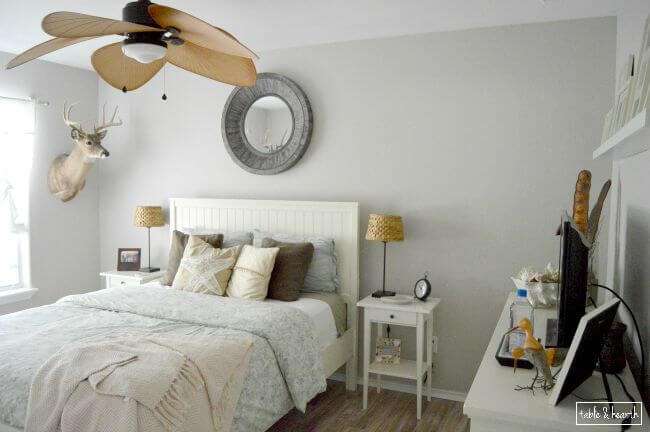 I researched all kinds of materials that you can use to achieve a plank wall; real wood planks themselves, reclaimed wood,  or ripped-down panels of hardboards or plywood.   I wanted the classic wood look, in wide planks, but couldn't afford ones that were already cut.  Plus, I REALLY didn't want to have to remove and reinstall our baseboards so I needed something that was 1/4″ thick or less.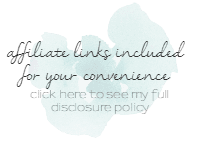 So for us, this 1/4″ plywood underlayment was the ticket, especially since the panels are only $13 a piece!  I had Home Depot rip them down into 8″ wide planks for just a teeny cutting fee (like, $3).  I like my plank walls with nice wiiiiiide planks, but you can make them whatever width you want of course.
DIY Shiplap Supplies
How To Install DIY Shiplap
This underlayment is super smooth so all the planks needed was a quick sanding on the edges from being cut and we were ready to roll.  I marked our studs, fired up our nail gun, taped few pennies for spacers (two thick), leveled up the first board at the ceiling, then had the hubby start nailin' them up (don't be a cool guy like him, wear safety glasses on your face, not your neck!).  We staggered our planks randomly, trying to use as many whole-length boards as we could.  We marked where we needed to cut the smaller pieces, cut them outside, sanded the edge, then nailed it up.  We trimmed around outlets with the jigsaw too.
*Panel PSA: having the panels ripped down into 8″ sections will make the last panel slightly less than 8″ wide due to the width of the saw during the cuts.  These are fine for the bottom row, but make sure you don't accidentally use one anywhere else on the wall like we almost did.  If you have a table saw, you can easily rip those shorter planks down to whatever width you need them to be for the bottom row, but we don't have one, and that would be a daunting task with the handheld jigsaw which is all we had at the time, so I bought another whole panel and had the store rip a few more down, plus the last bottom one which had to be 5.75″.
I knew our baseboards would be wonky, based on the wainscoting in our master bedroom, but this room was baaaad. The bottom planks are completely flush at the ends of the wall but in the middle it's about 1/2″ short.  I didn't fill it or anything, it's really not that noticeable when standing and luckily that is where the bed goes :)  Just annoying.
It only took us a few hours to get the boards up, then I started spackling, sanding, and priming.  I only filled in the nail holes, not the knots or the seams between because I wanted to still have the rough, wood-ish features showing through. I did one coat of primer and two coats of paint, using my favorite 1″ brush for the cracks and 4″ brush for the face.  I used brushes instead of a roller because I wanted a classic, traditional finish, and with all the gaps I was using a brush for most of it anyway.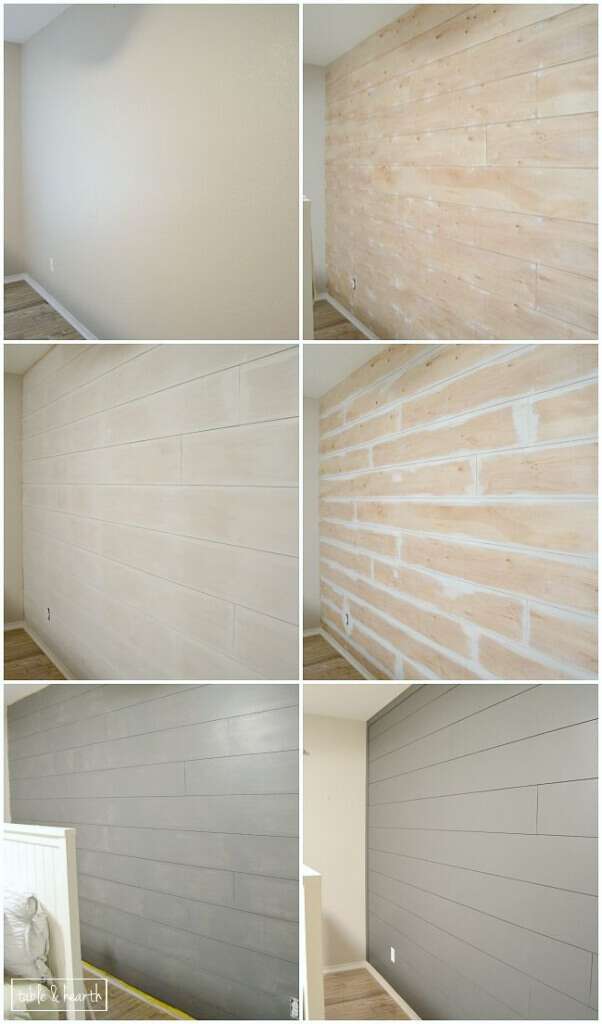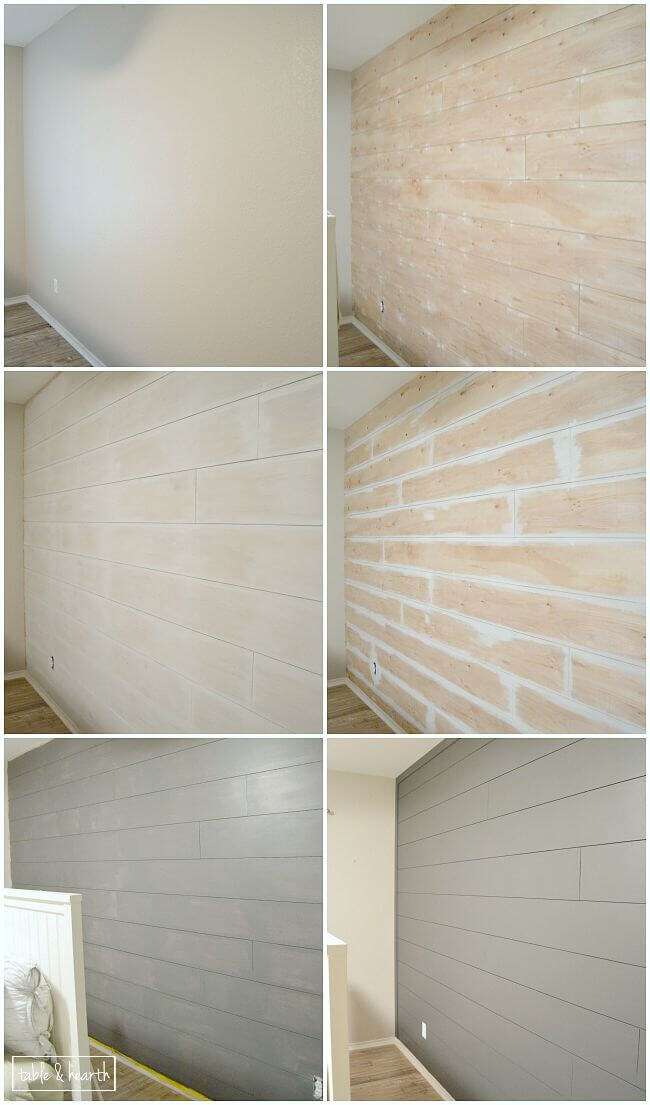 I didn't paint the edges of the planks cause I knew I'd be trimming it out with some the poplar battens I had left over from my wainscoting so I didn't bother.  I pre-painted those before installing, so I wouldn't have any cutting in to do except to paint over their spackled nail holes and joints and exposed inner edge.  I mitered the top corners then added them to the top and sides of the wall (not the bottom because they'd stick out over the baseboards) and it instantly made the wall polished and complete!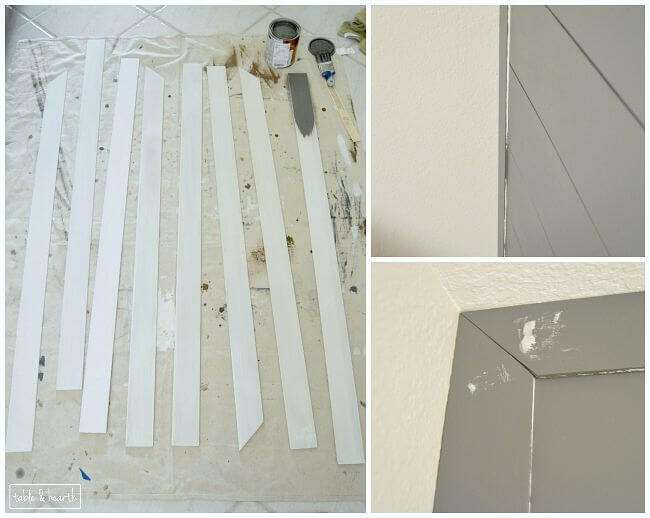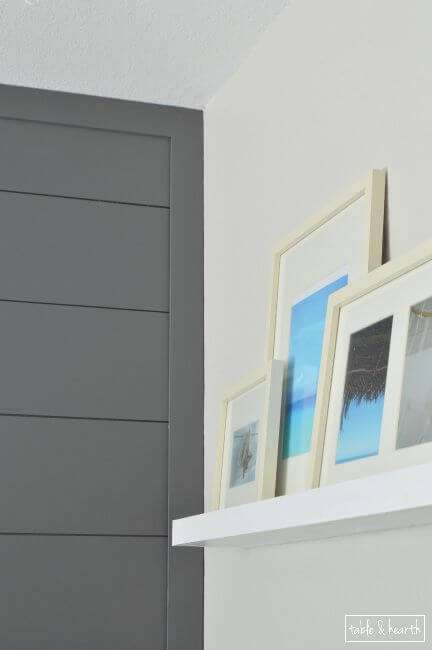 I was a bit concerned that our stupid textured walls would show through the cracks or not, but you really can't tell unless you get up close and look, and that's just mean. (other walls are Sherwin-Williams "Alpaca")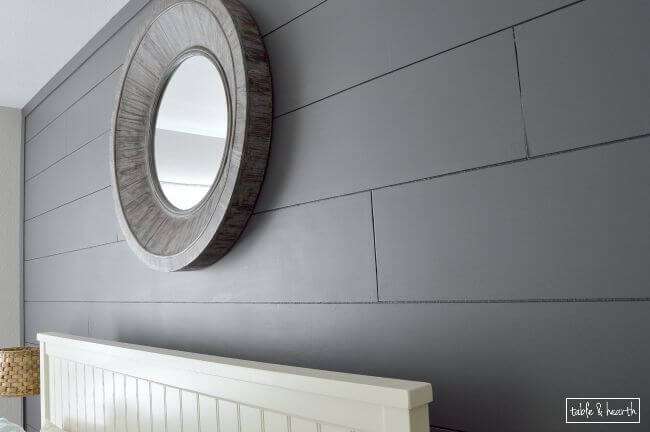 I am in LOVE with how much more drama and interest this simple DIY has brought to our room and how it makes it feel even more beach cottage-y.  I love the seams, I love the color, I love the still-wood-feel finish, and I love how easy it was to do :)  Even the husband liked participating in this project!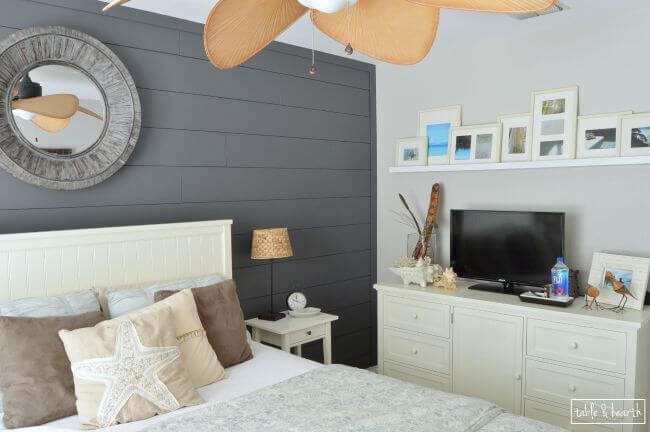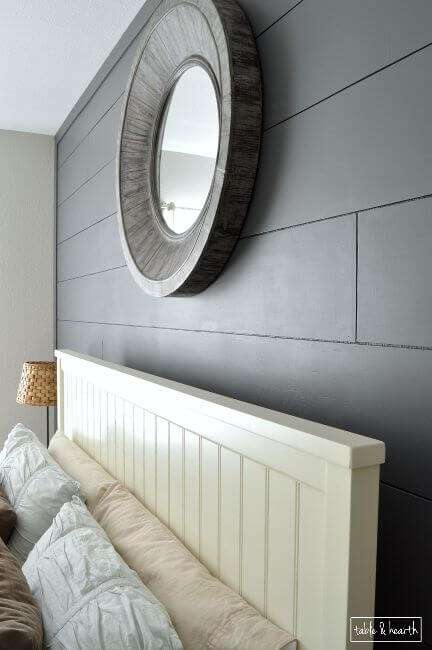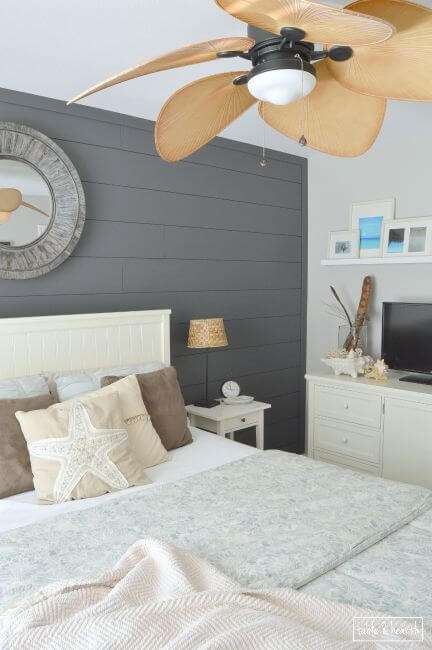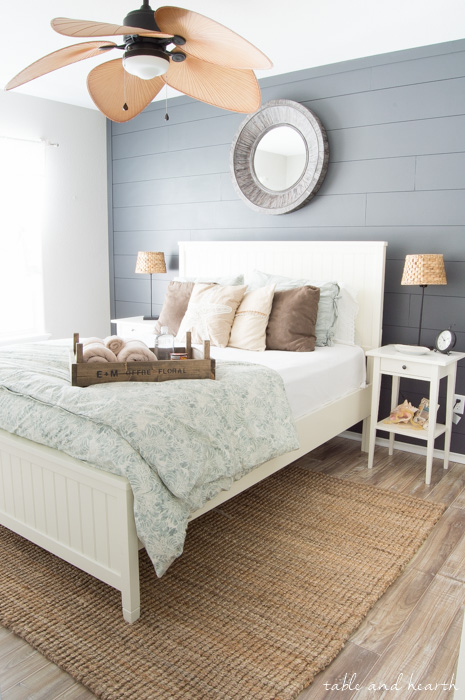 We absolutely love this room and it finally feels complete and like "us".  Hopefully in the next few months I can get the hubby back into a planking groove and do one in the living room!
UPDATE:  This room now has quite the adorable new purpose, see the shiplap wall in the new nursery HERE!!!
So, are you guys as obsessed with plank walls and shiplap as I am?  I would plank every.single.wall in my home if I could…