With just a couple of weeks to go before it gets its new inhabitant, I am stoked to show you our calm and coastal gender neutral nursery today!!!
Since we weren't finding out the gender of this baby, and because it's our usual style anyway, I wanted the nursery to be a totally neutral, calm, and relaxing space that would fit in with the rest of our house and grow with the child for many years.  I combined textures like soft fabrics, distressed wood, driftwood, and metal and used muted colors like off-white, taupe, and gray to keep it all consistent.  The distressed wood finishes and colors plus a few fun sea-inspired toys and accessories bring in that coastal beach vibe I love so much without going totally "beachy".
Here is my original design board for the space, which I think came out pretty dang close to the room…I love when that happens :)
And now here is our calm and coastal gender neutral nursery!
Subtle colors, mixed textures, and a slight beach/coastal vibe that is suuuuper relaxing.
Let's take a turn about the room, shall we?
I've linked all the sources at the end of the post if you see something you love!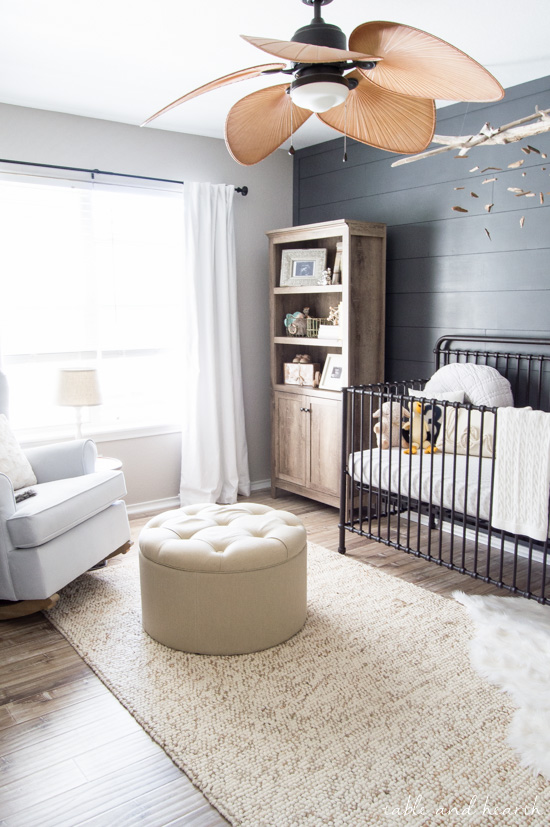 *affiliate links included for your convenience, click here to see my full disclosure policy
This space used to be our guest bedroom and has our beloved DIY shiplap wall (painted in Sherwin-Williams "Peppercorn") which I was really excited to have as a focal wall now, and immediately pictured a vintage-style metal crib centered on it.  I teamed up with Wayfair and found the crib of my dreams there with this dark iron 4-in-1 convertible.  It'll grow with the kiddo from crib, to toddler bed, to daybed, all the way to a full-sized bed someday. I was really nervous about ordering a crib online but the quality is amazing and it was a breeze to put together.  (How stinking cute is that little crocheted pelican I won at a silent auction for a local birding club?!)
I kept the dresser from our guest bedroom set in the room to use as our changing station since it gives us a ton of storage.   Above the dresser I did a little gallery wall (because #allthegallerywalls) and put a soft pendant drum light in the corner for additional light. A couple of collapsible baskets will serve as laundry hampers.
The nice wide dresser top gives us plenty of room for the changing pad (with my DIY tray) as well as various supplies.  My friend Sarah used that wall-mounted wire cubby at her coffee station and I knew it'd be perfect for this wall too to keep a quick supply of our cloth diapers at the ready in a few months.  I filled the rest of the gallery out with our DIY driftwood sign from our pregnancy announcement, a sign by my good friend LZ with a beautiful and meaningful quote, a fun octopus print I found at an arts festival, some of our 4D ultrasound pics of the little one, and then a shadowbox of some pressed algae from my Etsy shop (these new pieces will be in the shop later this spring!).  The little "no wake zone" sign was made by my sweet friend Jenny for my baby shower :)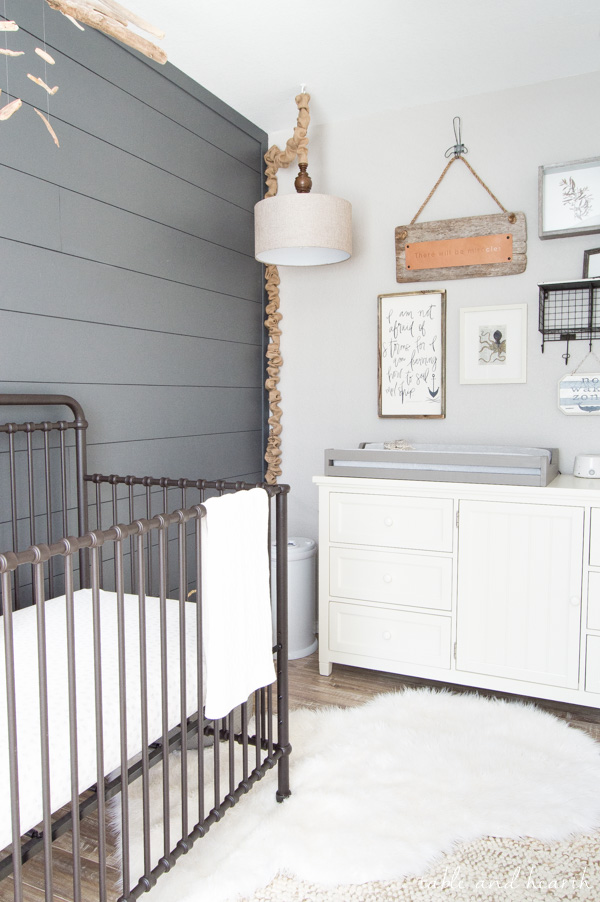 As I showed in the last update post, I used these awesome drawer divider guides and some scrap battens to make compartments in the drawers for all those little baby clothes and accessories.  The right side holds clothes, burp cloths, sleepers, socks, etc. and the left side is for cloth diapering supplies (we'll be using all GroVia cloth diapers and am already in LOVE with them, how pretty are these?!).  The middle cabinet is for more diapering supplies like wipes and some disposables.  I'm sure this will get rearranged as we get into a real routine but for now this is what we're going with and I love how easy, cheap, and customizable using those guides and battens as dividers is.
Across from the crib is the not-so-large closet and the corner of the room where the rocker went.  The previous closet door opened out and was hinged on the right so to save more space we decided to go with a sliding barn door using this oh-so perfectly chippy antique door I scored last fall and a rustic barn door hardware kit.
For some reason I was really intimidated to install this because of the funky sized old door (shorter and thinner than a usual door) but we worked it out and think it looks amazing now!  I wrote up a tutorial about how we approached the install and will have that for you in a few weeks.  Next to the door are a couple of metal hooks for conveniently hanging bags and stuff and I'm debating on possibly putting one of my hanging book holders behind the door or maybe even doing a little chalkboard wall behind it someday too.
I crammed as many storage options in the closet as I could with a 6-cubby shelf, my DIY hanging crates, room for hanging clothes, a little basket at the bottom, and big baskets at the top.  Extra cloth diapers (told you I was already obsessed), medical supplies, breastfeeding supplies, toys, blankets, swaddles, books, clothes, and diaper bag/traveling things are all stored in here.
This rocker y'all…You guys, it is HEAVEN!  So many people told me that if I splurge anywhere in the nursery to splurge on the rocker/glider since I'll be spending so much time in it, and I agreed.  I am a firm believer in spending more on important/prominent pieces that will be used often and this was definitely worth it.  My conditions were that a) it was a rocker instead of glider, b) the fabric couldn't be snagged by little cat claws, c) the fabric needed to be stain-resistant/durable, and d) it needed a high back that had wings where I could rest my head.  I already knew exactly where my dream rocker would be that would give me these options, Pottery Barn Kids, and found the perfect one in the perfect fabric in the perfect color.  I went with the Performance Everyday Velvet fabric in "Silver Gray" and it is sooooo soft.  I hit up a sale along with a ton of rewards points and coupons so I scored it for about $400 off to boot!  Another great selling point?  That they also sell matching feet for it which converts it into a regular chair when we're done using it as a rocker.  So we will have this beauty for a looooong time <3
Another bonus?  That big comfy tufted ottoman is a storage ottoman that holds a TON of stuff too!  All of the extra crib sheets and larger blankets are stored in it with plenty of extra space still.
While I love that shiplap wall with all my heart, the space above the crib needed something.  I didn't want to hang anything on the wall or obstruct much of the wall, but of course love a good mobile.  It took me forever to come up with something that wasn't too obnoxious in the space, too large, too complicated, or too expensive.  I also wanted it to be on a smaller-scale since the ceiling fan is right by it and is a decent statement piece already.  You guys know I hoard driftwood so CLEARLY the mobile had to involve it somehow.  I knew I wanted things hanging from a few larger pieces and after playing around with a handful of different objects, I finally realized that just small pieces of driftwood looked the best.  An evening with some screws and fishing line and ta-da, this super simple little mobile was born.  I think it worked perfect and will be sharing the little tutorial with you in a few weeks!
I had originally planned to have two tall bookcases flanking the crib but in the end decided that wouldn't give me much room over by the changing table so I just got one to put on the left side.  This three-shelf unit with cabinet below fit perfectly, was the color/finish I was looking for, and was a steal with some Cyber Monday discounts.  I'm really happy to have some display space for those cute little baby mementos, more space to stash things in little baskets and such, and of course more hidden storage with the cabinet below.
Picking out a rug was one part of shopping for this room that wasn't the easiest.  I initially wanted an off-white textured wool rug with a subtle pattern in it, but after admitting to myself that off-white really was too silly then having the only ones I liked at that be in the $500-700 range, I decided to look for something slightly different.  I still really wanted something with a lot of texture but needed something more affordable that would hide messes better.  I ended up finding exactly that with this beauty from West Elm and snagged it for an awesome price on Cyber Monday too!  I was worried the jute and wool would be kind of scratchy but it isn't at all.  It is super cushy and the pattern is busy enough where any oopses won't be so easily noticed.  I tossed a faux sheepskin on it by the changing area just for a little luxury underfoot during all those changes, and for cute photo opps.
I used my go-to rug pad for in here as well, the Nature's Grip from RugPadUSA which is made for laminate floors, made to size, and is made out of completely natural eco-friendly materials.  It has their highest durability and grip rating as well as being low profile which all should keep the rug nice and secure when a kiddo is active in here.
I didn't think our guest room could get any more relaxing and beautiful until it got transformed into this space.  It seriously is the most relaxing room and is filled with items, styles, colors, and materials that we just love.  I come in here all the time to just piddle and look at all these fun little items, imagining what it will be like to actually get to use them soon.  I love to hang out in the rocker and relax, and even the cat likes hanging out in here now.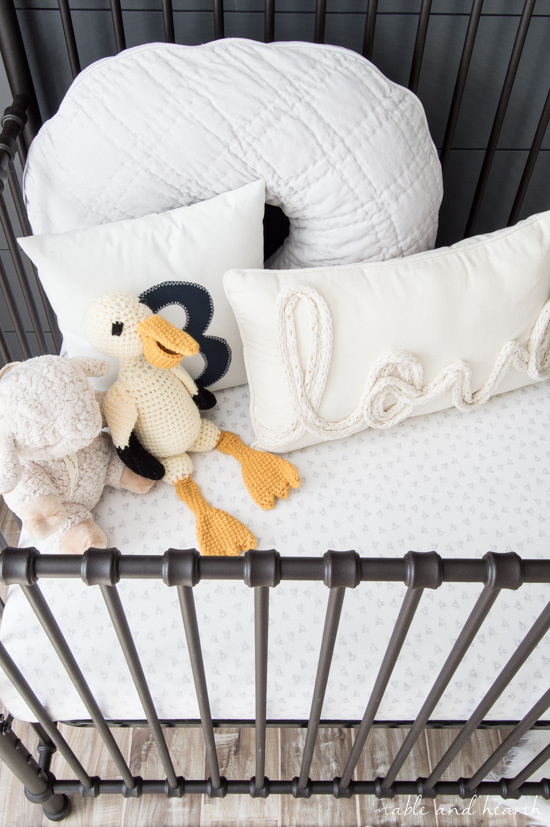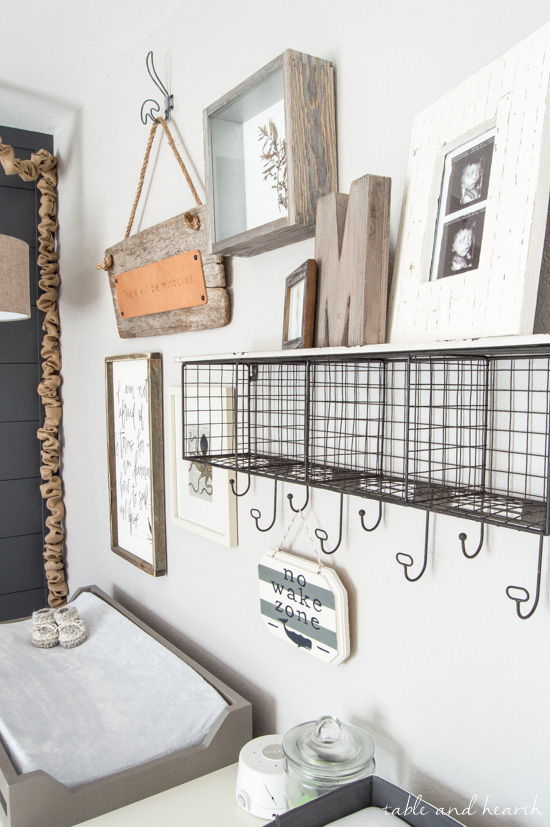 We are so happy with how everything came together!  I was happy to still squeeze in some DIYing before I felt too huge, and feel we got really lucky in finding the perfect new pieces like the rug, crib, rocker, and bookcase for great deals that allowed everything to be brought together nicely.
I asked Matt what his favorite part of the nursery was and after answering the rug first, he said really it's just how cozy and relaxing the space is and I have to agree with him.  No way can I pick a favorite part (although the crib and rocker are up there).  We can't wait to bring our new little squish home to this space in just a couple short weeks and really make it theirs even more.
Here you can find the tutorials for the DIY projects you see:
And meet the room's new occupant here :)
Wayfair  |  Crates & Pallet  |  Crownbolt  |  RugpadUSA  |  Summery Umbrella Designs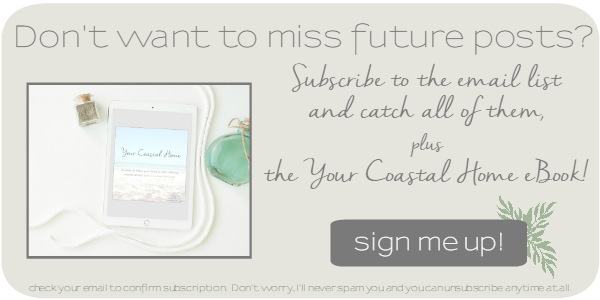 Share this!