We moved into our mid-90s starter home almost nine years ago now and we've done a pretty good job of updating all of the spaces, except one.  The space that has stayed original and totally dated is also the one that makes the biggest impression…our entryway.
As you enter our front courtyard, you're greeted by a boring white door with oval brass stained glass and glass block sidelights.  Helloooo 90s!  Pair that with our super harsh coastal environment involving piercing sun, salty air, and triple digit temperatures, and we also have a corroded brass handleset and threshold, poor seals/weatherstripping, peeling paint, and dry trim.
And yes, the hurricane shutters over the windows are just as much of an eyesore I know, but replacing our home's 15 sets of them with rolling or accordion shutters is definitely not in the budget anytime soon so they stay, plus after Harvey, removing them and having to plywood them up isn't an option either.  I was REALLY thankful those ugly things were there when we had to evacuate within two days.  So we're going to focus on the entryway for now.
Aside from how dated and weathered it all is, I have a big issue with the privacy level of the decorative oval glass.  Most of the glass is textured but the middle pieces are only beveled so you can just bend down a little and look right into our open living and dining room space and right out into the backyard.  I have seen solicitors and delivery people do exactly that when I've been sitting in the living room.  WTH!  One time it happened when I was nursing Connor in the living room… not okay.
The door's issues took a nosedive after Hurricane Harvey hit last August.  While we didn't sustain a direct hit (thank God), he was just 20 miles up the road and our home sustained 100+mph winds and driving rain.  Everything looked like it had been blasted with grass and debris and the door had even more of the peeling paint on the trim torn off .  It has been harder to open and shut, doesn't seal well, and the hardware is even more corroded since it got blasted with rain and salty wind.
We are finally going to tackle this space and make it  welcoming and stylish to match the rest of our home!
We want our door to represent our home and our style, provide a secure weather-resistant entry to our home, and give us the privacy we need.  Just painting the door and updating the hardware isn't going to give us that so we are going to get an entirely new entryway!  A door that will hold up to our harsh coastal environment while still being stylish and creating a welcoming look for our home is very important, we want this door to last for many many years down the road.  We will find the perfect door and I will be giving our entire entryway/courtyard area a makeover to make it all more inviting and welcoming.
Welcome to our new Coastal Farmhouse Entryway!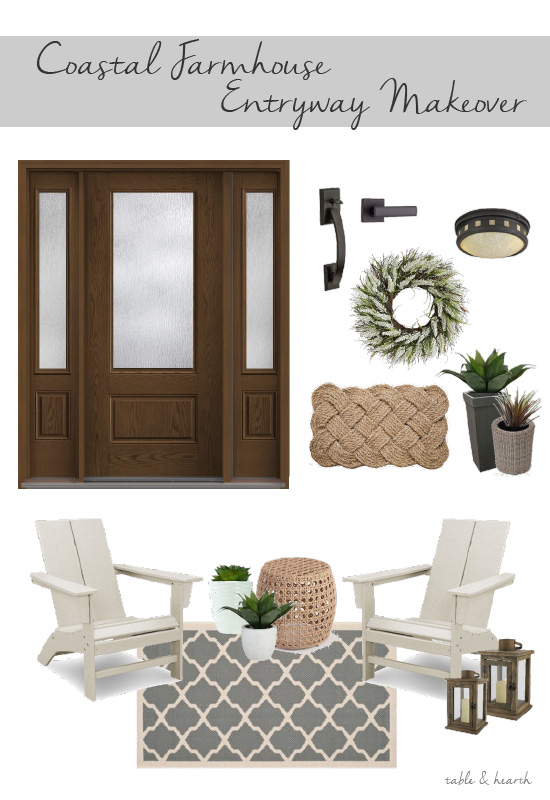 I have partnered with one of the most well-known and recommended door brands to find the perfect door for our home, Therma-Tru Doors!  They have endless styles and configurations to fit any type of entryway and are known for their high quality, craftsmanship, and durability.  I can get lost in all their designs for hours (and have already) and am so excited to start finding our entryway!
Therma-Tru provides a ton of great tools to help you with your entryway inspiration and selection.  Their Inspiration Gallery provides hundreds of real-life photos of their products that have been shared on social media by real customers.  It helps so much to see actual images of the doors on real homes.  They also provide some great ways to help with door selection, including the Design Your Door tool on their website, and the DoorWays App which helps you design and visualize any of their products on your own home from anywhere!
Over the next few months I will be taking you guys through this process with me in a four-post series on the project; from showing the ugly and embarrassing before pics and my design for the new space today, to taking you shopping with me to find the perfect door, chronicling the installation process and things we have to consider, then finally revealing our new entryway!
See what I'm pinning for inspiration on my Coastal Farmhouse Entryway Makeover board
on Pinterest!!
This series is sponsored by Therma-Tru, thank you for supporting the brands that support this blog.  Affiliate links are also used for your convenience.  Click here to see my disclosure policy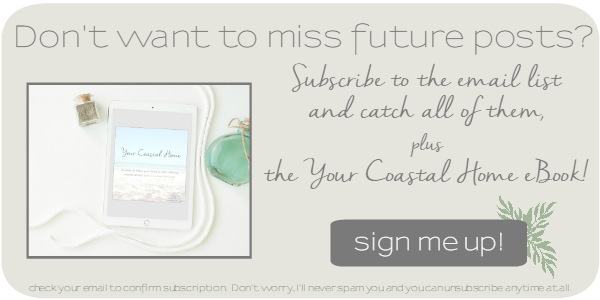 Share this!