Back in June I shared with you guys that we will be updating our front door and entryway, but there's a few other fun projects we are tackling out front that I want to share with you too!  We've done so much work on the inside of our house and in the backyard that it was long past time we gave the front of our home some love as well and upped our curb appeal game.
First up was this bed between the neighbors and us that held three HUGE HUGE HUGE oleander trees.  These things were about 20′ tall, droopy, and insanely messy.  Over the course of the last three years we've completely transformed this little side bed and it looks MUCH cleaner!  Here was our to-do list for this project:
Cut down oleander trees
Have privacy fence installed along property line
Stain privacy fence
Cut oleander stumps down as far as possible
Have stumps professionally ground down
Get bed re-landscaped:  remove existing rock/sand, new weed mat, new rock, plant three foxtail palms
For the first five or so years that we lived here there was an empty lot next to us so the oleanders weren't too huge of a frustration.  Sure they dropped their flower mess all over the front paved "yard" and sure they made the guest room super dark because of all the shade, but we lived with it because we liked having some sort of separation between the lot and us.
*this project was sponsored by Ryobi and Sherwin-Williams and affiliate links included for your convenience, click here to see my full disclosure policy. Thank you for supporting the brands that support this blog. 
But then they built a house on that lot and put the driveway on our side instead of the other side, right under the oleanders.  After a year or so it became an issue and our neighbor was understandably really frustrated at the mess they left on their driveway, vehicles, and boat.  It was time to finally say good riddance to the oleanders.
Removing the Oleanders
Cutting 20′ tall messy floppy oleanders down was a little daunting at first but our Ryobi pole saw made quick, manageable, work of them!  We use this pole saw ev.ery.where around our yard because it's light, runs on the ONE+ batteries that powers all the rest of my our tools,  and is so much safer than climbing up on ladders with chainsaws.  Matt and his dad were able to get the trees down and hauled off in just about half a day.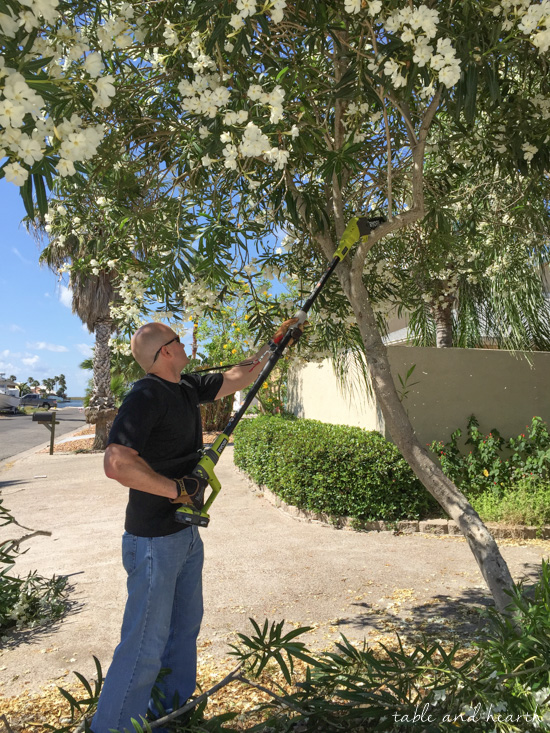 We knew getting rid of these trees would look VERY strange and leave us with pretty much no division next to the neighbor's property at all so we decided to have a short wall installed along the property line.  Something that defined the two properties but was still neighborly and didn't prevent views or anything.
Privacy Fence Installation
The fence was installed two summers ago and was the perfect solution.  It is full-height for six feet next to the house just to give some privacy around the guest bedroom window and their garage, then angles down to 3 feet tall.  The original plan was to have it be 3 feet all the way to the street but there's a covenant with our property owner's association that no fence can be over 18″ within 10 feet of the street, hence the drop down there.  Last summer I was finally able to spend a day staining the fence (thank goodness for my sprayer!) using Sherwin-Williams' SuperDeck in "Cedar Bark" (semi-transparent) to match the gate on the other side of the house we did a few years ago.
While the fence turned out great, the stumps left over from the oleanders were still a huge eyesore.  We drilled and poisoned them in order to kill them before 393849 suckers grew up at each one but they weren't rotting very fast and they needed to go in order to proceed with this project.
We used our Ryobi 20″ chainsaw to take the stumps down as far as we could.  Of course the stumps would have to be professionally ground to really get rid of them but we wanted to get as much cut off of them as possible before that so there would be less material for the grinder to have to do and less mess resulting from the grinding.  The chainsaw got us another 6″ or so removed which was great!
New Palm Tree Landscaping
Early this year we had the stumps ground and were finally ready to plan the fun landscaping part.  *Also notice we had the front palm trees skimmed too!  The bed had rock but there was also a lot of sand mixed in which meant lots of weeds, especially now that this bed was so sunny.  We initially planned to do the landscaping part ourselves but we had no idea how to get the sand out of the rock, nor did we want to haul it all off and add new rock ourselves.  We ended up getting a great quote to have a local landscaping crew remove all the existing rock, grade it all down, install three palm trees, and put new rock in. Sold!
I went back and forth on what I wanted to plant in this bed but went with a simple layout of three foxtail palms and four red yucca plants in the end.  There's a ton of plants I would have loved to have out here but most would still make a mess on the neighbor's property, plus the closest hose is inside the courtyard so I wanted something that didn't have to be watered often, if at all, would be clean, and would be pretty maintenance-free once established.  I LOVE foxtail palms so I splurged on these three beauties which won't get huge, don't make a mess, don't have spines, and look perfect in the bed.
I added four small red yuccas between the palm trees to fill in the space a little bit more and give some color eventually while still being maintenance-free.  Plus they'll be good for hummingbirds each year :)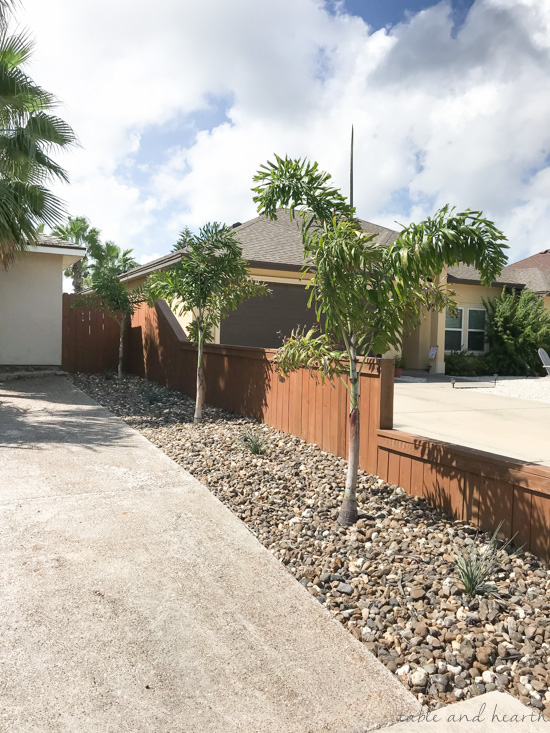 It is a huge relief to have this project FINALLY finished after three long years!  It completely transformed our curb appeal and makes the house look much cleaner, our property looks larger on that side, and we have a happy neighbor now :)
Next up on our overall curb appeal update list is giving a little more polish to the stucco wall around our courtyard then the most exciting project yet…the front door!!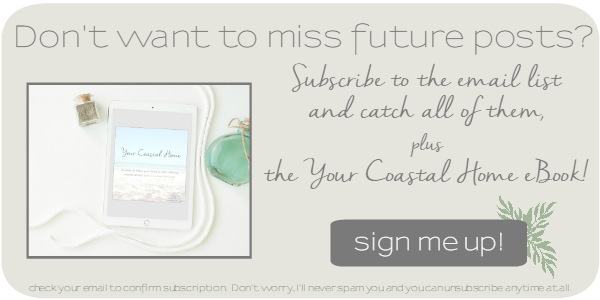 Share this!