I'm a big sides person, the sides of a dish are always my favorite part.  I know, it's weird.  I love going to our favorite home cooking joints and ordering the veggie plate piled high with mashed potatoes, fried okra, mac 'n cheese, mmmm!!   One of the best sides I've had is Hoppin' John.  I had no idea why it's called that, I still don't, but it is chock full of flavor so I just had to figure out how to make it.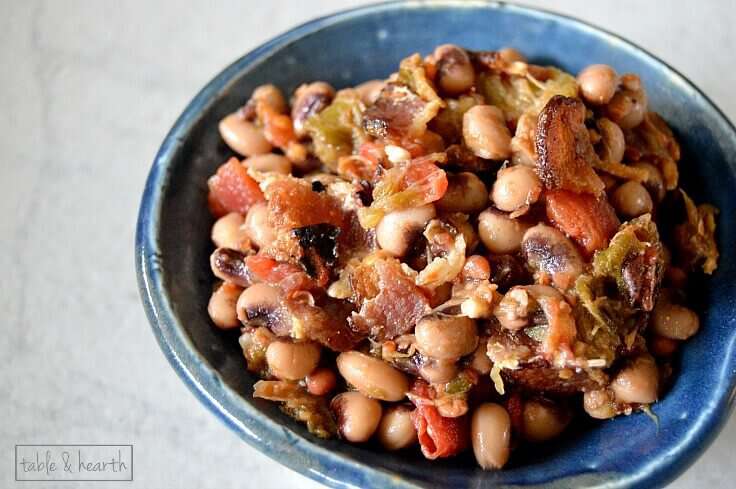 My quick and easy version uses cans of black-eyed peas, okra, and tomatoes but this can be done with fresh or dry beans too, you'll just have to cook them ahead of time.  I use creole style okra because it has a little more zing, same with the fire-roasted tomatoes, but feel free to use whatever style you wish.
Prep consists of cooking up some bacon then just dumping everything into a dutch oven or large saucepan and letting all the flavors meld together for a few minutes.
Sprinkle the crumbled bacon over the top and you're done!
Yes, I have made a batch of this and eaten it for lunch.  No main entree, just a side :)
Hoppin' John
A quick and hearty classic side full of flavor
Ingredients
2 16 oz cans black-eyed peas, drained
2 16 oz cans creole-style gumbo okra, undrained
1 16 oz can fire-roasted diced tomatoes
6 slices bacon, crumbled
2 bay leaves
Instructions
Add all ingredients except bacon to a dutch oven or medium saucepan
Simmer on medium heat for approximately 10 minutes until heated through.
Remove bay leaves and stir in the crumbled bacon.
Serve warm!
Notes
This can be made with fresh or dried black-eyed peas too, just cook them accordingly beforehand.