It's here!!!! It's Week Six! Calling It Home's spring One Room Challenge is over and today is when we get to show you guys what we've been working towards over the last six weeks. The designer reveals were yesterday and oh my, what amazingness. I don't know how some of these people do it in just six weeks, you have to go see them!
Today, all the rest of us linking participants are revealing their projects. For my room, I decided to give our less-than-stellar master bedroom some much needed love to make it more our style and finally feel "done". It's been years of just mediocre and the ORC was the perfect chance to kick it into high gear and get something done in here. To catch up, click over to the previous weeks to see my progress:
Week 1 – Intro, befores and the mood board
Week 2 – The to-do list and picking a paint color
Week 3 – Mirror conundrums
Week 4 – Getting in some items, updating some finishes, more mirror drama
Week 5 – Getting in more items, not getting in items, and painting the wainscoting
Now, just for the good 'ol before and after effect, let's take a look at our two befores once again. The top one was about January 2011 when we still had all of our college furniture and a teeeeeeny bed and the bottom picture was taken last May right after I installed the DIY wainscoting. Much better, but still not quite there.
And here we are now!! Calm, relaxing, light, bright, fresh, coastal, all of it. Get ready, there's a barrage of pictures headed your way ;)
Now, if you've been following along, you may notice there are a couple of main items missing in here, the rug and the new mirror. Yup, not here still. Overstock lost the first rug I ordered and after numerous frustrated chats just shipped out my replacement on Monday. Guess when it is due to arrive? TODAY. Yup. As pissed as I am, I guess I have an excuse to do a Reveal Part II post later in the month, huh? We'll get to the mirror in a bit.
The bedding is just heavenly. I'm not much of a pattern girl but this duvet set completely makes the space. I can't imagine anything else in here.
The boring brown-framed DIY algae prints got a makeover too with some Annie Sloan "french linen" chalk paint and burlap scrapbook paper mats. Honestly, this may be my most favorite transformation in here :)
The mirror that came with the dresser got removed. This big clock just leans against the wall and I updated the decor now that there was more room to play with without the mirror.
To congratulate myself on finishing, I ordered me a bouquet of freesia from The Bouqs to put in the room for the reveal. They're still opening but already smell beautiful. It's settled, I will always have fresh flowers in here. Done.
I changed out our table lamps for arched wall sconces to bring more height and interest to this wall, and because the husband knocks stuff off his table all the time and the lamp's days were numbered. I wasn't about to delve into any hardwiring this time so these plug-in sconces were perfect. They're totally adjustable too for whatever height and/or angle you want. Also, I am completely addicted to the contrast of our dark furniture with the light, airy, and natural elements.
My side of the bed, some flowers and some sweet frames (and my bottlecap collection overflow, eek).
wall color / wainscoting color / flowers
Husband's side of the bed. Just a large driftwood bowl to collect all his accoutrements and to prevent said knocking-over of things.
I snipped a few of our smaller palm tree fronds and put them in a large vase to get some height on this wall and balance out the clock. The little fuzzy flowers are actually parsley that I've let go to seed in the garden because I'm lazy. So many veggies and herbs have such gorgeous blooms if you just let them go, I may start growing broccoli and parsley just for their flowers now ;)
wall color / wainscoting color / clock / glass lantern
Ok, so the other item missing in here is one I struggled with for the better part of this whole challenge. The mirror. I went from rectangular mirror over the dresser to square mirror on the small wall, then finally decided on the Lattice Mirror from PB. Aaaand it's on backorder until the end of this month. So, until it's here for Reveal Part II, let's just pretend it's hung and in place, mmmkay?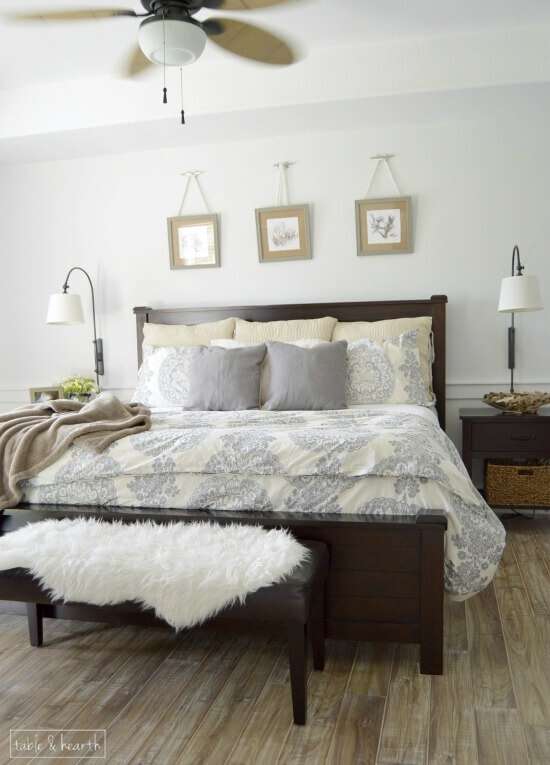 duvet cover / sheets / euro shams / throw pillows / throw blanket / quilt / sconces / wall color / wainscoting color / flowers / bench / faux sheepskin / driftwood bowl
While I didn't take on a project near as daunting as alot of my fellow participants did, I am completely elated at our new room and love how perfectly finished it is now. I want to be in here all the time. I love me a good deadline so this challenge was right up my alley, albeit frustrating at times. Did I do everything on my to-do list? Nope. Are there things missing that I wanted? Of course. Due to money, I wasn't able to spring for my perfect x-ottomans or the beautiful standing fan, and annoyingly am waiting on the rug and mirror to get here. But even without those things, the room is beautiful. We love it so much and it makes our house feel that much more complete.
I'm off to check out everyone else's reveals today over at Calling It Home. Thanks so much to Linda for this awesome challenge! Make sure you head over there, you'll be amazed at what the other bloggers are doing, there's some seriously cool spaces happening! I'll see you for Reveal Part II when all my stuff comes in finally ;)
Follow Emily @ Table & Hearth's board Master Bedroom Refreshin' on Pinterest.