Like I talked about in
this post
back in April, I have been itching to paint something dark for a while now.  I was at a loss for the longest time about where I could do it (must.have.more.walls) but after our trip to the
prettiest B&B ever
for our anniversary in May, I came up with a plan….
I've never been a huge fan of the color I painted our guest bedroom and office a few years ago, Valspar's "Lovely Bluff", it just came out more yellow and bright than I planned (was going for a muted beige).  I was fine with it though, especially in the office cause, hey, it was
better than three painted and one white wall
.  Then other projects came along so I forgot about it.
So, back to our trip in May, I loooooved the paint color in our cottage and made a plan to paint our guestroom that same color.  I emailed them and they will be getting back to me on what it is, can't wait!  But duh! if I can re-paint the guest room, I can re-paint the office…and I can re-paint it DARK!  The office is a perfect place to be dark :)  Color selection began while the husband was out of town one weekend.  While I still want to paint black walls someday, this wasn't the room, so a different dark was needed.  I was inspired by dark rooms of some of my favorite bloggers
here
,
here
, and
here
and settled on looking for a dark-smoky-navy-blue-gray.  Looking through my Sherwin-Williams paint deck and their website, I came up with five possibilities:
*this is not sponsored in any way, I truly love SW paint, like, alot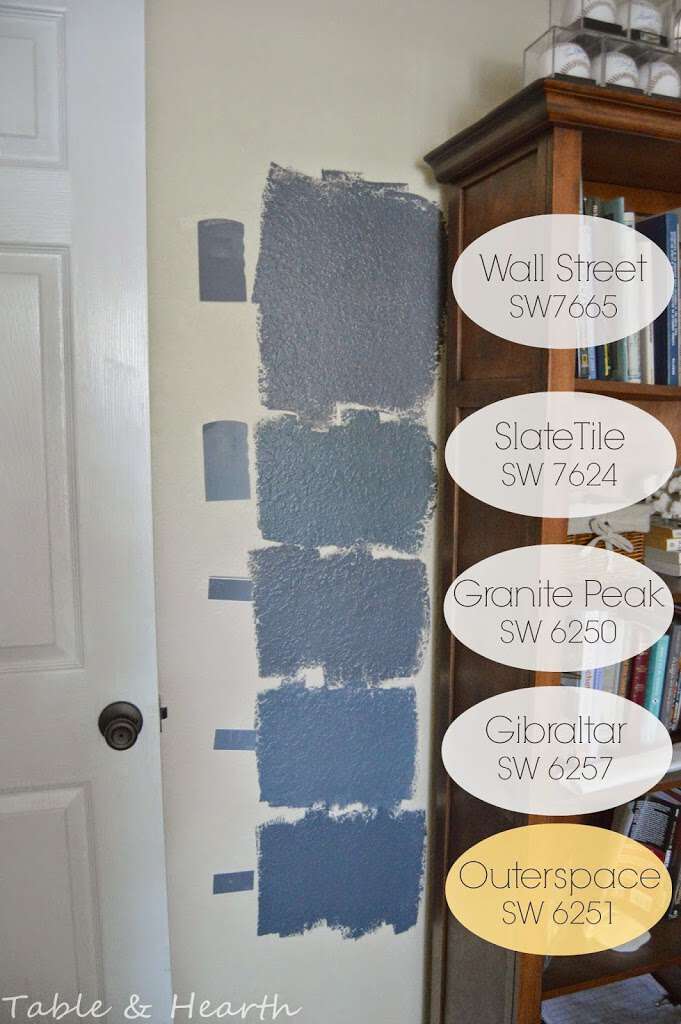 Lighting in this room is horrible to capture and changes on each wall throughout the day so I painted swatches on all four walls and stared at them for about a week, along with asking friends and family what they thought.  I ruled out Slate Tile and Gibraltar pretty quick as they were just too blue (I'm not a blue fan), but was torn on the other three. I was leaning towards Granite Peak.  But for everyone else, including the husband, it was almost unanimous for the darkest color, Outerspace, which surprised me.  In the store, I was almost too scared to pull the trigger on it and run to Granite Peak, but I figured I'd take a risk and go for it.  One gallon of Duration satin finish in Outerspace later and there was no going back.
Then, there were some minor freakouts with the first coat.  1) When I poured it out it looked really gray, 2) dry on the wall it looked too navy, and then 3) I had pretty poor coverage on that first coat which made me worry that one gallon wouldn't do it and I'd have mismatched colors.  The navy-ness really freaked me out and I really started regretting going so dark (for me).
You can see below where my test swatches could really be seen through the first coat.  No, I didn't do a tinted primer cause I'm lazy and cheap.  It would have helped, I know…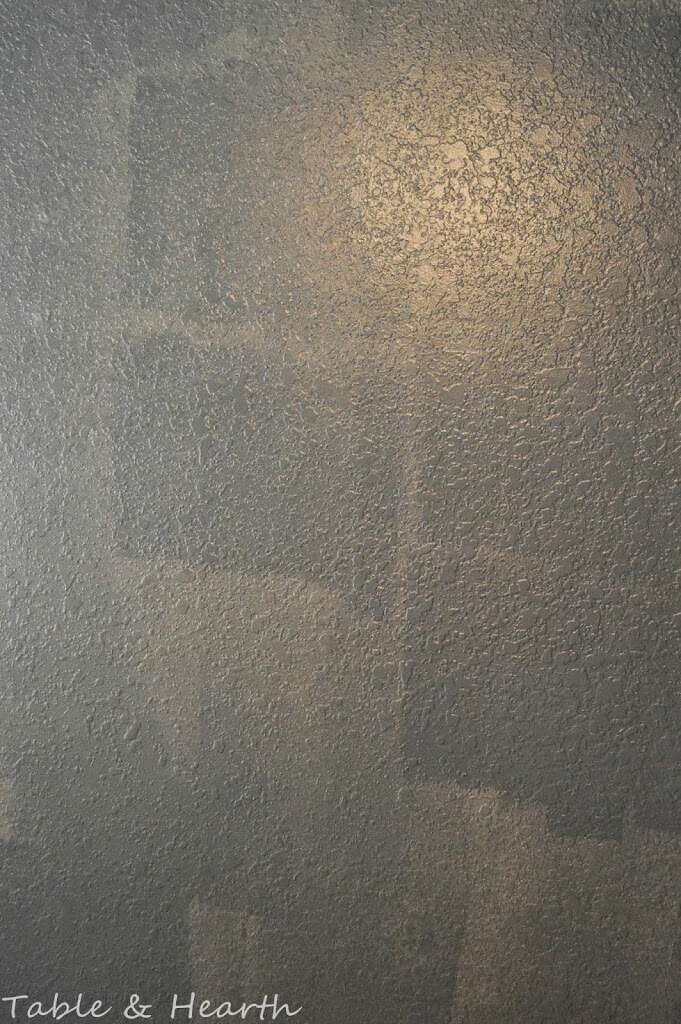 But I didn't need it because the second coat came through for me and I am soooo glad I took the risk on the darkest color!  SW paints always had such awesome coverage in my opinion so I was really bummed when the first coat was so transparent.  I thought there was no way I was going to get away with only two coats but good 'ol Sher-dub pulled through for me.  Coverage with that second coat was perfect and no third coat was needed (I had about 1/4 gallon left over).  Just look at how solid and smooth this color is!  All my worries were out the window and I instantly fell in love with the color after the second coat.
(Probably doing a gallery wall above the desk here!)
Again, the light is really weird in this room so it's hard to get a good shot of this color since it's a little different on each wall and at different times of the day.  Sometimes it's more lighter and blue, sometimes it's dark and stormy gray, and occasionally it kind of has a greenish tint to it.  It's awesome.
I think this close-up most accurately shows the color as we see it most of the time.  So moody.
I love how it makes everything pop in the room, the whites, the natural woods, the floors.  There are still some tweaks I want to make in here; I am hoping to find a funky brass floor lamp to replace this one someday soon, the bookcase decor is being re-done, and the desk area is still in need of some oomph and a gallery wall, so the room isn't complete quite yet but that aside, I think the paint really makes it feel warmer, cozier, and more put-together.  Even with the dark paint and what little light this room receives, the room isn't dark at all like I was worried about.
I just want to sit in there all the time now and
pet
stare at the walls. I am a complete dark-wall convert now. Make all the things dark!!
I will be going through a few of my go-to tried and true painting supplies, especially for having textured walls, on Friday so check back in then!