Spring Patio Week continues!! Yesterday I shared the tutorial on how I saved our weathered and worn wood patio set, and today I'm showing you guys how I whipped up some big 'ol curtains for our pergola, without sewing a stitch!
A couple of years ago we build this DIY pergola and it is hands-down the centerpiece and pride and joy of our backyard. Unfortunately though, the west sun sets right through the pergola onto our seating are and it is utterly blinding.
We needed something that could be lowered temporarily to block that setting sun and long billowy curtains just sounded so perfect and casual for our space. But, I am definitely not a sewer (yet!) so I needed to use something that didn't need to be hemmed. The common solution for that? Canvas drop cloths!
Supplies for DIY Outdoor Curtains
A quick note, the drop cloths I used have a seam down the middle of them, which I didn't mind because it's right where they'll be tied, BUT, one out of the four had the seam running vertically instead of horizontally and I didn't notice until after I started painting it (of course). So, open up your cloths first to make sure they're all uniform before you paint :)
How to Make DIY Outdoor Curtains
I used the painters tape and some opened trash bags to cover all but a 3″ strip at the edge of each curtain, then sprayed the strip with two coats of spraypaint on each side.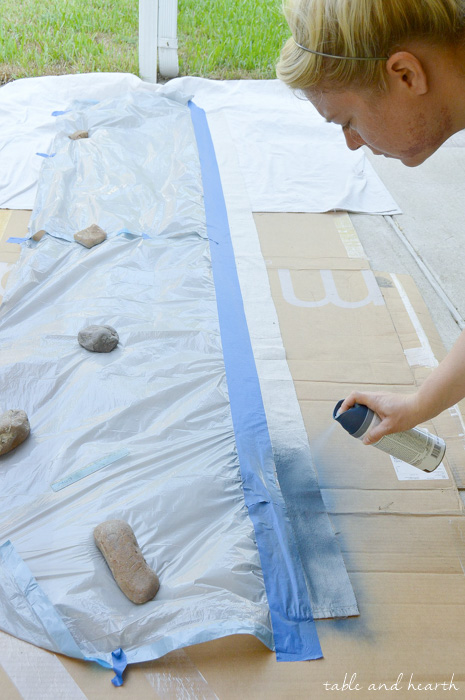 I don't have any pictures of it (it's just spraying), but I then treated each side to make it water resistant and keep mildew at bay. I started with NeverWet but when Thompson's sent me some of their Fabric Seal, I loved it so much better and used it for the rest of them. Water just beads right off!
To hang the curtains, I needed something that wouldn't rust in like a week with our super salty air rope was the perfect choice, plus lends a little nautical flair which I'm always a fan of.

I screwed in the big eye bolts between the lowest horizontal planks then tied the rope to it with a super tight knot then threaded the clips on.
At the other end, I had Matt do some fancy captain's knots so that we could pull it as taught as possible. I can't remember what it's called though :/ They will sag some with the curtains but it doesn't bother me at all.
A little tie halfway down and you're all done!
Our pergola is 9'x9′ and is about 8′ tall so my curtains pooled at the ground which I love. The husband, not so much because of mowing and weed eating. So if needed, you can cut them to the length you need then use hem tape like Stitch Witchery if you do need to hem them.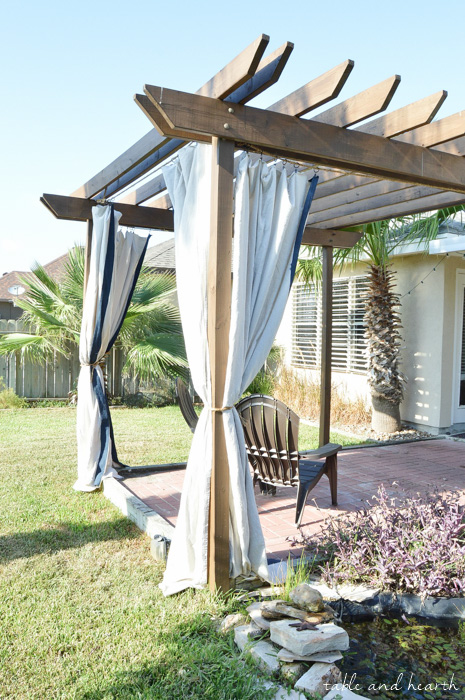 The curtains provide all the sun blocking we need for that harsh evening sun while not being dark or overbearing.
So the pergola is all snazzed up for spring, the lounge furniture is all snazzed up for spring, you saw our DIY reclaimed wood dining table here, now stay tuned for how we updated our ugly privacy fence and turned it to a little bar area!